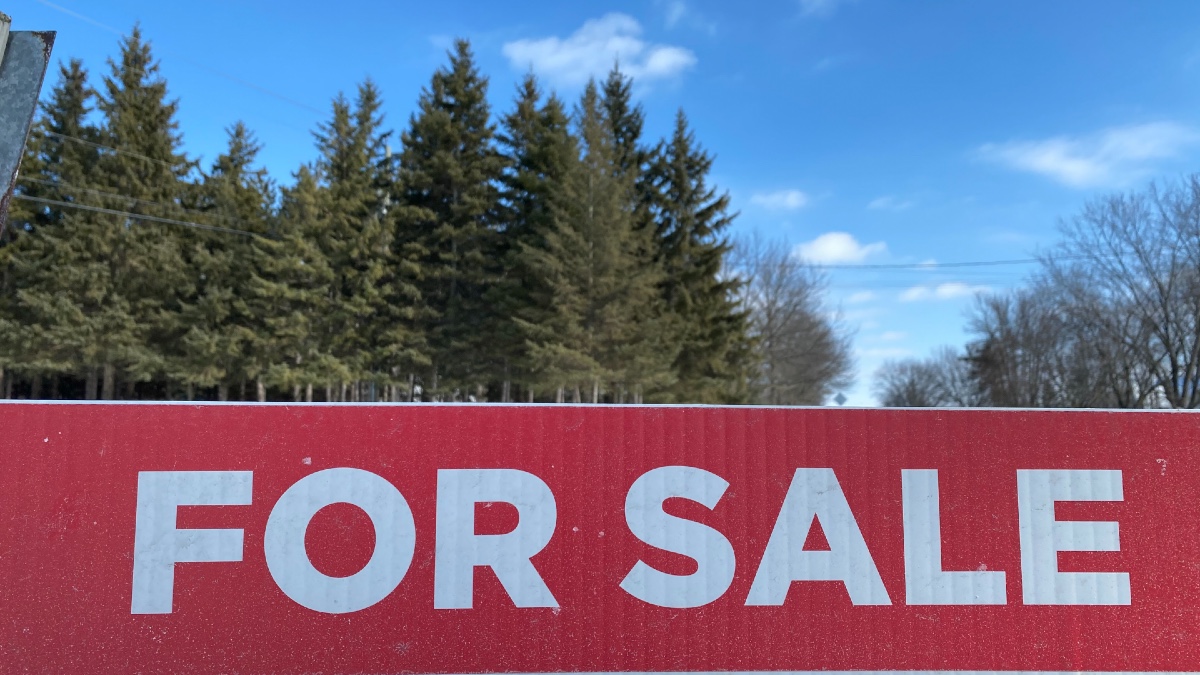 When the COVID-19 pandemic was declared in March 2020 real estate agents in Ottawa and elsewhere were worried. News items at the time chronicled declining sales and fears that the housing market was in for a major slump. Instead, the real estate market in Ottawa has been on a tear, with few signs of slowing down.
"When the pandemic started in March, I personally was worried that things were going to decline and people weren't going to have a strong demand for real estate anymore, everyone wanted to stay in their house," said Jeffrey Gauthier, a broker with RE/MAX Hallmark Realty group.
"I thought I was going to be in a situation where I was going to have to cut back on expenses and really be careful but I mean it was the complete opposite."
"Ironically I had the best year in real estate in 2020 — in a pandemic. I made double what I made in 2019 in terms of commission," said Gauthier.
In the final three months of 2020, Ottawa saw the largest increase in residential property prices among six cities covered by Statistics Canada data, when compared with the same period in 2019.
Home sellers in Ottawa say that the sales were driven in part because of would-be sellers making a move before what they feared might be a drop in prices.
"The number one reason is because they wanted to take advantage of the market," said Gauthier.
"A lot of people thought that things are good now, let's sell because we'll have a correction in the future and let's take advantage of it," he said.
"I even had some clients say to me 'Jeff sell my house, I'll go rent for like three or four years and then I'll buy again when things are reset.' So I've had three or four clients that have done that."
The pandemic and remote work has also given people new flexibility about where they live.
"I've had clients that actually sold their house and they looked at markets in Canada and said 'Okay well New Brunswick, the prices are very, very flat. Let's sell in Ottawa and then move to New Brunswick and buy a big, beautiful house for half the price of what I just sold my little townhouse here for.'"
Tanya Flaro, a sales representative for RE/MAX MARQUIS in Cornwall, 100 km southeast of Ottawa, says she saw this phenomenon in her community.
"Sellers were wanting to capitalize on their investments, prices were high, and they wanted to take advantage of the market. My buyers were coming from bigger centres such as Toronto, Ottawa, and Montreal," said Flaro. "They were wanting to find homes with bigger yards, and more space as they were in fear of future lockdowns. Also, the fact that many can work from home now, location no longer mattered as much."
But there have been plenty of buyers in Ottawa as well as seller. One contributing factor could be that city managed to avoid the job losses seen in some other cities, possibly because of the relatively high concentration of high-tech and public service jobs that can be more easily done remotely.
According to data from Statistics Canada, Ottawa's unemployment rate stayed far below most other cities throughout 2020.
The city has also seen strong population growth, which is projected to continue. A recent report from RE/MAX predicts that the housing market will remain strong in 2021, with average home prices expected to rise another 7 per cent this year.
Meanwhile, realtors will continue to adapt to COVID-19 conditions. One of the biggest changes brought on by the pandemic was how open houses were conducted. Before the pandemic, someone looking for a new home or condominium booked a time to see the home and then physically inspect the property. Depending on the COVID-19 restrictions in place, this hasn't always been possible. 
But according to Onyiye Abu, a sales representative with Royal LePage Team Realty, virtual showings have worked out better than expected.
"Initially I was like 'how do you buy a house that you don't even see?' But then it happened and it's been happening," said Abu.
"You have people who want to buy and they're telling you they want to see it virtually. I don't have a choice, I'm just a representative and I have to present my clients with the best I can. I did it and I've been doing it."
Gauthier, like Abu, was also forced to adopt social distancing and sanitization measures to ensure his safety and to protect his clients. Before virtual showings, he informed his clients to wear masks, use hand sanitizer at the front door. Only two people were allowed in the house at a time.
"When I have a listing I try to send the clients to an Airbnb for the week or to a cottage, somewhere that they can just sit and enjoy themselves and work from there," said Gauthier. "I have all the showings take place throughout the week and right before they come back I have my cleaner go and sanitize the whole house from top to bottom."
As the pandemic passes the one-year mark with many restrictions and rules still in place, Flaro believes the market will continue to thrive. However, COVID-19 brings many uncertainties.
"Our market is getting stronger and more competitive every month. I foresee a strong market throughout 2021. But we are in an unprecedented time, so no one can really foresee what lies ahead."
Like Flaro, Abu doesn't see things slowing down too much, but she also can't truly predict what will happen in the near future.
"I don't see it dying down. My reason is because there is still lots of demand and those people who are [driving] demand for those homes are not resting, they are still in the market," said Abu.
The bullish sentiment is reinforced by new numbers on the national housing market from the Canadian Real Estate Association.
CREA reported Monday that says it expects nearly 702,000 properties to trade hands through Canadian MLS systems this year compared with 551,262 in 2020. Home sales are forecast to be around 614,000 units in 2022.
The national average home price is forecast to rise by 16.5 per cent on an annual basis to just over $665,000 in 2021 and $679,341 in 2022. Home sales in February were up 6.6 per cent compared with January and up 39.2 per cent compared with a year ago. The actual national average home price in February was a record $678,091, up 25 per cent from a year earlier.