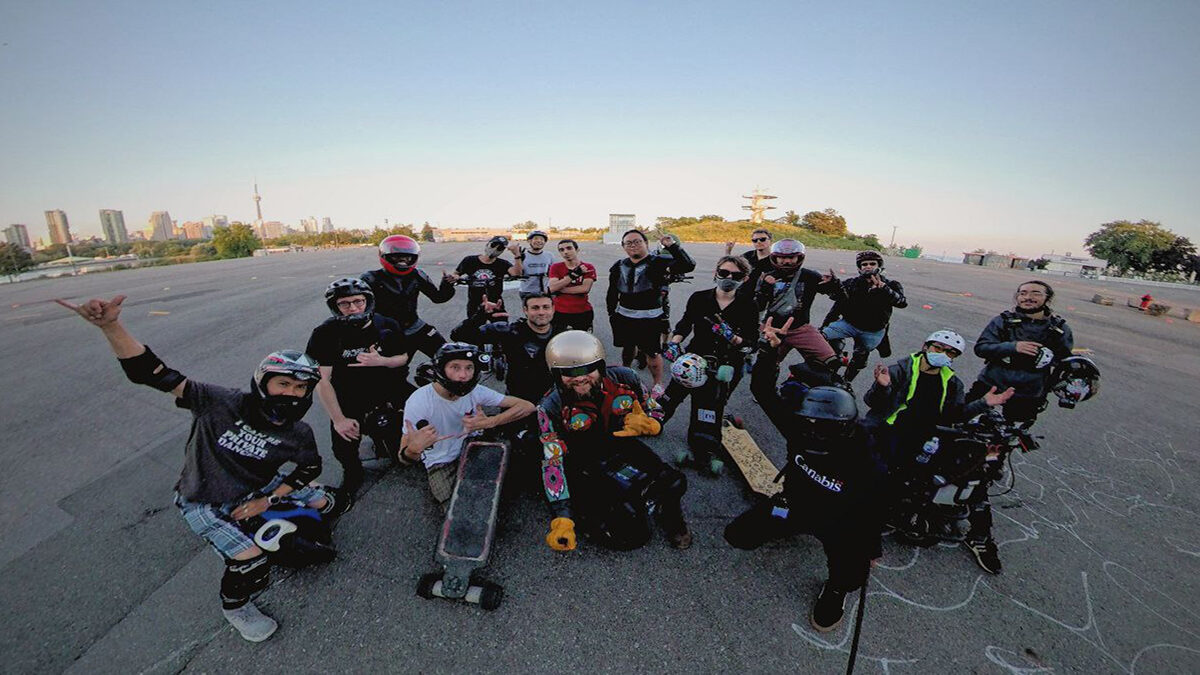 TORONTO — The old and unused kiln tracks did not pulsate as the tires of electric wheelers silently rolled in at Toronto's Evergreen Brickworks.
It was 7:45 p.m. last Friday, when about 40 riders gathered at the Brickworks to charge their vehicles, rest and chat before continuing their journey towards Ashbridge's Bay, in the city's southeast.
The riders belong to a Facebook group called Toronto E-Riders, founded in 2016 by Wen Huai Hsu, who goes by Jack.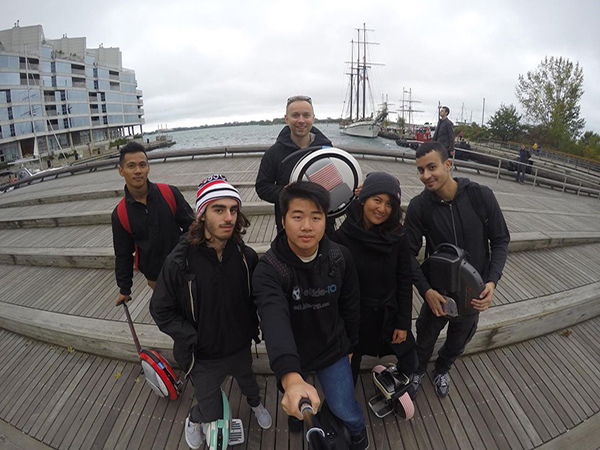 Jack was not among Friday night's riders but he called from China, where he now works at a company that produces Electric Unicycle (EUC).
Jack said he got bored riding by himself after he bought his first electric rideable — or personal electric vehicles (PEVs) — in 2014 and used it to commute frequently.
"I wanted to share this new technology with other people, with like-minded people, people who may have already had this and wanted to ride with other like-minded people, or people who knew nothing about it," said Jack.
That led him to create the Facebook group, offering a platform where people could communicate about their passion for EUCs.
The group initially had about 20 members of only EUC riders. Later Jack decided to make it more inclusive by welcoming people with all kinds of PEVs including E-scooters and skateboards, Segways and hoverboards. Now Toronto E-Riders has about 1,600 members.
Besides sharing information about PEVs, members organize group rides along different trails and streets in the city.
Brett Brownlee, one of the administrators of the Toronto E-Rider's Facebook page, arranged Friday's ride from Queen's Park to Ashbridge's Bay and back.
Brownlee said riding with others provides safety and comradeship.
"There's all sorts of friendships that grow from this and if we need things, even in the space of electrics or out, then there's all sorts of people here to help you," Brownlee said. "It's like my second family now."
He said for the 2021 season they have two popular rides, the Sunset Cruise on Friday nights where anyone with a PEV can join and the Electric Racing League, which takes place in a closed course at Ontario Place on Wednesday nights.
There are other rides covering anywhere between 15 and 100 kilometres. Alfonz Nguyen, who rides a E-scooter, organizes long-distance rides. Earlier this year they went to Niagara Falls and back.
"I have to plan where to start, where to stop to charge so everybody can make it safely," he said.
Alfonz explained that since the battery range for all the PEVs are not same, they choose distance between charges based on the rider with the smallest batteries.
"That way no one will be left behind or fall behind because they run out of batteries," he said.
Ensuring safety
Another ride organizer, Caelan Ho, said they prefer riding on roads instead of bicycle lanes to keep bikers and pedestrians safe.
"If we're on the road, we could just, you know, take up the whole lane," he said, "And it makes us feel safer, and also safer for everyone else."
Though PEVs do not require a license and are limited to a speed of 32 kilometres an hour in Ontario, accidents can happen.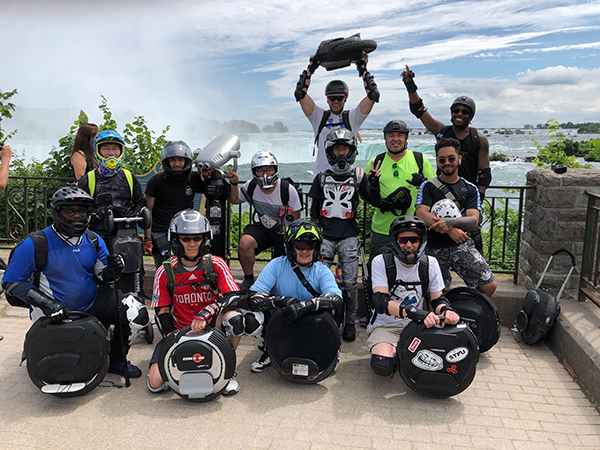 "There's still lots of work to be done as far as the safety of these vehicles," said Andy Jenicek, one of the first members of the group.
Batteries can heat up and catch fire, but in recent times improvements have been made to prevent such incidents, he said.
But the other problem, Jenicek said, occurs when riders turn off a safety feature that beeps when the batteries are running low, and the wheel is in risk of shutting off.
"The wheel loses power, the rider basically flies forward like Superman, depending on how fast they're going," Jenicek explained.
He said if measures are put in place so a user cannot modify the safety features, then injuries from accidental shut offs can be prevented.
PEVs would also be a good way to replace gasoline-run vehicles in urban settings, said Andy.
Jack seconded him. "It's a lot cheaper than getting onto a GO bus or, or whatnot and you can combine it with public transport, too."
"If the cars were limited to outside of the city and just electric vehicles to get around, then there would be a lot more people getting around and without the smog created by gasoline vehicles," Andy said.
---
More Stories