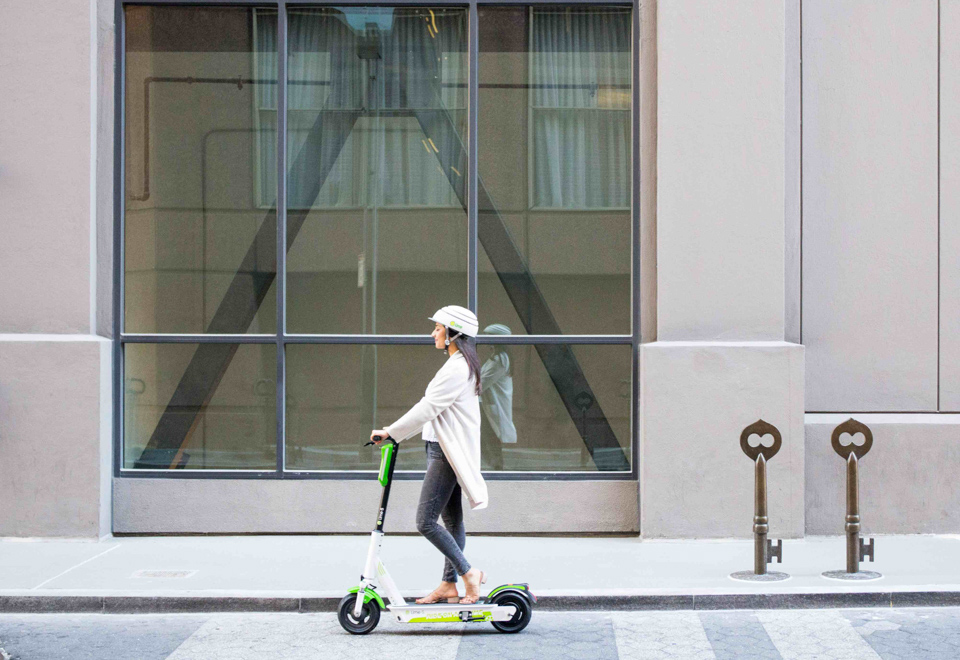 As province-wide restrictions are lifted in Ottawa, accessibility advocates are concerned that barriers posed by electric scooters will increase during this year's expanded pilot.
The second season of Ottawa's e-scooter pilot program, a five-year province-wide project to test the use of electric kick scooters in the city, runs until Nov. 30. This year, the number of available e-scooters has more than doubled, from 600 to 1,500, and the machines are spread out across a greater area. 
That's good news for those who enjoy the devices but, advocates say, e-scooters pose problems for people with disabilities in Ottawa and these will be more fully felt this year. 
"I don't think anyone gets on an e-scooter and wants to create an accessibility barrier, but … people have to know that if they're using these things improperly, they're creating problems for their neighbours," Phillip Turcotte, chair of the city's accessibility advisory committee said.
Earlier this year, Ottawa's transportation and accessibility advisory committees heard from those who are concerned riding on sidewalks, improper parking and the lack of the noise that could alert pedestrians pose safety risks to people with visual impairments and physical disabilities.
Turcotte says council did not implement many of the committee's recommendations to make e-scooters safer for people with disabilities this year.
The committee advised council not to bring back the e-scooters for a second season unless its concerns were addressed, but council voted against that advice as well.
"We were worried that with more people out and about this summer, the problems we saw last summer would just expand because of the increase in population [using the scooters]," Turcotte said.
Many councillors and the e-scooter companies operating in Ottawa — Lime, Bird Canada and Neuron — say the popular scooters are a green method of transportation which can reduce traffic downtown.
Ottawa's e-scooter bylaw bans the use of e-scooters on sidewalks and requires users to park the scooters out the path of pedestrians. Turcotte said committee members say people are still riding scooters on the sidewalk.
At least one operator, Bird Canada, says the company is considering measures to reduce harm to people with disabilities.
Chris Schafer, vice-president of government affairs at Bird Canada, said the company is working on reducing sidewalk riding. Schafer said the scooters are equipped with technology that slows down the scooters when they are ridden on the sidewalk.
Improperly parked
The city's 2020 e-scooter survey found 69 per cent of respondents had come across an improperly parked scooter. The bylaw also requires e-scooter companies to remove improperly parked scooters within one hour, although Schafer said his company's scooters are often moved faster than the bylaw requires. 
Even so, Kat Hamilton, member of the Canadian National Institute for the Blind (CNIB), said improper parking is still an issue.
"Some people do park them very respectfully, but there are some people out there that will just dump them in the middle of the sidewalk," she said. "We're not at this point satisfied [that] the city has addressed that in any way."
Hamilton said the CNIB has heard from people with visual impairments about their negative brushes with people riding by on e-scooters.
"I think that sometimes it's not even the actual collision that frightens people, it's just people's confidence that's knocked and then people are more reluctant to go out in public," she said.
Turcotte said the committee recommended that city council mandate e-scooters to emit constant noise while in use, to alert pedestrians when they are passing.
The bylaw does not require the scooters to emit noise, but Schafer said Bird Canada is considering implementing the committee's recommendation.
Safe e-scooters
David Lepofsky, chair of the Accessibility for Ontarians with Disabilities Act Alliance, said he doesn't believe e-scooters can be made safe enough. 
"Noise emanation doesn't solve the problem of them being left lying on the sidewalk, which is a barrier to people in wheelchairs and a tripping hazard for blind people," said Lepofsky, who is blind. "They're dangerous, they impede accessibility."
Turcotte and Hamilton say they believe e-scooters can be made safe enough, but Ottawa isn't there yet.
"It's not necessarily the scooters themselves that pose an accessibility or barrier issue, it's their improper use," Turcotte said.
For Hamilton, the continuing of this project relies on these scooters being safe for all members of the community.
"The argument we would make is until you can make this safe and ensure that our community members won't be negatively impacted, even one person being hurt or injured is one person too many," said Hamilton.
Turcotte added the burden shouldn't fall on people with disabilities when e-scooters aren't used properly.
"I think we'll just have to see whether the scooter providers demonstrate through this summer that they can operate in a way that doesn't create barriers for people with disabilities," he said.  
---
More Stories