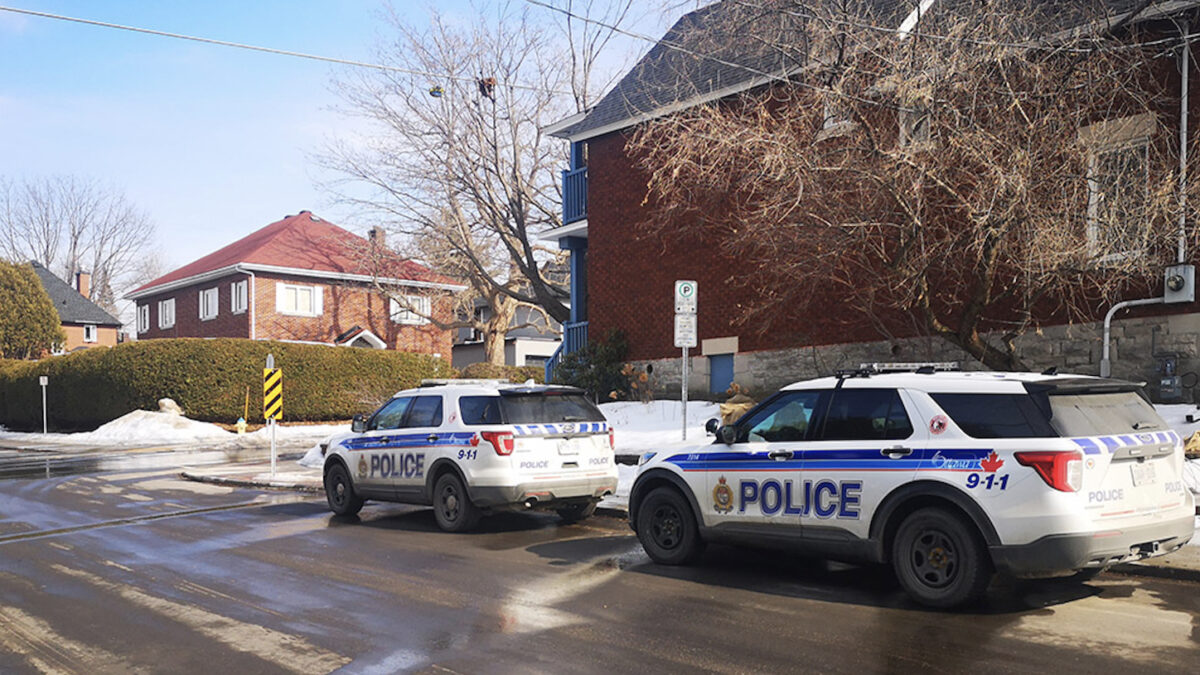 Sandy Hill residents enjoyed a peaceful St. Patrick's Day this year and it's mainly because the Ottawa Police Service proactively maintained a heavy presence in the neighbourhood.
The calm day was in a stark contrast to last October's Panda Game mayhem, which left the community in a mess and prompted the police action. 
Jan Finlay, a Sandy Hill resident and block volunteer with Action Sandy Hill, remembered seeing more than 30 people at a party next to her house on Nelson Street after the annual Carleton-uOttawa football game on Oct. 2.
After the game, she heard music booming from student households. A huge crowd gathered on Russell Avenue, including a group of partyers who flipped over a car. People spilled onto roads and cans of alcohol, bottles, and colourful plastic littered front lawns the next day. 
Residents came together the following day to clean up the neighbourhood, Finlay said.
But Ottawa police wanted things to go differently this year in the neighbourhood, where thousands of University of Ottawa students live.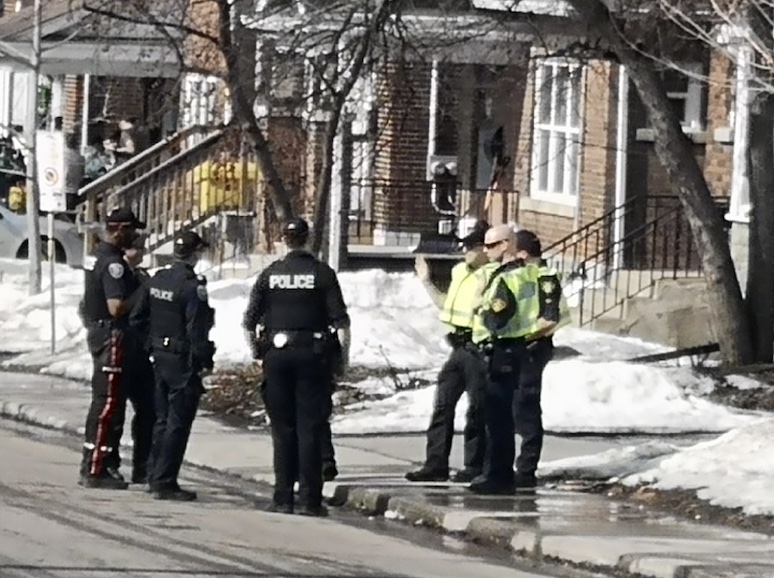 "You know we don't see a car being flipped every day. As spectacular as it was, it was still a mischief offence," said Ottawa community police officer Sebastien Lemay, recalling the out-of-control Panda party. 
This year, police liaison teams contacted residents along Nelson Street, Russell Avenue and Somerset Street weeks ahead of St. Patrick's Day celebrations to make their plans for an increased presence known, Lemay said.
"We've all been there. We've all been students wanting to have a good time," he said.
He said rowdy parties have often been a concern in the neighbourhood, but community engagement and a zero-tolerance attitude were new this year. 
In the days before St. Patrick's Day, police officers handed leaflets to residents or dropped them into mailboxes throughout Sandy Hill.
"Officer presence increased downtown for St. Patrick's Day festivities," the notice was headlined. "Officers will be present to ensure safe and law-abiding behaviour, with a focus on Liquor Licence Act offences and general conduct issues. There will be strict enforcement."
"Ottawa police had to learn to prepare accordingly and bring the right resources."

— Rideau-Vanier Coun. Mathieu Fleury
The police effort to contain the St. Patrick's Day celebrations in Sandy Hill came shortly after the end of the so-called "Freedom Convoy" occupation of downtown Ottawa, which lasted about a month and sparked a public outcry over the service's failure to thwart the illegal blockade.
According to Finlay, Sandy Hill residents and Rideau-Vanier Coun. Mathieu Fleury had been planning to meet with police ahead of St. Patrick's Day to discuss the zero-tolerance policy demanded by the neighbourhood and adopted by police and bylaw officials.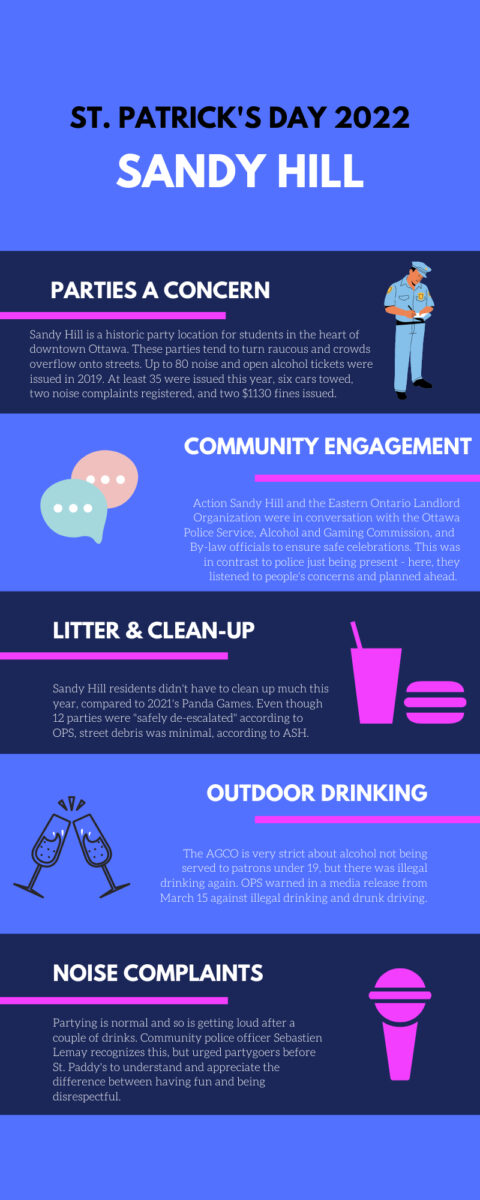 The meeting initially didn't happen because the police were fully engaged downtown with the convoy. But a "town and gown" gathering was eventually held before March 17 and involved members of the ASH community association, neighbourhood residents and Fleury in a discussion about safety and respectful celebrations.
Getting the word out to the community about keeping partying under control is not new. Every year, the Eastern Ontario Landlord Organization distributes striking yellow flyers to tenants across Sandy Hill  to ensure they follow city bylaws. There are warnings of fines and possible criminal charges related to excessive noise, improperly managed garbage and other behaviour, Finlay said.
Still, despite the messaging and police presence, some partygoers still threw caution to the wind, which explains the tickets handed out by police. 
"In spite of those bright yellow pamphlets being distributed every year, there were still raucous parties this year," said Finlay.
Some of those who were issued tickets for noise complaints faced fines of $1,000 and more, Roger Chapman, director of By-law and Regulatory Services at the City of Ottawa, said. 
Chapman said warnings were issued to the house parties and six vehicles were towed. 
"I am surprised at the number of tickets that were given considering the advance warning," said Finlay, adding that Russell Avenue residents were "quite apprehensive" about large parties.
The police declined to comment about the ticketing. Lemay said police had put up posters that said "Don't invite us to the party" weeks earlier to drive home the message about the heightened police presence planned for March 17.
Police calmed down 12 parties in Sandy Hill and issued 35 tickets, said Const. Paramjit Singh. 
Finlay said that despite these tickets and some loud gatherings, overall, this St. Patrick's day was more under control because of the community conversation that law enforcement used to ensure safer celebrations. 
"St. Patrick's Day has really become a beer-drinking environment — everyone's Irish on that day. But the environment around that can get complicated very quickly," Rideau-Vanier Coun. Fleury said. 
Problems occurred as expected, but the heavy presence of police and bylaw officers kept things under control, he said.
"Ottawa police had to learn to prepare accordingly and bring the right resources."
---
More Stories