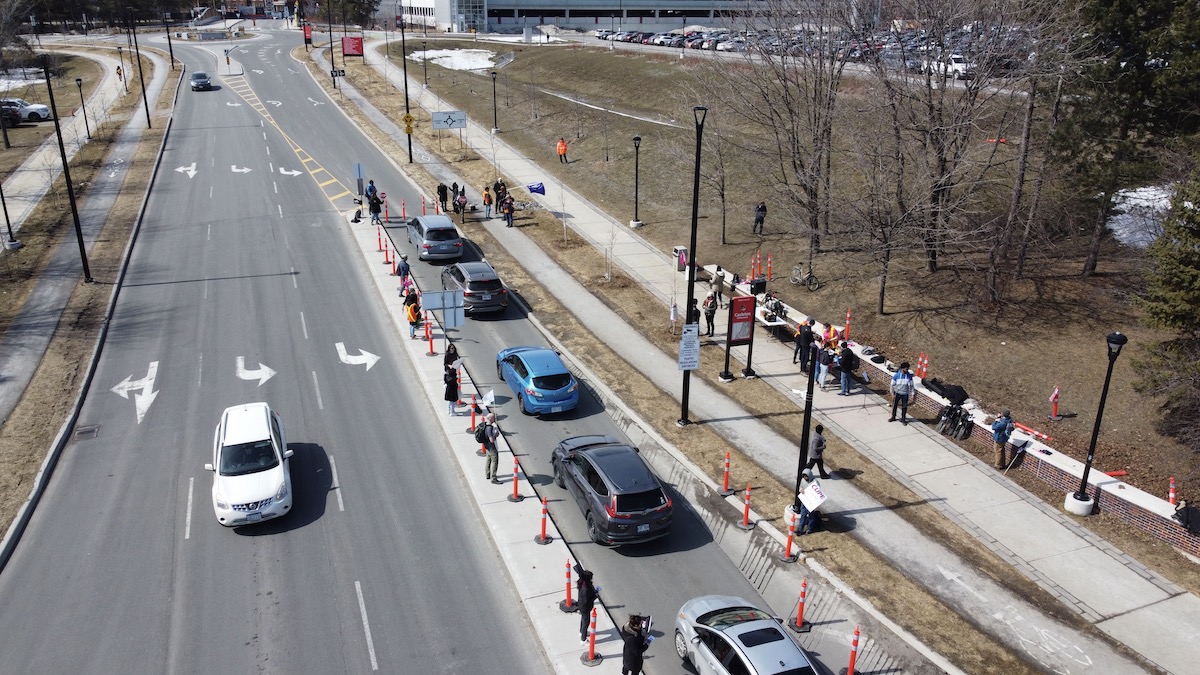 As day ten approaches in the strike at Carleton University, picket lines restricting traffic remain at the entrances to the university and teaching assistants (TAs), internally funded research assistants (RAs), and contract instructors say they are dedicated to fighting for adequate wages and the right to their intellectual property.
"Our wages are way below inflation and the University has access to funds. They can increase our pay, but they don't want to. This is unfair and I'm here to try and tell people why," said Fatema El-Sayegh, a Master of Neuroscience student at Carleton and a TA.
El-Sayegh, along with many others have been picketing every day, rain or shine.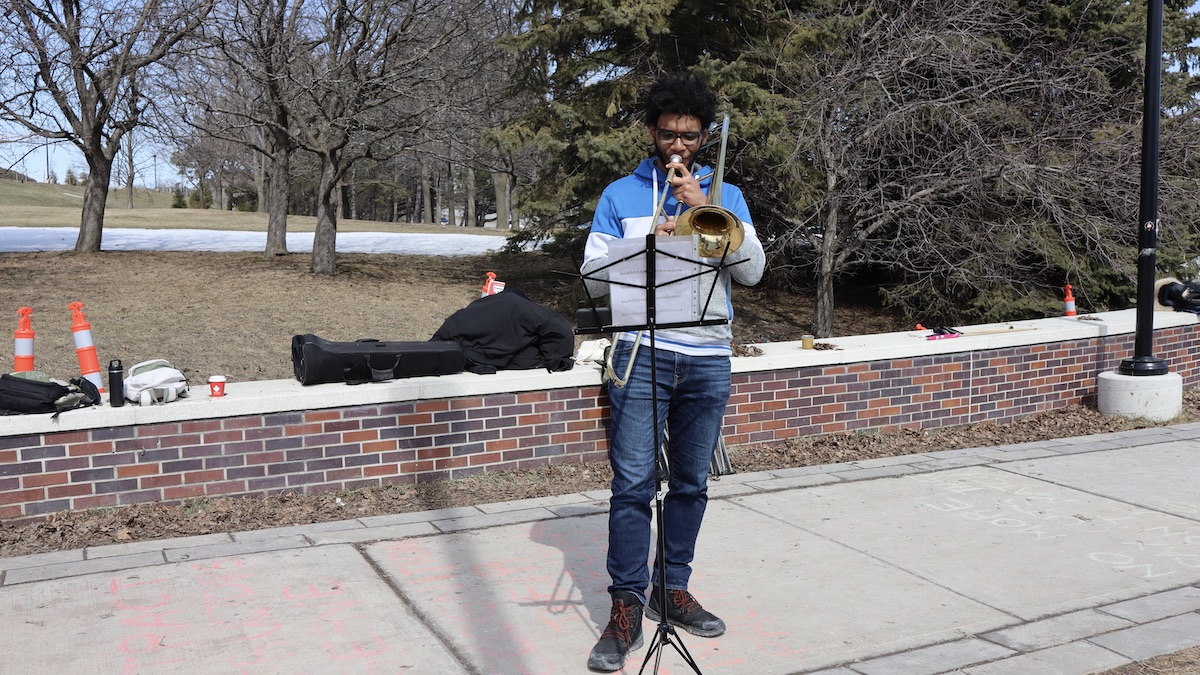 Yannick Abouem plays his trombone at the picket lines to keep up the moral of protesters. [Photo © Aly Weiss]
"I believe we deserve a fair deal. Our wages are not enough. They are under the national average," said Yannick Abouem, an undergraduate TA for Computer Science.
The University has expressed its desire to settle the dispute in an equitable way, but CUPE 4600, which represents the workers, doesn't see the current offer as fair or legitimate.
"It's good that the University wants to reach a deal. But what they have proposed is not enough. I will be supporting my bargaining team to make the right call," said Abouem.
The University has promised students that the end of the semester will not be affected by the strike.
"We do not anticipate having to extend the term (classes) or the graduation timeline. Please rest assured that the university, of course, has no intention of cancelling the term nor the current credits to be earned. Student grades and course progress are not at risk due to the ongoing strike," said Suzanne Blanchard, vice-president of Students and Enrollment at Carleton University, in an official email to students.
Some full-time professors, students, and faculty members are standing in solidarity with CUPE 4600.
"I will keep coming as long as the strike is ongoing. I will be here to support. When I'm here on the days that I teach, I make sure to support the picket line," said Jackie Kennelly, a professor in the Department of Sociology and Anthropology at Carleton, and a part of the Academic Staff Association (CUASA).
Alongside teaching, Kennelly is choosing to stand in support of her colleagues and students.
"What isn't always clear to folks on the outside is that the hourly wage might look high on the outside compared to other workers. But, the majority of that is absorbed by tuition."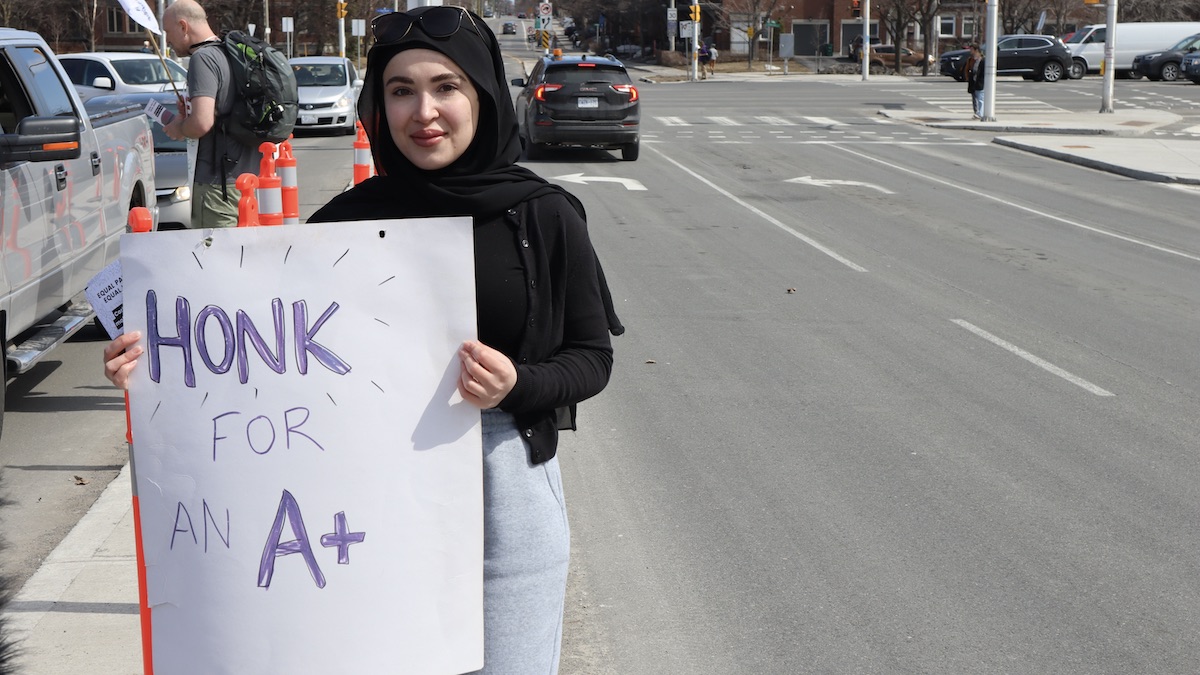 Fatema El-Sayegh has shown up to protest with her fellow TAs everyday since the strike began while simultaneously fasting for Ramadan. [Photo © Aly Weiss]
CUPE 4600 representatives, TAs, and CIs are committed to the strike. They know what they deserve. They also know that the students are overwhelmed by the strike, said El-Sayegh.
"I get that they are frustrated. They are stressed. But what can we do? We are also students. It is also frustrating for us."
Students say their classes have been interrupted because of the ongoing strike. There are feelings of uncertainty and frustration among students.
"All of my classes have been affected by the strike. Right now, I'm just studying for my finals. I'm hoping that they will happen. But I don't know. I think the University should give the TAs what they are asking for," said William Smith-Acevedo, a second year international business student at Carleton.
Smith-Acevedo is not the only student who is feeling the stress of the ongoing strike. Students who are graduating this year remain uncertain about their courses and future.
"This is my final academic semester before graduation and the uncertainty around what is happening right now is quite unsettling for me," said Kyra Fradsham, Master of Social Work student at the university. "Not being able to ask our professor questions when we have a final 30 per cent assignment due is not ideal. I'm not even sure of when this assignment is due."
Many students are standing in support with the TAs despite frustrations. Others are upset and have publicly declared their frustrations.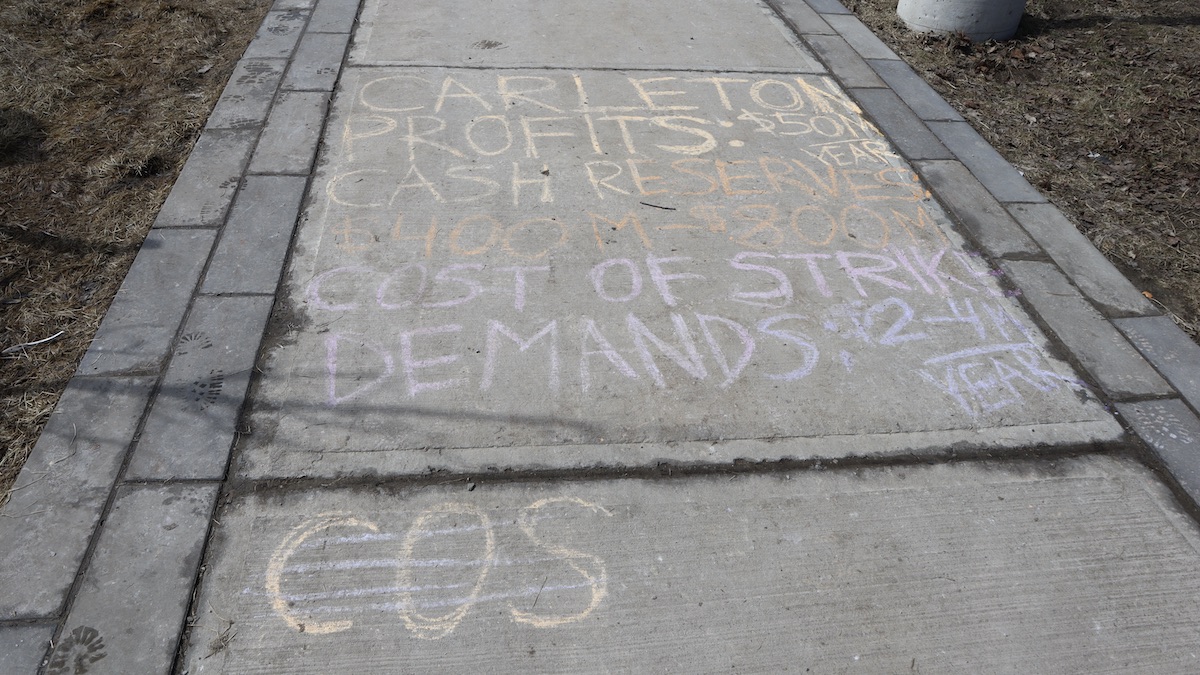 Picture reads: "Carleton profits $500 million per year. Cash Reserves $400 million-$800 million. Cost of Strike demands $two-four million per year." [Photo © Aly Weiss]
"There have been people who don't stop when we ask them to stop. They have run over the curbs a couple of times," said El-Sayegh.
Some students are frustrated with the lack of support and communication. It is unclear when or if the strike will end.
TAs and CIs are not answering their emails as part of the requirements for the strike. This has left students with unanswered questions.
Students are not the only ones who are feeling the pressures of the strike. The university has been quieter than normal. Many classes have been moved online or cancelled altogether.
"People not being on campus is affecting my work and I need this work. I'm a part-time worker and I went from working 28.5 hours per week to six," said Yasmin Mouakibenani, a public affairs and policy management student at Carleton University and an employee at Bridgehead Coffee on campus.
TAs ask the students to be patient with them as they bargain for what they know they deserve. The semester is ending within days but the University and CUPE 4600 have not yet reached an agreement.
"We have to consider the TA wage, not only as pay, the pay for the very important work that they do, but also as graduate student support.  So that they can keep pursuing their education. We are making it harder and harder for students to actually get that higher education right now. And that's a loss for everyone. It's a loss for society, for the University, for everyone," said Kennelly.
According to reporting in The Charlatan, the university is close to an agreement with contract instructors.
---
More Stories