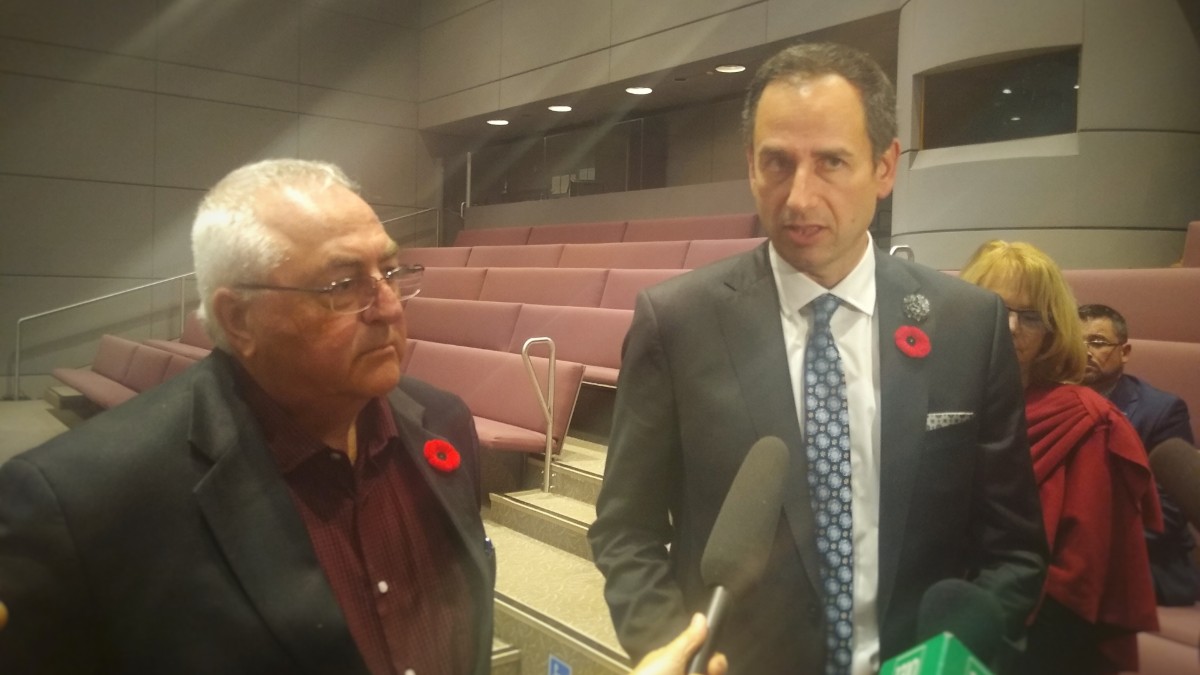 Ottawa commuters will not find immediate respite from the frustrating delays and overcrowding they face as OC Transpo can't provide a "definite timeline" for when the system will be reliable. That was the message delivered Wednesday during a marathon transit commission meeting at city hall.
Residents have been dealing with delays, troubles with train doors, changes in commute times, connecting problems, poor communication and the cancellation or decline in the frequency of bus routes since the $ 2.1-billion Confederation Line was launched. Parallel bus service ran for the first three weeks of LRT, but once bus routes were altered Oct. 6, problems escalated.
The city's transit commissioners heard from OC Transpo head John Manconi and City Manager Steve Kanellakos along with their staff, who detailed the problems that plague the transit system and the attempts they have made to get these fixed.
Kanellakos laid the blame for the problems plaguing the Confederation Line squarely on the Rideau Transit Group (RTG), which built it. He criticized RTG for "inadequate management of the train system, poor planning, under-resourcing staff and failure to anticipate and be prepared for predictable issues." The group is contracted to maintain the Confederation Line for 30 years for payment of about $ 4 million to $5 million a month.
Manconi said he too was "frustrated" with LRT service. "The system isn't good enough yet," he said. He told commissioners that they have penalized RTG by withholding monthly payments and have asked it to "step up and act on the clear message" being sent. Kanellakos said he believed that RTG was "now responding after getting pounded for months."
OC Transpo staff acknowledged that they have failed "to live up to the expectations of the residents" during what was described as a "start-up period."
Troy Charter, the city's director of transit operations, said the LRT problems fall into four main categories:
• Train Control and Monitoring System (TCMS), which is the brain of the train;
• The onboard computer system on individual vehicles (VOBC);
• Doors;
• And rail switches.
Manconi said that these issues were not evident during testing of the system. These problems "creeped in" and we are "stumped," he added.
A 12-day testing period was demanded by the city before RTG handed over the line. Somerset Coun. Catherine McKenney asked Manconi why the 12 days of testing were not completed. Manconi insisted that there was "nothing magical about 12" in the industry. The city's original target for testing was 96 per cent reliability on nine of 12 days, he said. They didn't think Rideau Transit Group would hit the higher target, he added.
"We took a system that was not ready," McKenney said, adding "we have to deal with it."
OC Transpo explained that RTG and its maintenance arm, RTM, have been asked to mobilize a team of experts to investigate and solve the TCM issues. The companies Thales and Alstom have been asked to provide system engineers and experts to solve the VOBC problems. VOBC is a computer on individual trains that manages the train's location, speed and direction of travel. The door issues are mainly due to commuters holding open the doors, which activates the door safety features and safety calibrations.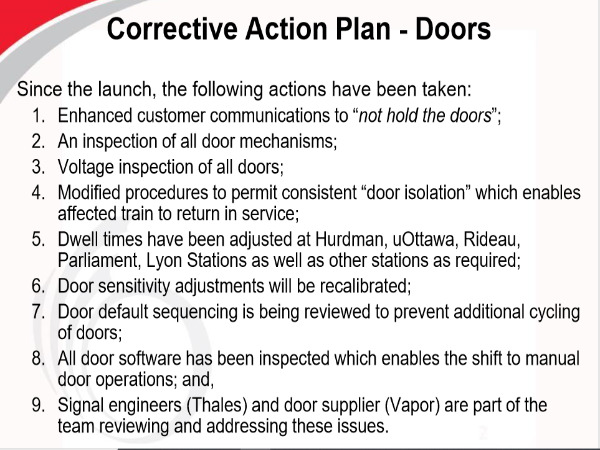 One resident and regular OC Transpo rider, who was delegate at the meeting, said she was hoping for better communication across multiple communication channels. "I need you to better because as a taxpayer, I can't afford for our ridership to drop," she said.
Hate to say it, but @OC_Transpo has lost me as a commuter. My old 15-minute trip to Parliament Hill is now a ridiculous 30-minute-minimum, two-bus adventure with unreliable connections. It's Uber and cabs from now on. Said regretfully.

— Susan Delacourt (@SusanDelacourt) November 6, 2019
The failure in the train services has been accompanied by problems with bus services.
To deal with these issues, the city has added $7.5 million to the transit budget. The city will add 19 buses to the fleet in 2020. And, with $3.5 million, OC Transpo has brought back 40 buses that were previously discontinued. These buses will be staffed by a mixture of drivers doing overtime, giving up weekends and freeing the "spare board" systems.
Overall in the 2020 budget, the city is looking to spend $3.76 billion, about $137 million more than in 2019. In line with the 2020 budget directions approved in September, the proposed budget calls for a municipal property tax increase of three per cent. The average property tax bill for an urban home in the city of Ottawa will go up by $109.
There are about 1,000 buses in the OC Transpo fleet, of which 880 buses are available for service. Bay Ward Coun. Theresa Kavanagh said the reduction in frequency in bus routes has created problems for the residents of her ward. "The routes have been cannibalized by the LRT," she added. Budget 2020 is also proposing to spend $43 million to replace 63 buses that have reached the end of their life cycle, and $6 million to introduce an electric bus pilot program.
If the 2020 transit budget is approved, commuters will also see a 2.5 per cent fare increase on Jan. 1. Citizen members of the transit commission Sarah Wright-Gilbert and Anthony Carricato said they would rather see fares frozen because of the ongoing LRT problems.
With files from Global News
---
More Stories