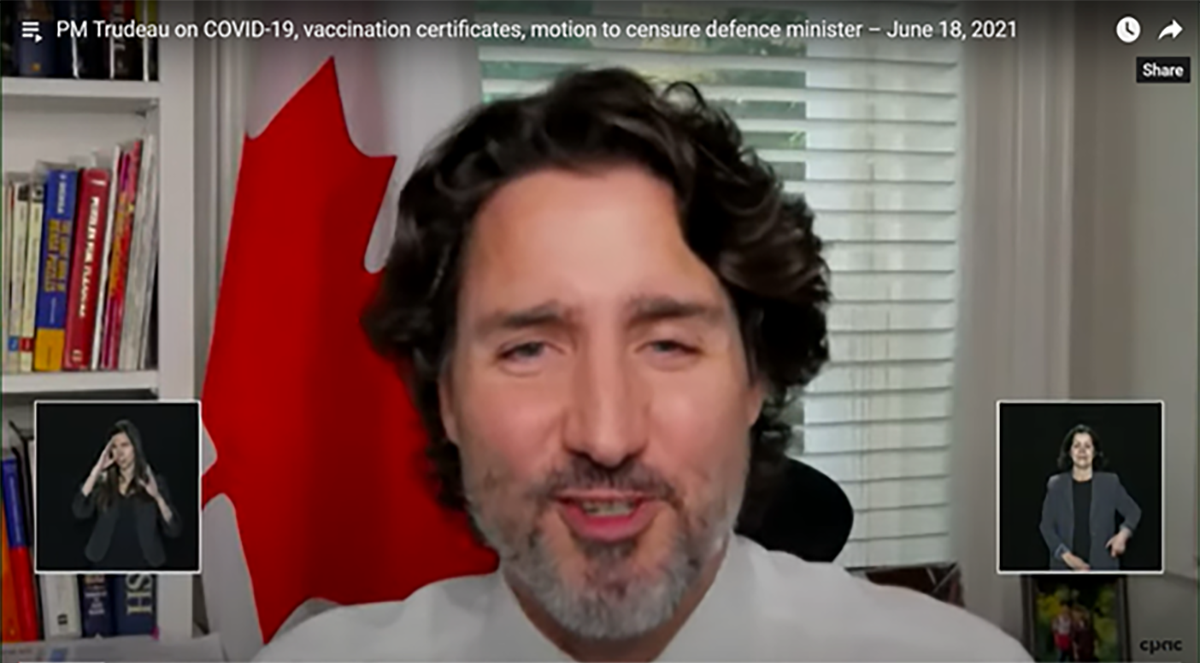 With an announcement outlining how fully vaccinated Canadians can travel expected next week, the federal government has not yet decided whether to loosen travel restrictions for fully vaccinated international travellers who have not received vaccines not approved in Canada.
For now, most foreign travellers will be kept out of Canada — the government extended the Canada-U.S. border closure Friday until July 21 at the earliest — because not enough people here are fully vaccinated, Justin Trudeau told a media briefing.
The prime minister also said Friday morning that, when the time comes, Canada will recognize travellers inoculated with Pfizer-BioNTech, Moderna, AztraZeneca/COVISHIELD or Janssen (Johnson & Johnson) vaccines.
But countries that have not approved the same list of vaccines are "an issue," he said. The government is discussing the intricacies of vaccinated travel with the U.S. and other countries to come to an answer, he added.
In the U.S., some venues, including on Broadway in New York City, say they may only allow people fully vaccinated with Pfizer-BioNTech, Moderna or Johnson & Johnson vaccines to attend certain events unencumbered by masks and social distancing requirements. AstraZeneca has not been approved in the U.S.
"We will definitely make sure that people who got one or two AstraZeneca doses will not be disadvantaged when they want to travel," he said in French.
Travel while vaccinated
"We hope to be able to resolve those issues in the coming weeks in time for bringing in loosened restrictions around travel. The U.S. hasn't said yet what their criteria will be. We're working with them to get on the same page."
The prime minister said that the current three-day hotel quarantine requirement in approved hotels has not yet been lifted for fully vaccinated returning Canadians. The point is still to protect the broader community. However the government has also said that changes are coming to this requirement.
"We have to hit our targets of 75 per cent vaccinated with a first dose, at least 20 per cent vaccinated with the second dose before we can start loosening things up," Trudeau said, "because even a fully vaccinated individual can pass on COVID-19 to someone who is not vaccinated."
As of Friday afternoon, according to federal statistics, 64.23 per cent of all Canadians have received at least one dose of the COVID-19 vaccine and 12.82 per cent are fully vaccinated.
To help the country achieve the 75 per cent goal, Trudeau said more than a million doses of Moderna are expected in June and by the end of July the country will have received, in all, "over 68 million" doses.
National certification
Asked about the use of national certificates as proof of COVID-19 vaccination, Trudeau said "certification is something that we have to work on with the provinces, the federal government doesn't have records of vaccinations of Canadians."
He did say that Canadians and permanent residents will soon be able to upload a copy of their vaccine certificates to the ArriveCAN app, which will allow them to bypass mandatory hotel quarantine when they return. All returning travellers must still self-isolate for 14 days.
In the "medium-term," Trudeau said, there will be a more formal federal program tied to provincial health records which will give border guards access to vaccination records. Canada wants to harmonize this program with other countries to ease foreign travel.
But, he said that some form of vaccination proof will be created and revealed in July.
"In our country, we have a division of responsibilities in regards to the constitution that allows the provinces to be deliverers of health care and keeps them in control of the healthcare system," he said.
He added that the priority for the provinces so far has been to roll out vaccines and contain the spread of COVID-19.
AstraZeneca confusion
Trudeau was also asked about the constantly changing guidelines surrounding the AstraZeneca vaccine.
The National Advisory Committee on Immunization recently recommended that people who received the first dose of the AstraZeneca should receive a second dose of a mRNA vaccine such a Pfizer or Moderna.
The prime minister, who received his first dose of AstraZeneca in April, said he "will take whichever dose is offered" to him.
"I will do what all Canadians should do, which is follow the best advice of the experts around them, including NACI (National Advisory Committee on Immunization) and their family doctors," he said.
More than 1.5 million people have received at least one dose of AstraZeneca vaccine in Canada.
---
More Stories