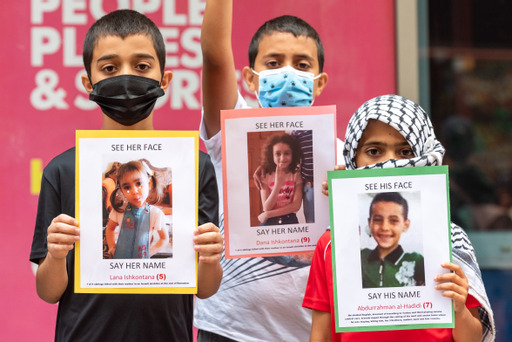 Earlier this week, a crowd gathered outside of CBC Ottawa's headquarters on Queen Street in what could be the first of several protests against the corporation's coverage of Palestine.
More than 150 attended the rally organized by the Facebook group, CBC Palestine, which has been created to address what it describes as an "anti-Palestinian bias at the CBC as well as other Canadian newsrooms."
The protestors want the CBC "update its style guides reflecting international human rights laws, use the word Palestine in broadcasts and coverage, cover the 2021 Human Rights Watch report accusing Israel of apartheid and crimes against humanity, [and] stop pro-Israeli biases and dehumanization of Palestinian people."
The Ottawa event followed similar protests in front of CBC headquarters in Toronto on June 9. That protest was led by Greater Toronto for Boycott, Divestment, Sanctions, a pro-Palestinian advocacy group, which also called on the CBC to "update their style guides and commit to terminology that is grounded in international human rights law" in a press release.
"We want fair coverage on Palestine," said Sarah Wazzi, organizer of CBC Palestine. She said the fact that the CBC avoids referring to the territory as "Palestine" in their coverage contributes to a racialized version of Palestinian identity.
CBC spokesman Chuck Thompson wrote in an email to Capital Current, "our style guide reflects the fact that, although there is an established movement as part of a two-state peace agreement with Israel, there is at present no modern country of Palestine and our recommendation is to use Palestinian territories."
"That said, we quote people who talk about Palestine and do interviews about books with Palestine in the title," the email read.
He also said that, "we aim to be accurate, fair and balanced in our coverage. We are also in the middle of a comprehensive, staff-guided review of how we interpret our journalistic standards and practices through a more inclusive lens."
So far, 135 countries recognize Palestine but Canada, the United States and Mexico are among the countries that don't.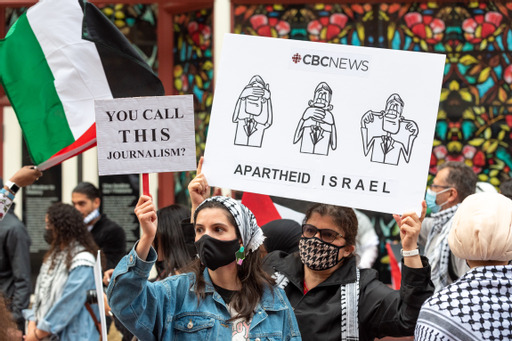 Wazzi said that Canadian journalists signed an open letter in May calling for change in the way western newsrooms cover matters relating to Palestine.
Vice World News reported "two employees with the Canadian Broadcasting Corporation told Vice World News they were advised that they could no longer cover the issue because they signed (the letter)."
The CBC's Thompson told Vice World News employees are not being penalized for signing the letter, but the organization wants to maintain an "editorial distance between signatories and our daily coverage."
"I want a reporter from CBC to actually go to Palestine," said protester Ahmed Zayed. "I want them to stand by the truth, I'm not going to say stand by us, but by the truth."
As Canada reels from revelations about unmarked graves containing the remains of children who died at residential schools, a survivor of the '60s Scoop of Indigenous children spoke to the crowd.
Michele Penney, of the Saulteaux Nation in Saskatchewan, told the crowd that, "You have to understand how emotional I am right now because I understand what it's like to get stuff taken away from you."
In his statement, Thompson also wrote, "as the public broadcaster, our mission is to provide a broad range of voices and perspectives, to offer Canadians context on complicated issues and that certainly includes the conflict in the Mideast.
"We aim to be accurate, fair and balanced in our coverage."
He said the style-guide review is expected to finish by the end of June, with implementation expected to happen over the next year.
For now, CBC Palestine waits for change.
"We have demands and we will not stop protesting until our demands are met," said Zayed.
---
More Stories