Ottawa charities are struggling to carry on their vital work during the COVID-19 pandemic and frustrated organizations say the disruption is being felt by the homeless, the hungry, immigrants adjusting to life in Canada and veterans in need of supportive housing.
Nazira Tareen, founder and president of the Ottawa Muslim Women's Organization, said she and her team have not been able to make up the lost donations that would traditionally be raised during hosted events that couldn't be held.
"We are running out of funds, and we need funds," said Tareen, whose organization supports newcomers to Canada and a variety of other causes.
"When this happened it affected all of our events. We didn't have our annual dinner, our boat cruise, our history month celebration . . . ." Tareen said.
She and her board members have struggled for ways to generate donations.
"We are going to launch a campaign to raise funds for things we are trying to do, like helping the Rohingya refugees," said Tareen, referring to the hundreds of thousands of Muslim refugees that have fled persecution in Myanmar since 2017.
The majority of the OMWO's activity now takes place online, and the transition has not been an easy one for Tareen and her organization.
Tareen and her board members are doing their utmost to support those in their community and internationally.
"We have been and are still trying to raise funds by phone, by calling people and pleading with them to send money," said Tareen. "I am not asking for too much — only for people to give $25, not more than that. It is harder to raise funds now without our events, but I ask people and I tell my organization members to do the same."
Tareen and the OMWO are not alone in the trouble they've faced during these tumultuous times.
"We were affected in so many ways." said Sahada Alolo, manager of community outreach for the Multifaith Housing Initiative in Ottawa.
The charitable organization is responsible for building affordable housing communities across Ottawa. MHI is unique in accomplishing its goals through the coordinated work and donations of numerous faith groups in Canada's capital.
"We are an organization that relies on communities. Our slogan is communities building on communities, so it takes people gathering to build communities. Our signature event was the Tulipathon and we couldn't hold it this year," Alolo said.
The Tulipathon is an annual fundraising walk that coincides with Ottawa's Tulip Testival. The walk typically takes place the last Sunday in May.
Not being able to hold the event in person did not significantly affect the donations gathered from the walk, as it is well known throughout the city. But there were other drawbacks.
"For us, it's not just about the money," said Alolo. "The social aspect of it is very important because it is symbolic. We bring people of all faiths together regardless of our religious differences as we walk in solidarity with people of different faiths. It speaks volumes."
The pandemic has not only led to the halting of events, but also major housing projects.
MHI has already built four communities: Blake House, The Haven, Kent House and Somerset Gardens. These projects total 139 affordable housing units and currently provide homes for about 400 people.
But a planned fifth housing project — the 40-unit Veterans' House on the former CFB Rockcliffe Airbase, intended for vulnerable military veterans facing health and housing challenges — has been delayed because of the pandemic.
"We were affected the most with the Veterans' House we've been planning for the past three years. When we started building, it was scheduled to open on November 11 to commemorate Remembrance Day," said Alolo. "That was very important to us that we get to open this new project to honour our vets. COVID happened and things closed down, now it is projected to be complete in January."
Alolo said she normally canvasses neighbourhoods and speaks to prominent leaders in faith communities to attract donations and support for MHI's projects. The pandemic has brought this work to a screeching halt, she said.
Huge gaps in funding
Unable to find support from community members has left a huge gap in funding for Veterans House, said Alolo.
"The whole project is about $11.5 million," said Alolo. "We still need $1.5 million and we set a goal of until the end of December. And if we can't raise the money that we need, we'll have no choice but to take a loan."
Current MHI projects and events are not the only things that have been adversely affected by the pandemic. Tenants living in MHI housing communities have seen their lives significantly altered.
"Our tenants have been affected in so many ways," said Alolo. "The tenants rely on a lot of the programming that takes place in our housing. We haven't been able to do any of that since March, and so we have tenants that feel very isolated."
She added: "We had weekly coffee, time for stay-at-home parents and seniors, we had after-school programs for kids, arts and crafts, we had local programs for parents, pregnant women, lactating mothers — all of those things canceled."
Alolo said some programs were offered online, but they were not as effective.
"We found online was not working," she said. "People weren't comfortable or did not have the technical ability to do so and join. The online platform created barriers which is what we didn't want, so we had to put a halt on the programs."
Aileen Leo, director of communications with the Ottawa Mission, said COVID-19 protocols have forced the downtown homeless shelter to change in many ways.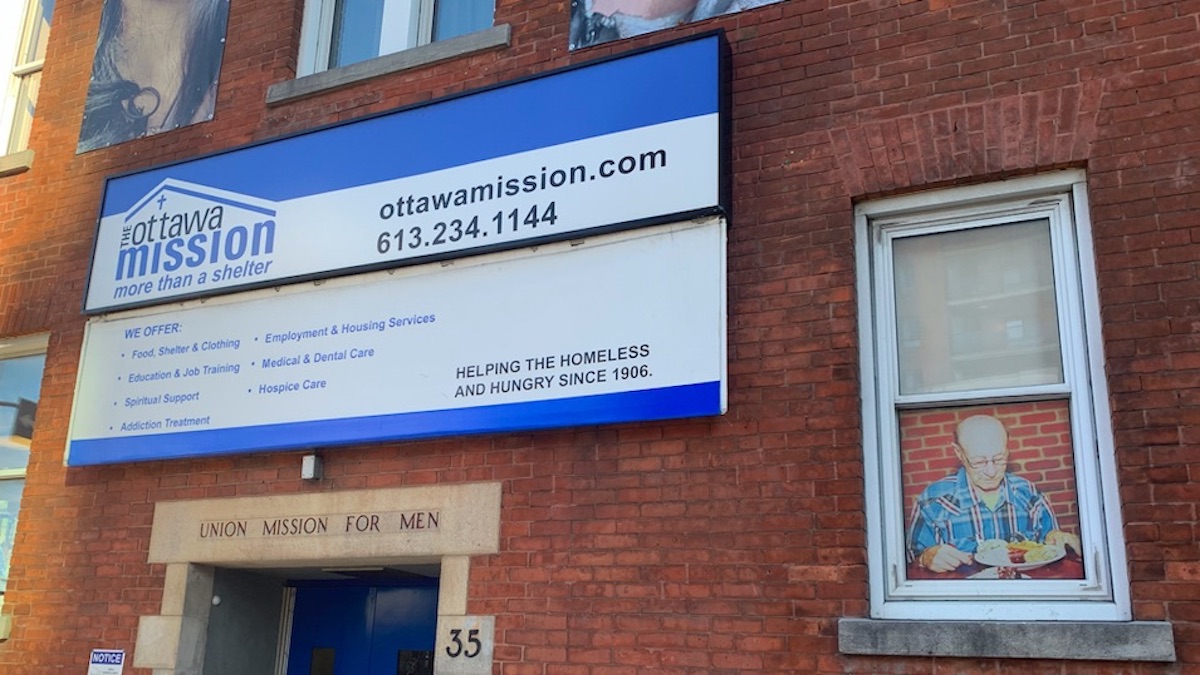 "Well, as you may imagine it's been a challenging time, " said Leo. "We've had to completely reorient our operating producers to continue to deliver essential services and minimize the risk of infection."
The Mission defines its role as "serving the homeless, the hungry and the lost." Over the course of the pandemic, providing food has proven more difficult.
"We've enacted a number of different innovations," said Leo. "We have changed our meal program for community residents to be received through our garage entrance because, unfortunately, people cannot come into the shelter."
However, "our meal counts have gone up exponentially since COVID-19 came into being, because it has made hunger in our community that much worse," said Leo. "Some of our services have moved online. Initially we had to suspend addiction and trauma service and now they are finally being resumed in person in a socially distanced way or through things like Zoom."
The Mission cannot take in homeless individuals who have not been screened. In terms of delivering food from the shelter, this still occurs but must be done carefully.
Long before COVID-19, those struggling with homelessness in downtown Ottawa and those in need of food and other supports relied on the Mission's services.
"We don't want people to go hungry," said Leo. "We've served over 520,000 meals last year, so we have to continue to do that regardless of COVID-19. We also introduced a food prep service, a truck that has thirteen different stops to give meals to people throughout the city, because of a disability or lack of transportation for people who can't get the food."
---
More Stories