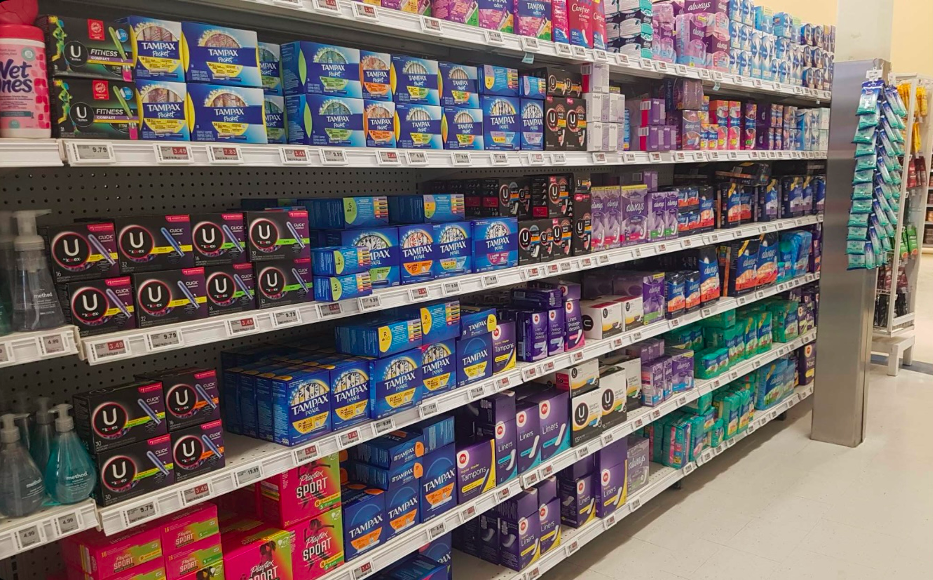 The City of Ottawa has announced that menstrual products will be available in female and universal washrooms in four community centres around the capital.
The pilot project follows an inquiry last year by Kanata North Coun. Jenna Sudds, who urged a probe into the costs of offering free menstrual products in City of Ottawa facilities. The project is aimed at tackling the issue of "period poverty." She tweeted at the time: "Period Poverty is real and people in our city face it."
Period Poverty occurs when a person cannot afford tampons, pads and other menstruation products, forcing them to face financial hardship or resort to alternate means to manage their periods. A recent study supported by the Canadian Public Health Association says women can spend an average of $13 a month on menstrual products and more than $6,000 in a lifetime.
In launching her inquiry, Sudds presented statistics showing how many women were affected by period poverty.
"According to Plan Canada's study on menstruation in Canada, more than one in 10 Canadian girls and women report they have had to regularly miss out on an activity because of their period and concerns about a lack of access to menstrual hygiene products," said Sudds. "One in three Canadian girls and women under the age of 25 struggle to afford period products. Four in 10 Canadian girls and women report they have had to sacrifice something else in their budget to afford menstrual hygiene products."
"I have full confidence that if men menstruated, there would (be) menstrual products available everywhere," she stated. In Ottawa, there are only nine city facilities with menstrual product dispensers. The new initiative will set aside $58,000 for the pilot project to purchase more menstrual products, and install dispensers at community centres. Dispensing fees range from 25 cents to $1 depending on the product.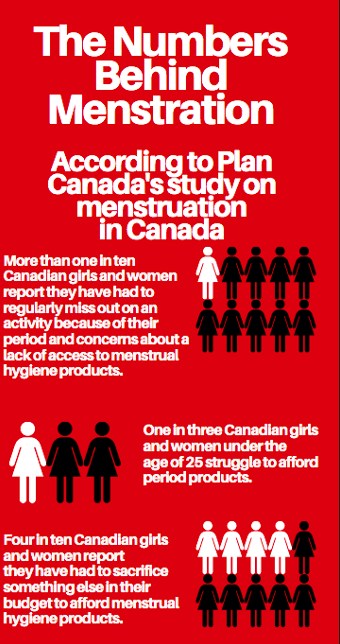 The campaign for city-distributed menstrual products has been the focus of many organizations, including Menstro, an Ottawa-based youth organization founded by Kanata high school students Aislynn MacLean and Izzy Lapalme. Menstro was launched to transform the culture surrounding menstruation and to combat period poverty.
The organization initially submitted a proposal to city council to put free menstrual products in school bathrooms and continues to advocate for more accessible menstrual products.
"Our objective for the project was to provide free menstrual products in the City of Ottawa restrooms to raise awareness and defeat the stigma around periods and helping those in need," says Maclean.
Currently, Menstro maintains a social media platform to encourage discussion of period poverty in the city. Last summer, it participated in a donation drive to distribute 1,408 back-to-school period kits to Ottawa students.
"Period poverty is a pressing issue throughout Ottawa and around the world," said Maclean. "Access to period products is a human right. Menstro normalizes periods while providing and advocating for the accessibility period products."
"Lack of awareness and access to hygiene and period products are the key factors when it comes to period poverty," said Maclean "Women and girls, especially those from marginalized backgrounds, are disproportionally affected by period poverty — even in Canada."
Sudds also emphasized the need to tackle the mindset surrounding menstruation.
"I challenge all of those who don't menstruate to think about what it would be like if every day before you left home, you had to take however much toilet paper you needed for that day with you, and what would you do if you didn't have enough?"
Maclean expressed excitement at seeing the issue acknowledged and addressed by city officials.
"When I went to City Hall, I was pretty nervous and surprised that so many councillors were willing to meet with us," she said, referring to Menstro's initial interactions with local politicians last year "I had originally sent an email to councillors in the City of Ottawa and the mayor. I wasn't expecting much, but it made sense to talk to councillors. But then one councillor in particular Coun. Shawn Menard contacted us and invited councillors from five other offices. It's great to see the city taking it seriously."
The new menstrual pilot is set to run for one year. Maclean remains optimistic that programs such as this will continue to improve the struggle women face when it comes to menstruation.
"I have lived in Ottawa all my life, and I like the city," said Maclean. "My ideal scenario is to see Ottawa become a model for other cities in Canada."
---
More Stories