Councillors reject plan to block unpopular Château Laurier addition — with regrets
City councillors expressed regret — and one stated bluntly she'd made "a mistake" she couldn't reverse — as a wildly unpopular design for an addition to the landmark Château Laurier was effectively given final approval last week.
City council voted against the motion to revoke the heritage permit for the hotel's expansion, upsetting the many opponents of the boxy, seven-storey addition to be built by Château Laurier owner Larco Investments along the southern edge of Major's Hill Park.
The Château Laurier is designated a national historic site under Part IV of the Ontario Heritage Act. Visited by many from around the world, its iconic and beloved architecture has acquired an emotional connection with the public.
Larco requested a heritage permit in December 2016 to build an addition in a modern style.
In June 2018, city councillors gave conditional approval to a design that met certain criteria, chiefly that the addition be visually "compatible" with the existing hotel. City staff delegated to assess the final design of the addition approved Larco's controversial plan.
The issue came to a climax on July 10 after Rideau-Vanier Coun. Mathieu Fleury proposed revoking Larco's heritage permit. But a majority of councillors said they felt powerless to overturn city staff's approval of the project.
Several members of council, including Somerset Coun. Catherine McKenney and Gloucester-Southgate Coun. Diane Deans, said they were filled with regret with their earlier decision to grant a conditional permit based on a staff-approved design.
"I would not have made the vote that I did," said McKenney. "It was a mistake. But it was one made honestly at the time."
Deans who saw no reason as to why the council would not want to fight the good fight said, "this is our opportunity to try and move forward. I see no logical reason why we wouldn't take that opportunity."
Deans said she saw no reason council should not overturn its earlier approval, despite threats from Larco that it would challenge such a decision in court. "This is our opportunity to try and move forward," said about the proposed revoking of the heritage permit. "I see no logical reason why we wouldn't take that opportunity."
But others who opposed Fleury's motion, such as Osgoode Coun. George Darouze, said: "You had the opportunity in the last 1,231 days…. You don't wait 1,231 days to pull an application. After all the work and all the time, all the money spent, to give a slap in the face to our staff, to our committee."
Public's opinion on the matter
Over the past three years, five designs for the addition were presented to the city and all were strongly disputed by members of the public.
"I have never seen something that was universally deplored by the entire population," said one critic, Rob MacDonald, who has lived in the city for 40 years. "You can't find one person in the city of Ottawa that says they like the design of Château Laurier."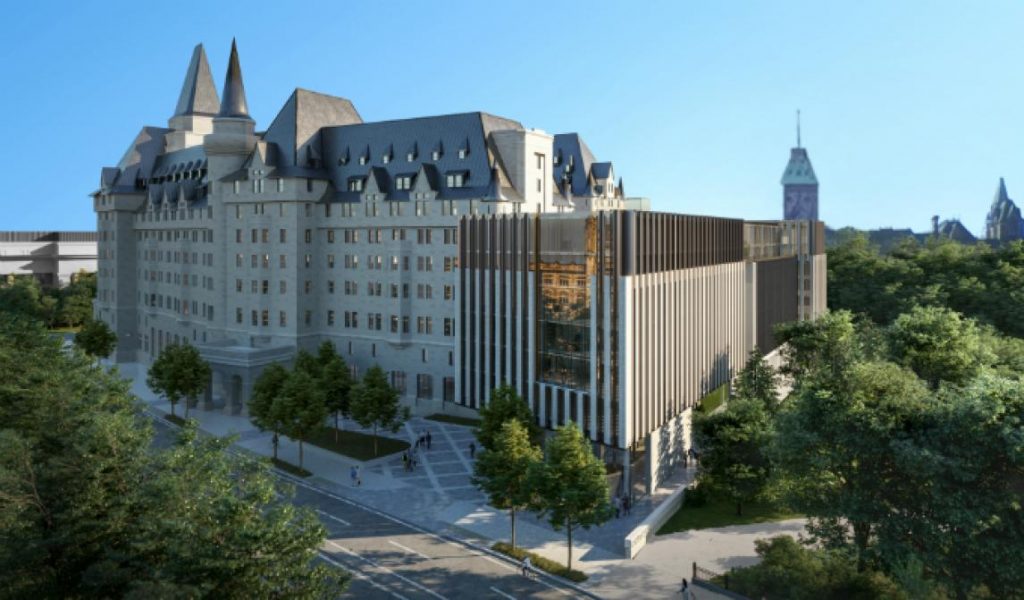 Fleury, in presenting his motion to revoke Larco's heritage permit, said local residents "want a well-planned community and to be shown respect."
One of the main arguments made in favour of Larco's final design was that Château Laurier is privately owned and that ultimately it should be left to the owners to decide on the design as long as it met the city's basic criteria.
"The city cannot require a building to be built in a particular style or by a particular architect," said Alta Vista Coun. Jean Cloutier.
The legality concern
Several councillors expressed concern about the potential legal cost of revoking the heritage permit. City staff argued that the passing of Fleury's motion would cost taxpayers in a court fight that council would ultimately lose.
"I cannot in good conscience vote in favour of the motion that I know will cost the city hundreds of thousands of taxpayers' dollars," said Innes Coun. Laura Dudas.
Although sympathetic towards the intent of Fleury's motion, Dudas said: "It is misguided and it misleads the public as to the level of authority council has at this point in the process."
Dudas argued that the previous council had an opportunity earlier in the process to enforce standards that were "stiffer" with regards to design criteria.
"I am concerned if this motion passes," she said before the vote, "it strengthens the owner's argument that the city is acting in bad faith."
After council voted not to pull the plug on Larco's final design, heritage advocates said they were weighing whether to continue the fight in court.
"There are options there to challenge this and we are going to be looking at what those options are," said David Flemming, former president of Heritage Ottawa and current chair of the organization's advocacy committee. "We have got time and I really think that it was a dishonest thing that happened."
On July 11, councillors had one final chance to reconsider the result of the previous day's vote on Fleury's motion, but the result was the same.
"Shame! Shame!" was shouted at council from the public viewing area.
"It almost feels," said MacDonald, "like you have this group of people . . . siding up with the developer over the people that actually live here."