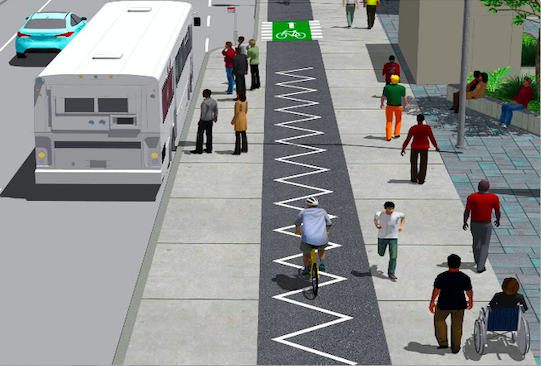 With physical distancing forcing many Ottawa residents to stick close to home, cycling remains one way for people to safely enjoy the outdoors while getting their daily exercise.
In fact, the pandemic has made this mode of transportation more popular, leaving certain Ottawa bike shops struggling to keep up with demand.
Alex McTaggart, web manager at Kunstadt Sports, a sports equipment store in the Glebe, said COVID-19 has had a significant impact on the shop's ability to service bikes.
"At the beginning of the lockdown we were lucky enough to be deemed essential," he said via email. "However, the number of technicians we had working was limited. It wasn't long before we had a backlog of work to do, and we are still trying to keep up.
"For every bike we get out of the shop, two or more come in."
Ward Verschaeve, a cycling advocate and member of Bike Ottawa, said he has been waiting for parts for his bike for two months. He attributes the delay to the surge in demand for all things cycling.
"There have been trends that have been rising and falling during COVID, and cycling seems to be the big trend now," he said.
According to the 2016 census, 9.6 per cent of people in Ottawa commute by active transportation — cycling or walking — the second highest among all Canadian cities.
Even with many would-be commuters now working from home, demand for bicycles remains high.
Bike Ottawa, the local cycling safety and advocacy organization, says that the city's population of cyclists has grown about seven per cent annually since 2010.
Bike stores normally file large orders with manufacturers at the beginning of the peak season, based on sales from the previous year.
"This gives the bike companies an idea of what to build for the season," said McTaggart. "What is left from the suppliers after our initial order is normally not that many in a normal bike season."
But with the unexpected surge in demand during the pandemic, this is no normal bike season. With a dwindling inventory, McTaggart has been forced to turn a number of customers away.
"This season it is very hard to get anything on a second order."
This heightened demand has also raised concerns about rider safety. With newer cyclists looking for places to ride, many bike routes have become increasingly crowded.
"The existing routes are there, but they are few and far between, and the city hasn't been doing a lot to add more space," said Verschaeve.
Verschaeve organized the June 18 Bikes on Elgin protest, a demonstration urging the city to invest more in safe cycling infrastructure. The rally was in response to an accident on June 12, when a cyclist collided with a truck near the intersection of Elgin and Catherine streets, leaving her seriously injured.
In spite of his efforts, he said city council has shown little willingness to meet the demands of Bike Ottawa and other advocacy groups. While some councillors — including Somerset Coun. Catherine McKenney and Capital Coun. Shawn Menard — have shown support, Verschaeve said he is not holding out high hope for the safety of cyclists this summer.
This is exactly what was predicted would happen when this section of Elgin was reconstructed. This City doesn't build safe streets for vulnerable users unless forced to. Usually following a death or critical injury. Furious. https://t.co/XGg86Ry4ho

— Catherine McKenney (@cmckenney) June 13, 2020
"I'm very worried. A lot of them have spent the last four or five weeks on these trails where there haven't been as many drivers," he said. "With reopening, we're opening the door to a much more dangerous summer than last year."
---
More Stories