Like many things in 2020, the holiday season will look and feel considerably different this year as COVID-19 cases hit record highs across the country.
No matter where they live, Canadians are being urged to keep their holiday celebrations as close to home as possible — limiting the size of gatherings, often to only within their own households, or holding events entirely online to curb the spread of the virus.
Prime Minister Justin Trudeau has warned the country that coronavirus cases in many regions are "spiking almost out of control" and stated bluntly: "A normal Christmas is, quite frankly, right out of the question."
He also urged Canadians to reduce their contacts and to "tighten up" in hopes that doing so will allow people to gather in modified celebrations.
Rising case counts have cancelled Quebec's Christmas window. The Quebec government had proposed a "moral contract" between citizens and the government so that families could celebrate the holidays together. Premier François Legault said on Nov. 19 that residents of the province may gather in groups of "up to 10" for the holiday season during the four-day period between Dec. 24 and Dec. 27, as long as they voluntarily quarantined a week before and a week after Christmas.
"Allowing us to see each other for four days entails risks," Legault said at a press conference. "But we have to remember that family is at the heart of who we are."
Risks indeed. Soaring daily case reports in the first of December put the kibosh on the moral contract.
Ontario Health Minister Christine Elliot has said "don't count on" all of the province being in the low-risk green zone for Christmas, especially now that Toronto and Peel regions have been forced back into a modified lockdown.
In Manitoba, red zone restrictions limiting gatherings and shopping options have been extended into the New Year and in hard-hit Alberta, similar shutdowns begin on Sunday. British Columbia too has limited gatherings to households only, along with other measures to slow the second wave of the pandemic.
Erin Mills Town Centre, a mall located in Peel region, was decked out for holiday shoppers in early November but is now offering curbside pickup for select stores and reduced store hours for essential services. The shopping centre is also offering a "virtual holiday experience" instead of its traditional photo op with Santa.
Ontario's COVID-19 cases have recently reached record highs that have approached 2,000 cases a day.
Ottawa remains in the "orange" or restrict zone on Ontario's COVID-19 severity scale, which imposes a 10-person limit on indoor gatherings and a 25-person limit on gatherings outdoors. Ottawa's chief medical officer, Dr. Vera Etches, has said that it will take "something dramatic" for Ottawa to be placed in the green zone for the holidays.
Dr. Etches has said new traditions would have to be made for this upcoming holiday season to reduce the risk of COVID-19 spread.
"It's too soon to know for sure what Hanukkah, Christmas and Kwanzaa will look like," she said. "We will likely have to prepare for a similar approach."
Ottawa Public Health has outlined some gathering recommendations for the holiday season in the "Be Social Wise" section of its website. OPH is recommending that celebrations be contained to household contacts only, and if you live alone, celebrations can be had with one or two other people.
OPH is also urging people to host virtual celebrations in lieu of in-person dinners and to encourage citizens to take advantage of winter activities such as outdoor skating and hiking while safely gathering with loved ones.
Ottawa Public Health is also recommending that people do not travel outside the Ottawa region during the holidays except for trips considered essential or for business. They are also encouraging those who choose to attend holiday events in person to take as many precautions as possible, including wearing a mask at all times, avoiding physical contact with others and not sharing food or drink.
OPH has also outlined a number of steps on its website that people can take to safely celebrate the holidays virtually and to safely distance from one another.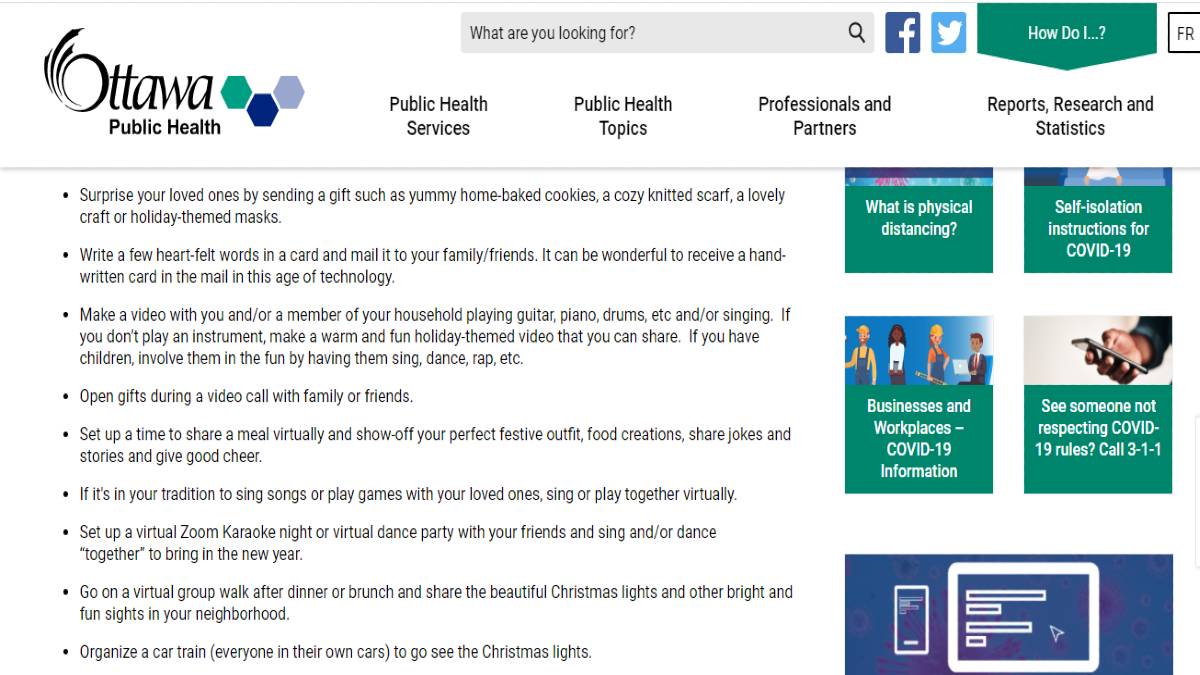 Ottawa Mayor Jim Watson has said that because of the pandemic, many local Christmas traditions had to be cancelled for safety.
"Unfortunately, we're a bit like the Grinch," Watson said in a recent Zoom session with Capital Current reporters.
"We had to cancel the Santa parade and had to cancel my Christmas party here at City Hall," said Watson. Instead of having an in-person party this year, he added, City Hall will be hosting a virtual Christmas celebration instead.
The municipality is also encouraging people to shop locally this year during the Christmas season — while observing all safe-distancing guidelines — to help out struggling small businesses.
Families are even being encouraged to celebrate Christmas outdoors while safely distanced from one another.
Jesse Campbell, retail sales supervisor at The Fireplace Centre and Patio Shop in Ottawa, has noticed a sharp rise in families buying outdoor heaters and propane fire pits for outdoor gatherings this winter.
"One of the big products that we sold this fall was our stand up electric patio heaters," Campbell said. "Back around September and October is when we had a big surge and sold dozens and dozens at a time."
Campbell added: "Over the past couple of weeks, we had a couple of folks looking specifically for stuff for outdoor Christmas gatherings."
Many Christmas traditions will look different this year as a result of the COVID-19 pandemic and that can cause the season to feel more lonely than usual. OPH is recommending reaching out to friends and family virtually to show them some care and to "share some smiles" this holiday season.