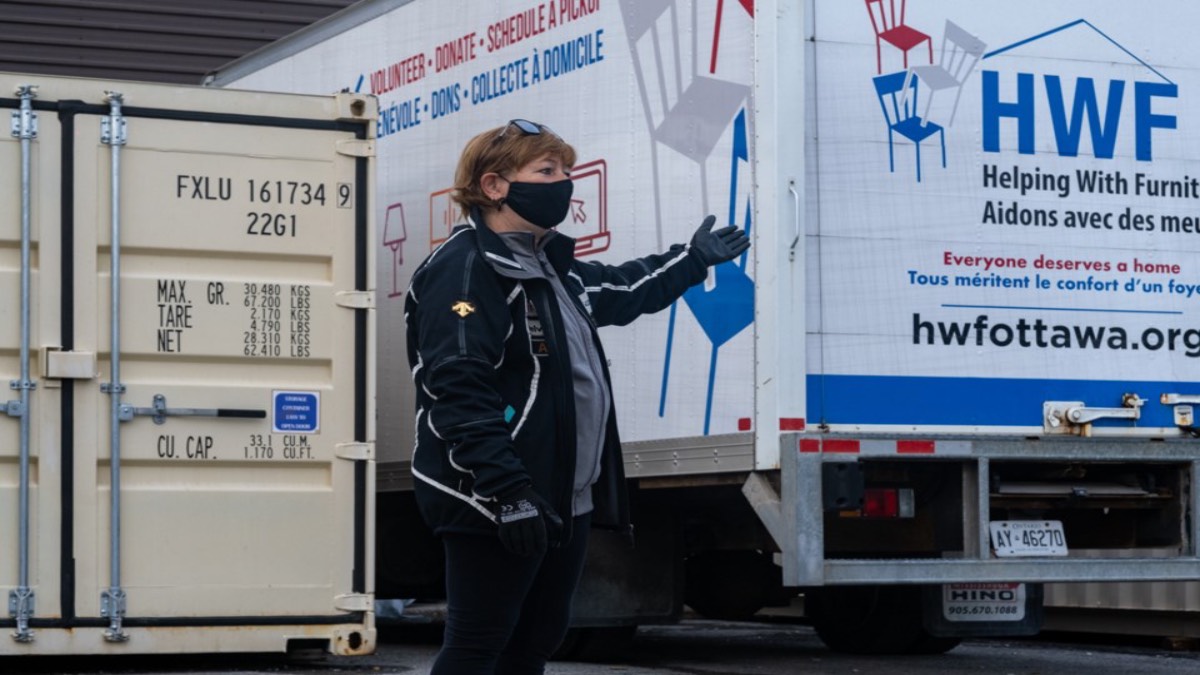 Capital Current continues its occasional series profiling some of the people who are making a difference in our community:
Fifteen years ago, Nathalie Maione offered up her truck to deliver furniture to an immigrant family in Ottawa. It was supposed to be a one-time thing.
"I saw that the family, all they had was suitcases. It really hit me that somebody can leave their home country, leave everything behind and come with basically a suitcase and their memories."
It was the moment that created a massive operation. Fast-forward and the charity Maione founded, Helping With Furniture (HWF), now furnishes up to 14 houses a week.
That's not easy during the pandemic. The organization has had to ditch its normal service and delivery practice, which involved teams of volunteers working inside a client's home for about three days.
Instead, to keep volunteers safe, HWF is only accepting donations brought to its facility and clients who need furniture are responsible for transporting and assembling it at home themselves.
HWF provides everything from bed frames to wall art, thanks to donations from the community and partnerships or collaborations with companies such as Ikea and Home Depot. It serves families and individuals who are recent immigrants, low-income, are leaving a shelter, or have lost their possessions because of unforeseen circumstances.
Increased need
HWF has seen an increase in need and donations since the onset of COVID-19. "We've had a huge influx of donations and a 33-per-cent increase in demand for our services," says Maione. Other charities have not been so lucky.
HWF creates new programs and partnerships to address needs that arise in the community. For example, its bike program provides clients with refurbished bikes, helmets, locks and ownership papers.
A new computer donation program now in the works is a direct response to COVID-19. "It's not part of our mandate," says Maione about the additional service, "it happens because we're able to make it happen."
Maione moved from France to Canada with her family at age 11. She works 35 hours a week as a kindergarten educator and has six kids (three still at home) and two grandchildren, who she takes special care to mention. Still, she works around 45 hours a week at HWF.
Next on the agenda: finding a bigger warehouse. At the moment, the organization's browsing area for clients to select their free furniture is outside.  When winter comes, "the shopping's going to go real quick," Maione laughs. 
HWF is volunteer-driven and non-funded. For the last six years, it has partnered with the police foundations program at Algonquin College to educate prospective law enforcement officers on the realities facing vulnerable communities. Many clients of the charity also return to volunteer.
"Isn't that the key? Everyone learning from one another and growing personally? That's what it's all about. That's what inclusion is all about," says Maione.
"I look at my crew, and we're as eclectic as all the clients we help. That's how it's supposed to be."
Maione wants people to understand that what HWF does isn't just about furniture. It's about accepting others as they are and choosing to do your part.
"It's much more about giving back. It's about giving people their dignity, the ability to succeed, and the tools they need to do so."
For more information on how to volunteer for HWF or to donate your used furniture, visit the organization's website.
---
More Stories