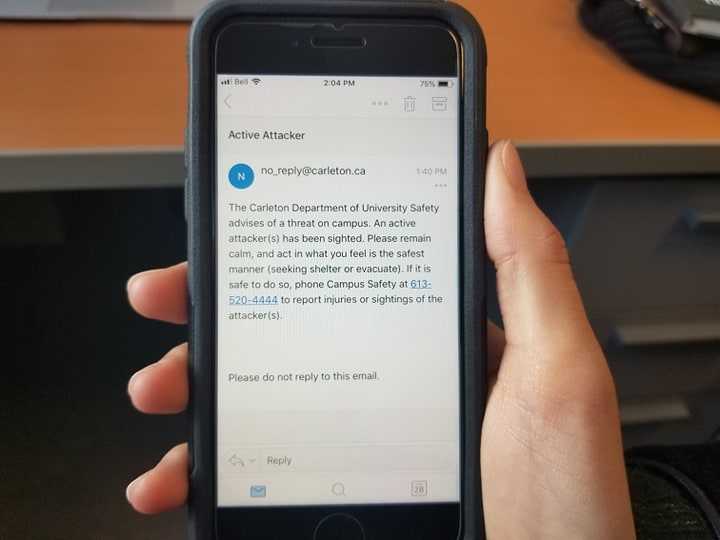 Carleton University has apologized after sending an email and text alert in error warning of an "active attacker" Monday afternoon.
In a tweet, the university apologized "for the error and the resulting upset that was caused."
"We can reassure you that everything is safe and under control," the tweet continued.
Students and staff barricaded themselves inside classrooms and offices after Campus Safety issued the alert at 1:40 p.m. Monday that advised of a "threat on campus."
"An active attacker(s) has been sighted. Please remain calm, and act in what you feel is the safest manner (seeking shelter or evacuate)," the initial alert continued.
At 1:57 p.m., Campus Safety retracted the alert with another email that blamed the advisory on a technical error while "emergency templates were being updated."
"The wrong computer key was hit and a template for one of several types of potential emergencies went out to the community in error," said yet another email sent by the University at 3:32 p.m.
Meanwhile some Carleton University students aren't satisfied with the way the situation was handled, especially the 20 minute delay in retracting the original error.
One student didn't appreciate being evacuated into -20 C temperatures. Cody Schilliday said his class was sent to a parking lot where they stood for 10 minutes in the cold. He said he felt it "could have been handled better."
Concerns were also raised about the lack of specifics in the original alert that advised students and staff to "act in what [they] feel is the safest manner" while suggesting evacuating or seeking shelter.
To prevent future false alarms, the university said in an email that it would look into options for adding another step in the emergency notification process.