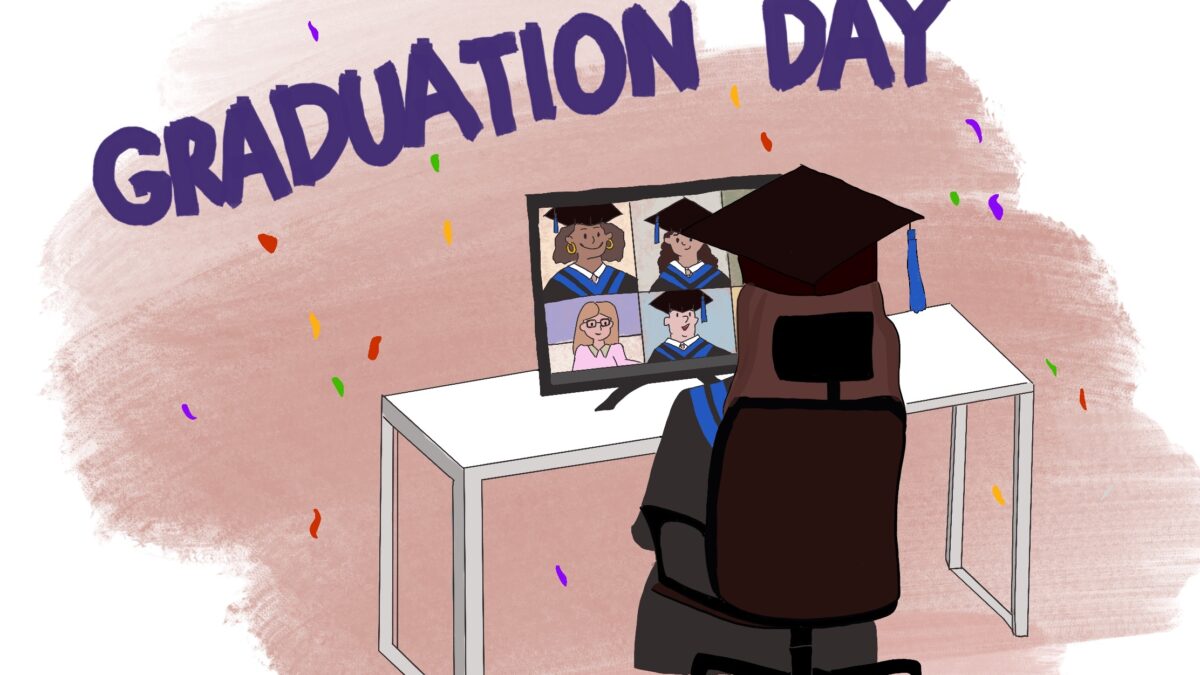 Some Ottawa high school students and their parents are disappointed at what they describe as a lack of effort on the part of Ottawa's two largest school boards to hold in-person graduation celebrations despite permission from the Ontario government to do so.
With graduation a few weeks away, these students and parents say while the decisions are unsurprising after a year of shutdowns and virtual classes, they wish schools had started planning for a best-case scenario earlier. 
The Ottawa-Carleton District School Board (OCDSB), the Ottawa Catholic School Board (OCSB) and other school boards across the province say they will hold virtual graduation ceremonies. 
Ontario Premier Doug Ford said on June 2 that schools could hold outdoor ceremonies. The government even released guidelines for such graduation events, which include masking, distancing and self-screening. 
"We recognize the incredible toll COVID-19 has had on students across the province," Ford said in a statement. "With weeks left to plan, there is no reason that in a year like no other, school boards can't think outside the box [and] do all they can to safely give students the send-off they rightfully deserve."
Ontario Health Minister Christine Elliott told Queen's Park reporters June 3 that local health officials would work with school boards to ensure public health measures were followed.
"While school boards will ultimately make this decision in consultation with local public health, our government is strongly encouraging and enabling safe outdoor and in-person graduations to celebrate Ontario student achievement," Caitlin Clark, spokesperson for Ontario education minister Stephen Lecce, said in a statement to Capital Current.
Several school boards and the Ontario Principals' Council (OPC), a group that represents principals of schools, said the government didn't give schools enough time to plan for in-person ceremonies at the end of June. A graduation event, the group said, takes months to organize. 
However, some parents and graduating students say school boards turning to virtual graduation ceremonies is a result of a lack of effort to give students the chance to experience a universal rite of passage: a graduation ceremony surrounded by friends and family.
'We didn't have very high hopes'
Kimberly Nowak is a Grade 12 student at Nepean High School in Ottawa, part of the OCDSB. She said although she wasn't surprised to hear the decision, she was still disappointed. Kimberly's high school will have a virtual ceremony. 
"We didn't have very high hopes," she said.
Kimberly said she was particularly disappointed for her parents and other parents who have looked forward to watching their children graduate.
"I know a lot of parents, including my parents are just as disheartened — if not more so — because it's a big moment," Kimberly said. "It kind of signifies moving on, leaving, getting older."
Kimberly's mother, Sophie, agreed. "You're realizing, 'Oh, my gosh, there's 17 [or] 18 years of my life now and there's nothing," she said. "It's just a big, empty void." 
Richard Perkins, whose son Ryan will graduate from All Saints Catholic High School in Kanata, said a virtual ceremony won't be the same. An in-person ceremony is an opportunity for students to celebrate with friends and for parents to see each other, he added. 
"It does feel like the kids are being robbed of it," Perkins said, "[and] a lot of these people you've known since the kids were four or five years old."
Unlike Kimberly Nowak's school, which still has plans for prom, Ryan's school has cancelled its prom as well — adding another element of frustration for the graduating students. He said he and most of his friends are upset that both events are cancelled. 
'A lack of effort'
Sophie Nowak said the school boards should have arranged alternate plans in case an in-person ceremony was a possibility.
"They did not plan for the worst and then hope for the best," she said. "I feel like the board has failed the kids."
The Ontario Principals' Council (OPC) and several school boards, including the OCDSB and the Toronto District School Board (TDSB), released statements to parents and students saying while they understood the value of in-person events, the province gave them too little time to prepare for them. 
"We know how important graduation ceremonies are for students, staff and families," a TDSB statement said, "especially after such a challenging year where 'in-person' memories have been few and far between. At the same time … there is very limited time to plan in-person events of this size."
In the statement, the Toronto school board also said many schools have already spent money and several months planning virtual ceremonies.
In a board meeting, Camille Williams-Taylor, the OCDSB's director of education, said schools will continue planning for virtual events but with in-person elements, such as photo opportunities at their schools.  
False hopes
Ann Pace, president of the OPC, said the announcement gave some students false hope and worried other students who are uncomfortable with attending an in-person gathering during the pandemic. 
"You [have] false hope for the students who want the face-to-face [ceremony], and increased anxiety for those who don't," she said.
Pace said the province did not consult with school boards on its decision to promote in-person outdoor ceremonies or to find out what plans were already in place at Ontario schools. "There was no regard for what has already been put in place. There was no regard to learn about what we are already doing," Pace said.
She said graduation ceremonies are planned months ahead. The province's announcement came in early June — weeks before most graduation ceremonies are held at the end of the month. "This is not something that we do at the last minute," she said. 
Pace said she knows how much students have missed out on this year due to the pandemic, circumstances outside of everyone's control. "It is really unfortunate that we can't do more for them," she said.
She added that many schools' plans for virtual ceremonies have included students' input and participation in the final product of the virtual events. "It has included their voice, and it is with them at the centre of the celebration," Pace said.
Sophie and Kimberly Nowak say students and parents had brought forward ideas for distanced, outdoor ceremonies to staff at Nepean High School months ago. "Yes, they did their best by going virtual, but they had a bloody year to plan this," Sophie said. 
Sophie added that schools could have tried harder to make the ceremonies more special for graduating students. "[It's a] lack of creativity, lack of effort, lack of willingness," she said. "Does the board care?"
---
More Stories