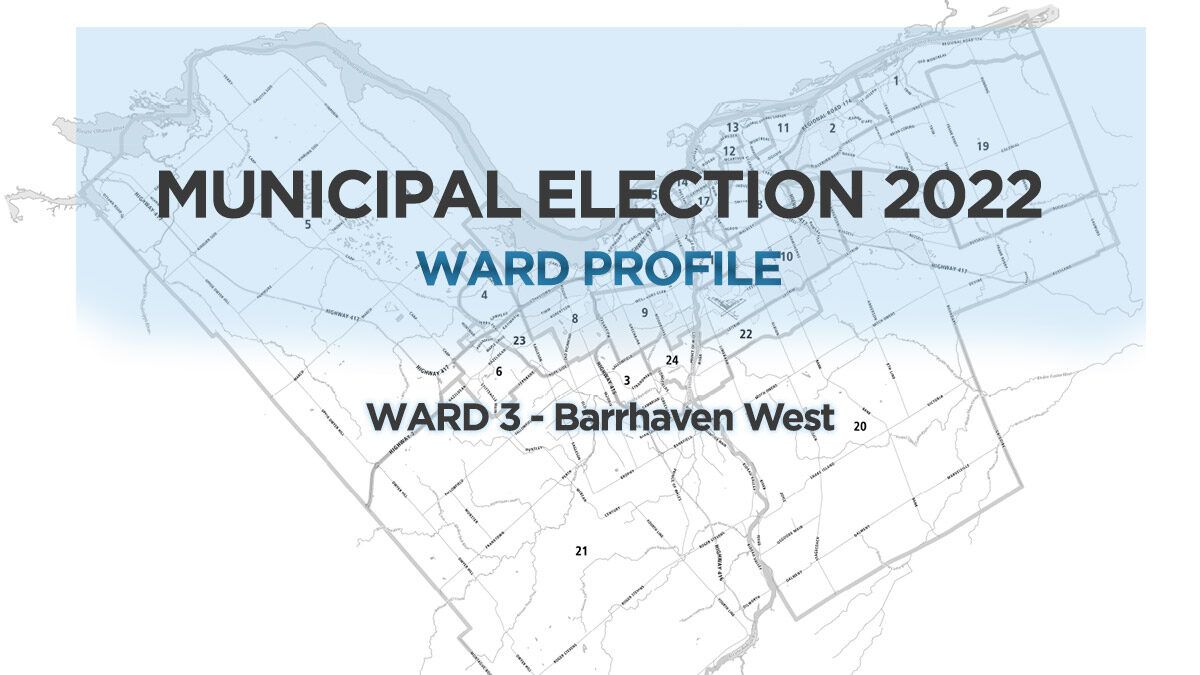 Who's running?
Jan Harder, the incumbent councillor for Barrhaven West, has represented the area for decades. For the first time in more than 25 years, she is not running for office and as a result, the city council seat is wide open — and any of the four candidates can win.
Harder won every election she fought over the past quarter-century, and in the last municipal election in 2018, she amassed 75 per cent of the total votes.
All four candidates to replace Harder — Jay Chadha, Sadaf Ebrahim, David Hill, and Taayo Simmonds — have been busy campaigning for the seat in the vote on Oct. 24.
When, where, and how to vote can be found on this City of Ottawa website, including details on candidates, who can and cannot vote, where and what time you can vote on election day and other information.
Key issues
All candidates have vowed to improve the transit system, make Barrhaven safer and invest money back into the community. But the main issue being debated is about roads in the ward. All four candidates are adamant about improving traffic flow and creating new road infrastructure to better serve the neighbourhoods. 
They all want a new on/off-ramp along Highway 416 from Barnsdale Road, near where it intersects with Borrisokane Road. The plan is widely viewed as necessary because currently the only on/off ramp to Barrhaven from Hwy. 416 is at Fallowfield Road. This additional exit would increase the convenience of Barrhaven residents.
The candidates also want to streamline a project to expand and realign Greenbank Road from Barnsdale to Marketplace Avenue. The plan is to include a four-lane road with a median and one lane in each direction exclusively for buses, in addition to designated paths for pedestrians and cyclists. Construction isn't planned to start until 2030; the contenders for the council seat say they want it finished more quickly.
Location
The Barrhaven West ward includes all territory north of the intersection of Barnsdale Road and Prince of Wales Drive, all territory south of the intersection of Lytle Avenue and Cedarview Avenue, all land east of Highway 416 Northbound between exits 57 and 67, and all territory west of Prince of Wales Drive to Nicolls Island Road. The western boundary curves significantly, following the Jock River until Longfields Drive, before following a series of streets including Strandherd Drive, Greenbank Road, Fallowfield Road and Cedarview Road before reaching Lytle Avenue.
Demographics
The population of Ward 3 is 47,253. As of 2011, more than 71 per cent of the population was white, 6.9 per cent were South Asian, 6.4 per cent were Chinese, 4.2 per cent were Black and 9.7 per cent identified as another race. About 71.8 per cent of the population speak English, 7.4 percent speak French, 4.7 per cent speak Chinese, 2.0 per cent speak Arabic and 3.4 per cent speak another language. Finally, 66.3 per cent of the population self-identify as Christian (39.3 per cent are Catholic), 4.9 per cent are Muslim, 3.2 per cent are Hindu, 1.6 per cent are Buddhist and 21.8 per cent of the population do not identify with a religion.
Landmarks
There are a few noteworthy landmarks in the ward, including the Barrhaven Marketplace as well as the Minto Recreation Complex and Walter Baker Sports Centre.
---