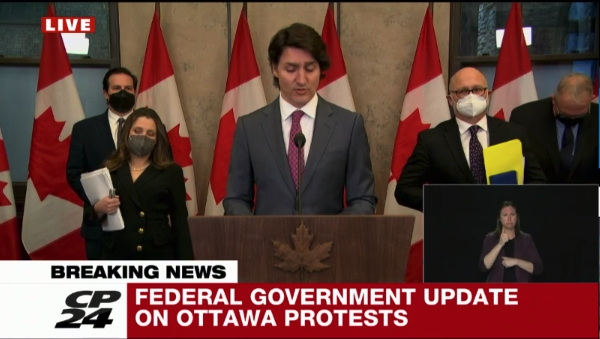 More than 50 years after Pierre Elliott Trudeau invoked the War Measures Act in the midst of the 1970 FLQ crisis, his son has moved to end an 18-day occupation of the capital by invoking, for the first time, the Emergencies Act.
"I want to be clear: the Emergencies Act will be limited in time, scope, and geographical area, meant to deal with the ongoing trucker convoy protests and blockades at borders," Prime Minister Justin Trudeau said.
Trudeau told a media conference late this afternoon that he had consulted cabinet and caucus as well as premiers before putting in place this historic action. He added that there are no plans to use the Armed Forces. Instead, he says, police will be given more tools to restore order in areas under blockades and facing unlawful such as in Ottawa.
"We are reinforcing the principles, values, and institutions that keep all Canadians free," Trudeau said. "We will always defend Canadians' right to protest, but depriving neighbours of their freedom is a totally different thing."
The invoking of the act gives RCMP more powers to enforce violations by protesters. But one of the key steps taken by the government was outlined by Finance Minister Chrystia Freeland who emphasized the broad economic impacts created by the actions of the convoy protesters.
"These costs are real: they impact businesses big and small and they threaten the livelihoods of Canadian workers."
The government, she said, is moving quickly to stem the flow of money directed at illegal acts. Financial institutions will be given the power to freeze accounts that appear to be directing money towards illegal actions such as blockades.
"This is about following the money," Freeland said. "Stopping the funding of these blockades."
It has been reported that more than half of the donations made to the GoSendMe crowdfunding website based in Boston, Mass., has come from American donors.
Underscoring the action today was news from Alberta that RCMP had uncovered a cache of weapons, body armour, ammunition and high-powered magazines in three trailers embedded in the protest at the Coutts, Alberta border crossing. Eleven people arrested by police were described as part of a violent coup prepared to challenge the police with violence.
Late Monday night, protesters announced they would be ending their blockade Tuesday morning.
Five premiers, Alberta's Jason Kenney, Saskatchewan's Scott Moe, Manitoba's Janet Stephenson, Quebec's Francois Legault and New Brunswick's Blaine Higgs, said they did not think the action was necessary.
However, Premier Doug Ford of Ontario welcomed the decision.
Earlier in the day Ford announced that the requirement that a vaccine passport be used to enter businesses and other places would end on March 1. The province also moved forward the lifting of many COVID-19 capacity limits in the province to this Thursday. Mask mandates will continue for the foreseeable future.
While some Ontarians may speculate these developments were concessions to protesters, Ford himself simply attributed the fast-tracking to "how well Ontario has done in the Omicron wave."
Protesters in Ottawa insisted they would be staying downtown and it was unclear what would happen with the 400 trucks parked downtown. On Sunday, Ottawa Mayor Jim Watson had conducted "backchannel negotiations" with an organizer of the Freedom Convoy that resulted in an agreement to remove trucks from residential neighbourhoods. That appears to be a dead letter at this time.
An Angus Reid Institute poll published Monday suggests 72 per cent of Canadians now think protestors should go home, having made their point with 53 per cent saying they should be arrested and criminally charged.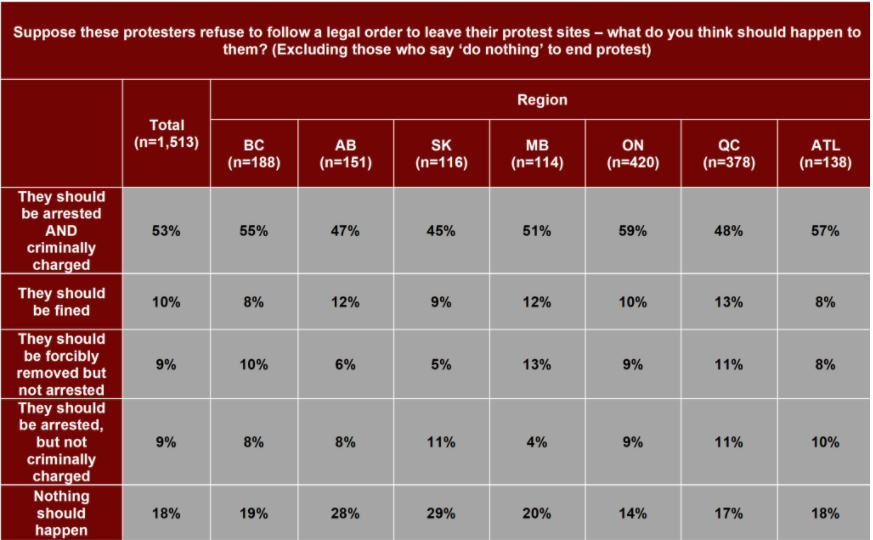 ---
More Stories