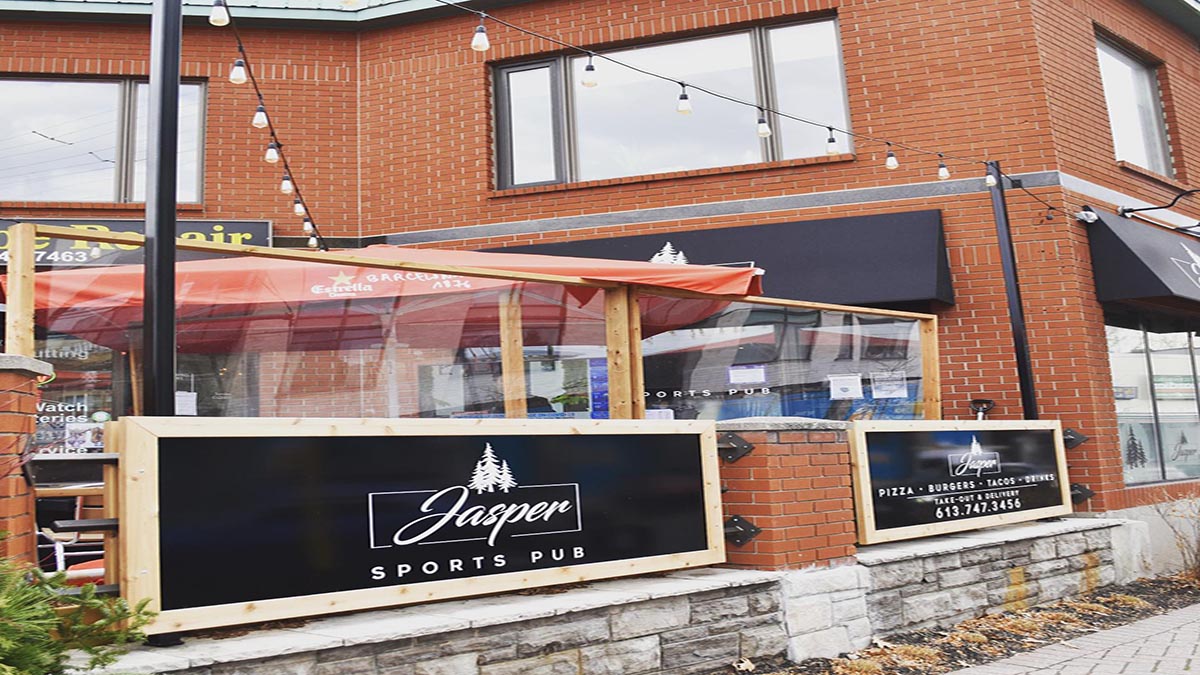 Ottawa went into the red-control zone on March 19 with cases rising but despite this, restaurants were able to open their patios up to the public. With the sun out over the weekend, patios were a busy spot.
Ottawa Mayor Jim Watson fast-tracked the reopening of patios to help restaurants combat the restrictions designated by the red zone, such as only being allowed 10 patrons indoors – which was changed.
"We moved quickly because we knew most restaurants could not afford to open for just 10 seats, especially if it was a big restaurant that seated 200 for instance," Watson says. "We're pleased that after pretty extensive lobbying… the province accepted to reverse that decision and come up with a 50 per cent capacity and maximum of 50 seats indoors."
Patios usually open April 1 but they were able to open two weeks early and this was announced by Watson in a tweet on the same day that the province announced that Ottawa would move into the red zone.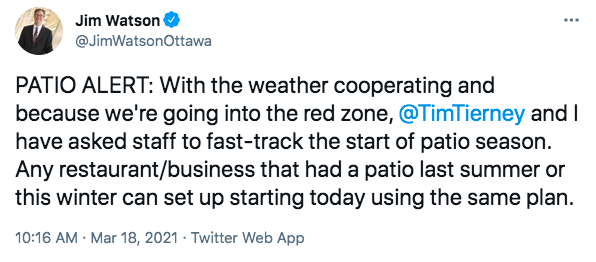 "I just think it allows these restaurants, who have probably been one of the hardest-hit industries since COVID arrived on our shores a year ago, it gives them a little more of a fighting chance to survive," Watson says, adding that it also "brings some life to the streets."
Ottawa Public Health says that outdoor patio capacity has not been prescribed but there must be a minimum of a two-metre distance between tables and asks for vigilance from the people of Ottawa to keep up with protective behaviours like wearing a mask.
Geoffrey Ring, operations manager of food at both Tavern on the Hills and Tavern on the Falls and owns and manages Jasper Sports Bar, was able to open two patios on Saturday. Tavern on the Hills will open in April.
"It expands our business, so we have more seats and more customers. I find customers, at this especially, are more prone to sitting outside as it feels safer for most people so more people are willing to come out," Ring says.
Victoria Lalande went to four patios in Ottawa on the weekend while she was visiting from St. Catharine's. Lalande says she decided that they were the safest way to see some friends while she was here.
"Having patios open, shutting down streets again like they did last year so that they could have bigger patios is, I think, the only reason that a lot of places are still afloat," Lalande says.
"With the nice weather, we were full with some spill over inside, and as soon as the outdoor tables open, they would go back out," Ring says.
While having patios open is beneficial to the restaurant industry, Lalande still has some concerns.
"I feel like when summer comes up, people do forget we're in the middle of a global pandemic still and cases are rising…" Lalande says. "If you walked around at all on Saturday or Sunday, Byward Market was unbelievably jammed packed."
Lalande is now quarantining from the rest of her family and says her mother, who works in COVID ICU, is upset that restaurants and patios are opening due to the rising cases and the variants.
According to Ottawa Public Health, Ottawa has 747 active COVID-19 cases with 80 new cases. There were also two more cases of the B.1.1.7 variant, which was first identified in the U.K., confirmed in Ottawa on Tuesday, CTV reported.
"We just have to make sure that people who go on patios respect social distancing rules…" Watson says. "It's up to the restauranteurs to ensure that their patrons are following the health rules and it's up to the individual patrons to be responsible."
---
More Stories