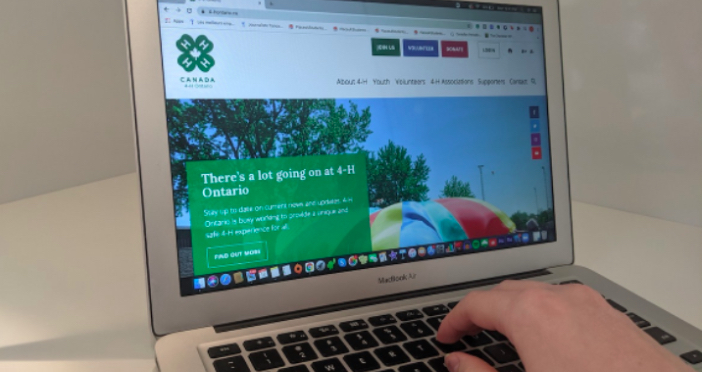 4-H Ontario is planning to offer some relief for rural youth struggling with poor internet connections in 2021.
The need for such a project came into sharp focus after 4-H Ontario — a youth development program rooted in rural Canada — was forced to deliver its programming online over the past year because of the COVID-19 pandemic.
The Rockwood-based organization, which has been teaching Canadian youth practical life skills for more than a century, is in early development of the internet initiative.
Sheena Switzer, 4-H Ontario communications manager, said the project aims to improve rural youth's internet access for the time they participate in 4-H activities.
Switzer said resources provided could take the form of internet USB sticks that operate on mobile broadband services, similar to a data plan on a cell phone.
She said the program is not set to be implemented until the spring.
Once ready, Switzer said the organization believes the program will reduce stress for 4-H members.
"Because we are often found in those very rural places, rural internet is obviously an issue," she said. "That can be really frustrating when you're trying to work with your kid, and you're trying to do this program, and then your internet cuts out."
Slow rural download speeds
According to the Canadian Internet Registration Authority, rural Canadians were experiencing median download speeds almost 12 times slower than urban counterparts in April 2020.
In May, CIRA data found speeds continued to fall for rural users during the pandemic while urban speeds increased.
Switzer said poor internet connections can limit youth.
"We're trying as much as we can to remove barriers," she said, "to create opportunities for youth from different locations, different backgrounds."
Although in-person 4-H clubs are now on hold, the 6,188 4-H Ontario youth members have access to 50 online projects that can be completed at home while COVID-19 social-distancing guidelines are in effect. Some projects include digital photography, plant species identification and sewing.
The organization is also planning to offer more online clubs with registration available on the 4-H Ontario website.
---
More Stories