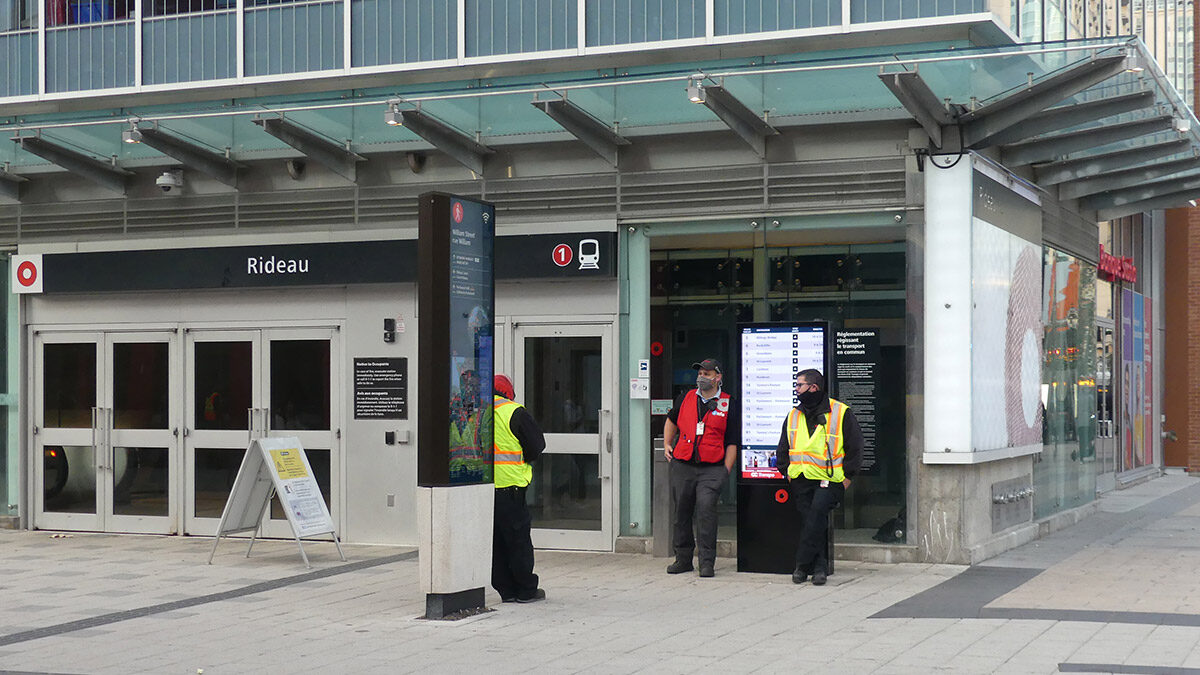 Two local advocacy groups are demanding change from Ottawa city council surrounding its handling of the LRT.
Horizon Ottawa and Free Transit Ottawa, activist organizations dedicated to making transit more accessible for citizens among other priorities, are demanding the city cancel its 30-year LRT maintenance contract with light rail system builder Rideau Transit Group and conduct an independent investigation into the LRT's safety.
The calls to action come amid an ongoing service outage that has closed the transit line for more than three weeks. The shutdown was caused by a derailment that took place west of Tremblay station on Sept. 19. 
The incident was the second LRT derailment in a span of six weeks. The first, which occurred just outside of Tunney's Pasture on Aug. 8, was unrelated to the most recent derailment, according to transit officials. No one was hurt in either incident.
The derailments add to a long list of safety concerns that have plagued the LRT since its launch in September 2019. After two years of trouble, transit advocates say they've had enough.
Alex Kernick, a Horizon Ottawa member and a first-year social work student at Carleton University, has been commuting from Orléans. He says taking the R1 buses that have replaced the LRT has been frustrating.
"Usually when I would take the train and bus down(town) it took me like 45 minutes from Orléans. (Using the R1 bus), it took me an hour and a half to get here from work," he said. "It makes everything much more of a hassle when we have to not take the train that we spent a bunch of money on."
Kernick said the positive public response to the group's calls to action shows he isn't alone in his frustration.
Even when the LRT first opened, Kernick said he'd anticipated problems.
"I rode (the LRT) the first day it opened, and even then I noticed instantly the wheels sounded weird," Kernick said. "We were like, 'Oh my god, this thing is already kind of crap,' so I was kind of like what the heck is gonna happen — and then I wasn't surprised when it kept on crashing."
Following the derailment on Sept. 19, Horizon Ottawa, among other groups and councillors, asked Mayor Jim Watson to hold a public press conference on the LRT. Kernick said he was disappointed the event wasn't held.
"Our mayor sort of has a reputation for being a little, you know, it's his way or the highway, pretty much," Kernick said. "That doesn't really work out when you want to actually know what the heck's going on."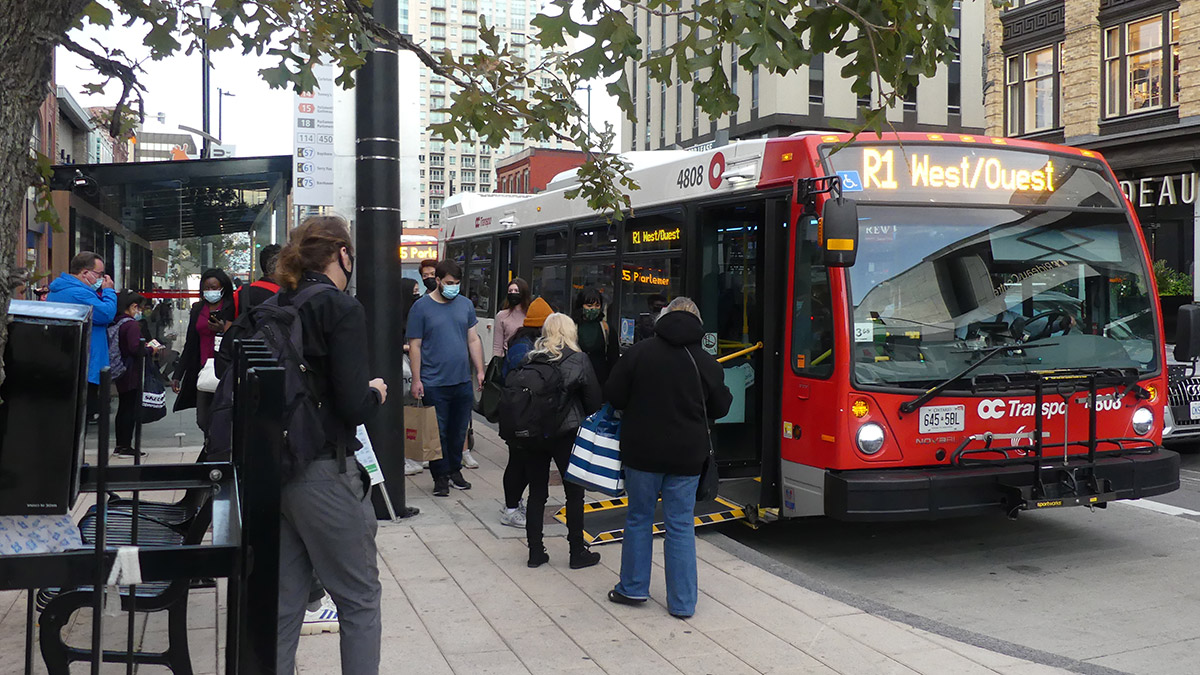 Kernick said he would have liked to see Watson speak to the media to increase transparency and allow other voices to be heard in relation to the LRT.
When asked what he'd like to say to Ottawa residents who are on the fence about whether they should support the calls to action, Kernick said the choice is easy.
"It's simple: would you prefer us having all these buses going down the streets and taking extra time, or actually having the system we paid billions of dollars for work?" he said. "I'd rather the system we paid billions of dollars for work."
Sarah Wright-Gilbert, a citizen transit commissioner, said tensions have been escalating with city officials and RTG's lack of transparency at transit commission meetings. In a Sept. 24 article for the Ottawa Citizen, Wright-Gilbert described "a 'pass the buck' environment of secrecy," pointing to the city and RTG's withholding of information regarding the public-private partnership (P3) and the recent derailment. 
Wright-Gilbert said these actions have not only undermined public confidence in the LRT, but also in elected officials.
Sam Hersh, a Horizon Ottawa board member, was collecting signatures from members of the public on Rideau Street on Oct. 1. Between talking with residents about the calls to action around the LRT, Hersh spoke about the reasoning behind the groups' demands.
Hersh said the emphasis on convening an independent public inquiry is especially important in light of the city's decision to conduct an assessment of the RTG's return-to-service plan. U.S. engineering company STV Inc. was initially chosen to lead the assessment, but the decision was reversed in light of criticism that the company could not be neutral since it had provided preliminary engineering support during the LRT's development.
On Oct. 4, city officials announced Philadelphia-based TRA Inc. would be overseeing the independent assessment instead. But critics say a different approach is necessary.
While LRT service will not resume until the assessment is completed, Wright-Gilbert said there needs to be an overall safety review and not just an assessment of the return-to-service plan.
"It's a very narrow scope," she said. "We need to shut the entire line down indefinitely until we can have a full, independent inquiry into the safety of LRT as a whole."
Other critics underscored the importance of having a public institution complete the inquiry, rather than a private company.
"We know that a private company is not going to have the public's best interest in mind," Hersh said.
Donald Swartz, a representative of Free Transit Ottawa, added that there's a need to draw attention to the deeper problems with the LRT beyond a vague inquiry.
The other call to action demands the cancellation of the city's 30-year LRT maintenance contract with RTG. Hersh said the call to cancel the contract is in line with Horizon Ottawa and Free Transit Ottawa's opposition to public-private partnerships.
"They don't work. Private corporations are just looking to make a quick buck, so they're obviously going to not maintain things to the full extent that they need to be maintained — and we're not getting our full money's worth out of that," Hersh said. "People are paying $4 to $5 million a month to a private corporation to do our maintenance, and that's not working out for us."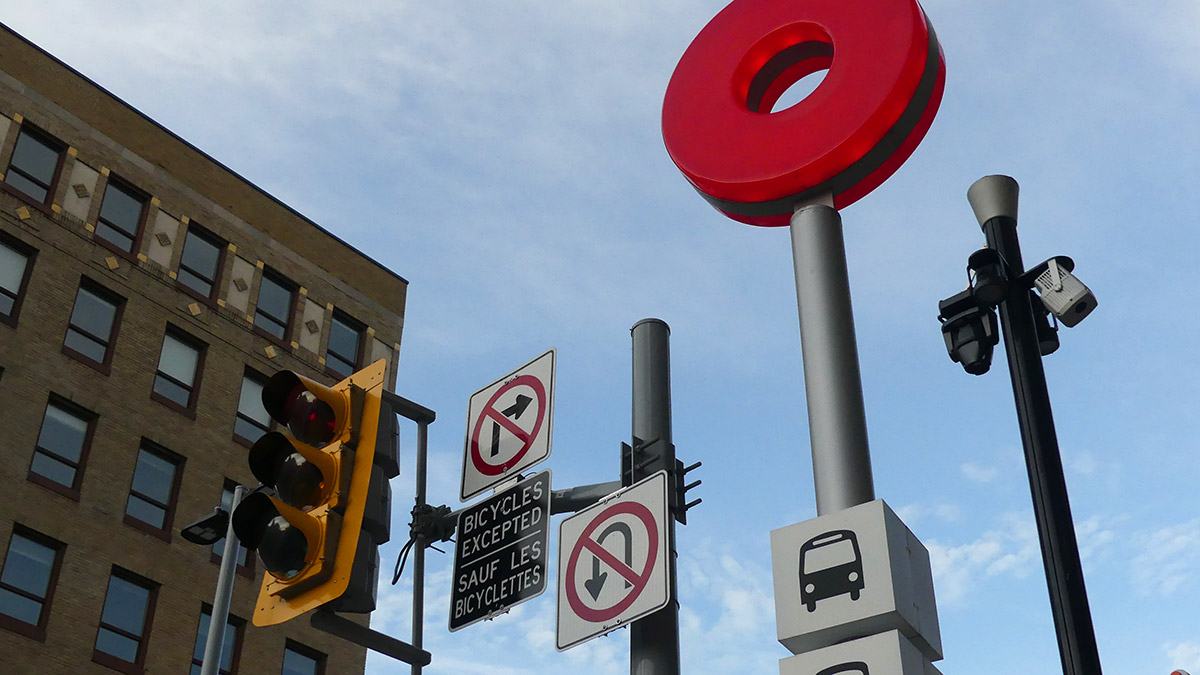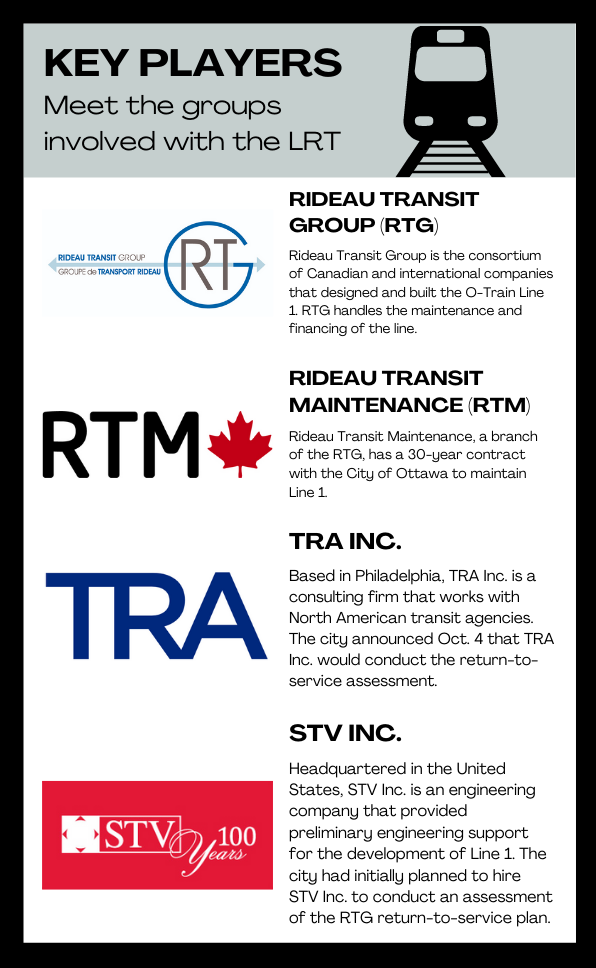 Instead of outsourcing the contract to private companies, Hersh said he would like to see the contract handled in Ottawa through public means.
"Other cities have done it," he said. "There's no reason we shouldn't do it, too."
Swartz agreed, saying that public management of LRT maintenance would allow for greater accountability.
"The people who would be in charge of the maintenance would ultimately be the city councillors who would be elected by the citizens," he said. "So they would be pushed to set up a proper maintenance regime to make sure all the maintenance staff were properly trained, that there was enough of them. They wouldn't have the countervailing pressure to make money off the contract."
Experts hired by the city would also have to report to the transit commission, said Wright-Gilbert, which could improve accountability and transparency.
"If we have to keep hiring outside experts to ensure that RTG is doing their job, perhaps the conclusion we can come to is that RTG is incompetent," said Wright-Gilbert. "That's my conclusion — that they are incompetent, and therefore the contract with them should be cancelled."
Horizon Ottawa's online petition containing the two calls to action had 376 signatures by Oct. 12 — 124 signees short of the organization's stated goal of 500. Those hoping to support the cause can join an email campaign by putting their name, email and address into a pre-drafted template on the organization's website. 
"I think folks have a lot of righteous indignation about what's going on with the LRT, and we're sort of capitalizing on that to build momentum towards cancelling the contract for the RTG and getting a public inquiry," Hersh said.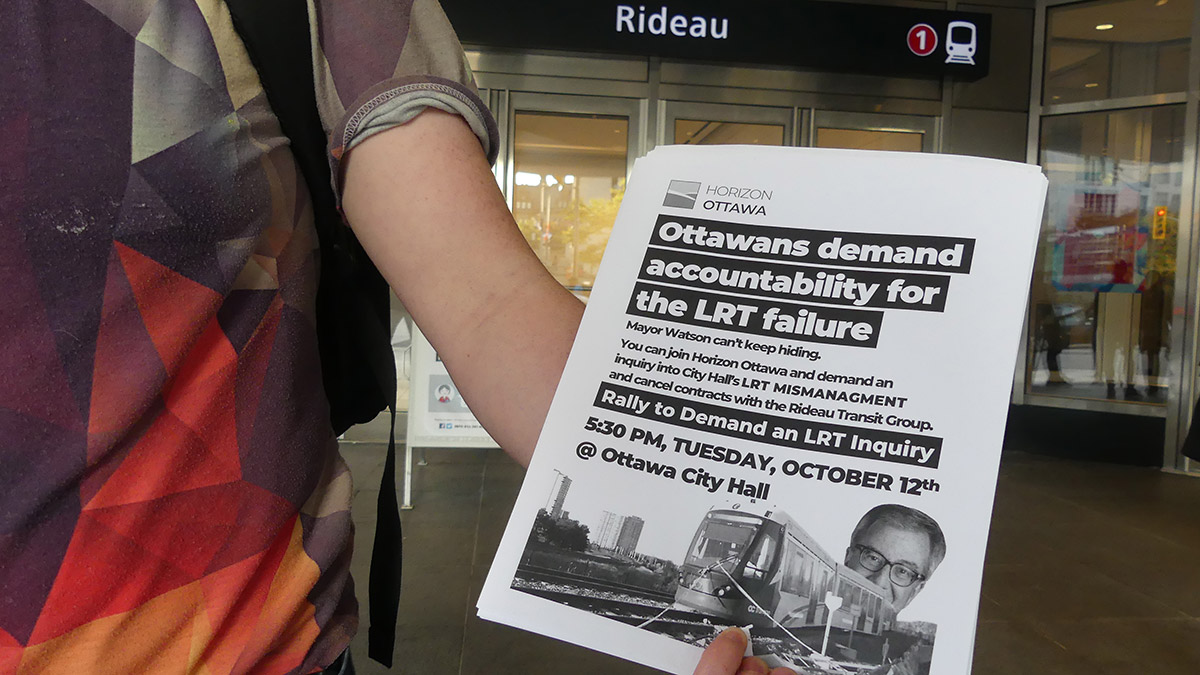 The email campaign asks elected officials to vote for Somerset Coun. Catherine McKenney's motion to establish a formal judicial inquiry into the failures of the city's LRT system, vote in favour of Gloucester-Southgate Coun. Diane Deans' motion to explore options to terminate the maintenance contract with RTG and support a review of the City of Ottawa's policy on public-private partnerships. McKenney and Deans' motions are to be voted on at the Oct. 13 council meeting.
Ahead of the meeting, Horizon Ottawa and Free Transit Ottawa are also planning to host a rally outside of Ottawa City Hall. The event is set to take place in Marion Dewar Plaza on Tuesday at 5:30 p.m. and provide a forum for citizens and community members to advocate in support of the calls to action. 
Even if the calls to action are implemented, Wright-Gilbert said it will take time to rebuild public trust in both the LRT and elected officials.
"I truly believe that it will take a miracle to get the ridership back up because people are afraid of our transit system," she said. "And you know what? I don't blame them. I'm too scared to ride it."
---
More Stories