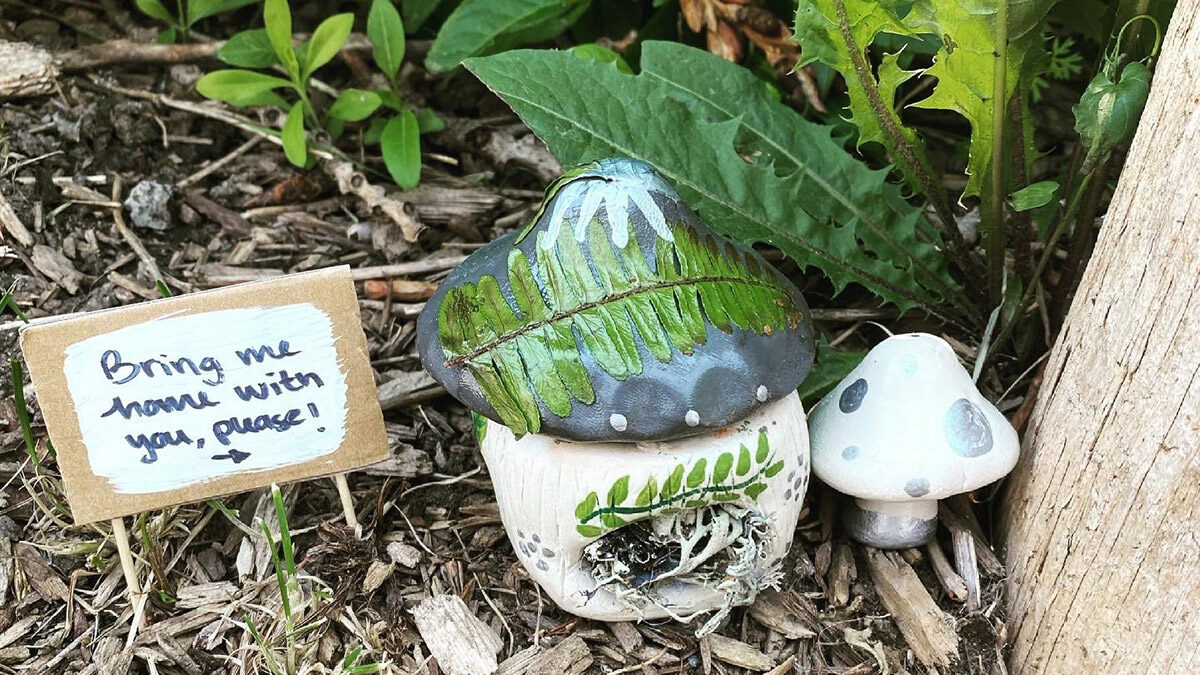 Tiny, brightly coloured clay toadstools have been mysteriously popping up in hidden spots around Centretown. But it's not fairies leaving them, it's Olivia Wittenburg, the artist behind toadstooltown613, a scavenger hunt community art project.
Wittenburg hides her handmade sculptures, putting photographs and other hints on her Instagram page for followers to find her art.
"It's been so good for my mental health," said Wittenburg. "I've met so many cool people."
Wittenburg, 28, is a barber in Hintonburg, but isn't working right now because of the pandemic. She started making clay toadstools as a hobby last month.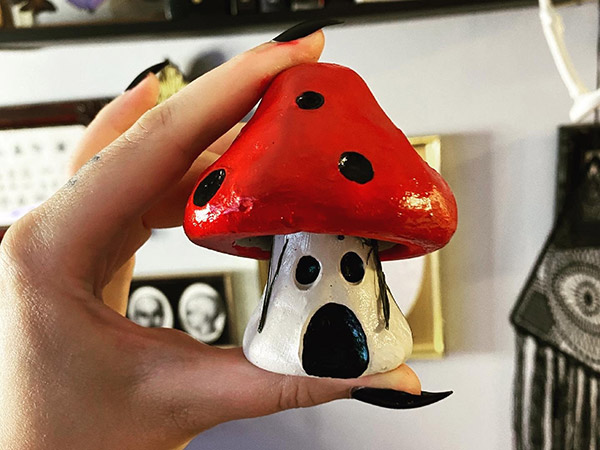 Wittenburg says she has no background as an artist, and the last time she worked with clay was in high school.
"I was a little worried because I have ADHD, so I get fixated on things and then I lose interest fairly quickly, but I'm so motivated to keep up with this," she said.
The idea for toadstooltown613 started with her two pet tarantulas. She wanted a skull-shaped hideaway for the spiders, based on a design from the video game The Legend of Zelda: Breath of the Wild. When Wittenburg couldn't find anyone selling the design she wanted, she tried to make it herself.
"It wasn't easy, so I wanted to start making something a little bit more simple," said Wittenburg.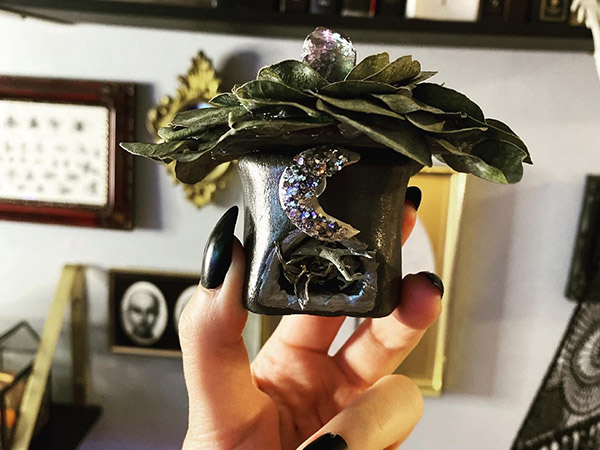 She decided to try her hand at toadstools because of her love of mushrooms. Wittenburg collects vintage mushroom-print kitchenware. She has mushroom tattoos on her arm, indicating her dedication to the fungus.
"Some people have been asking if it's anything to do with magic mushrooms and I'm like 'No, I just think they're cute'," she said.
The idea to hide the toadstools around town came from a fellow Ottawa street artist. Wittenburg is a fan Street Art Miniature, who hides tiny, realistic food-themed sculptures around the city.
"I was inspired by them to do something similar," said Wittenburg. Followers who find one of Wittenburg's art pieces are encouraged to take it home.
Making a toadstool takes several days. Sitting at her kitchen table, she starts with a sketch, then shapes the mushrooms out of natural, air-dry clay. After drying the toadstool for 24 hours, she decorates.
"The painting and the glazing and everything – that's the time-consuming part," said Wittenburg.
She decorates with items like moss and crystals, plus flowers from her dad's garden that she presses herself.
"The more moss, the more crystals, the better," said Wittenburg. "Those ones are my favorite."
The response has been overwhelmingly positive, said Wittenburg. A picture of her toadstool lineup became popular on Reddit two weeks ago, leading to more support on her Instagram page.
"I gained like 500 followers, essentially overnight," said Wittenburg.
Last week, she put nine toadstools downtown. By the time she got home, people had messaged her to say they were already gone.
"I don't think any of them lasted in their spot longer than 10 minutes," she said.
The best part is the messages she's gotten from participants, said Wittenburg.
"One is a variation of, 'I'm having a hard time finding a reason to go outside but looking for your toadstools has given me the motivation to go outside'," said Wittenburg. "I'm like, 'Oh my God, my heart!'"
Some followers have told her they go on dates with their significant others to hunt for her mushrooms.
Wittenburg has done some special commissions for community gardens and community organizations, including Madawan Place Indigenous housing and highjinx.
"I'm not interested in making money off of Toadstool Town. Maybe in the future, but the fun part for me is hiding them," said Wittenburg.
For now, Wittenburg leaves her mushrooms on public property around her Centretown neighbourhood.
When she visits her dad on weekends in Beacon Hill, she hides some there too. With COVID-19, Wittenburg said she isn't comfortable travelling to unfamiliar areas, but she hopes she's able to eventually.
"My plan is to do a drop every week until it snows," she said.
Once she's able to return to work under the provincial COVID-19 reopening plan, she'll have to manage her time.
"But this project is so important to me. I don't want to stop," said Wittenburg. "I appreciate everyone that has gone outside to look for a little mushroom."
---
More Stories