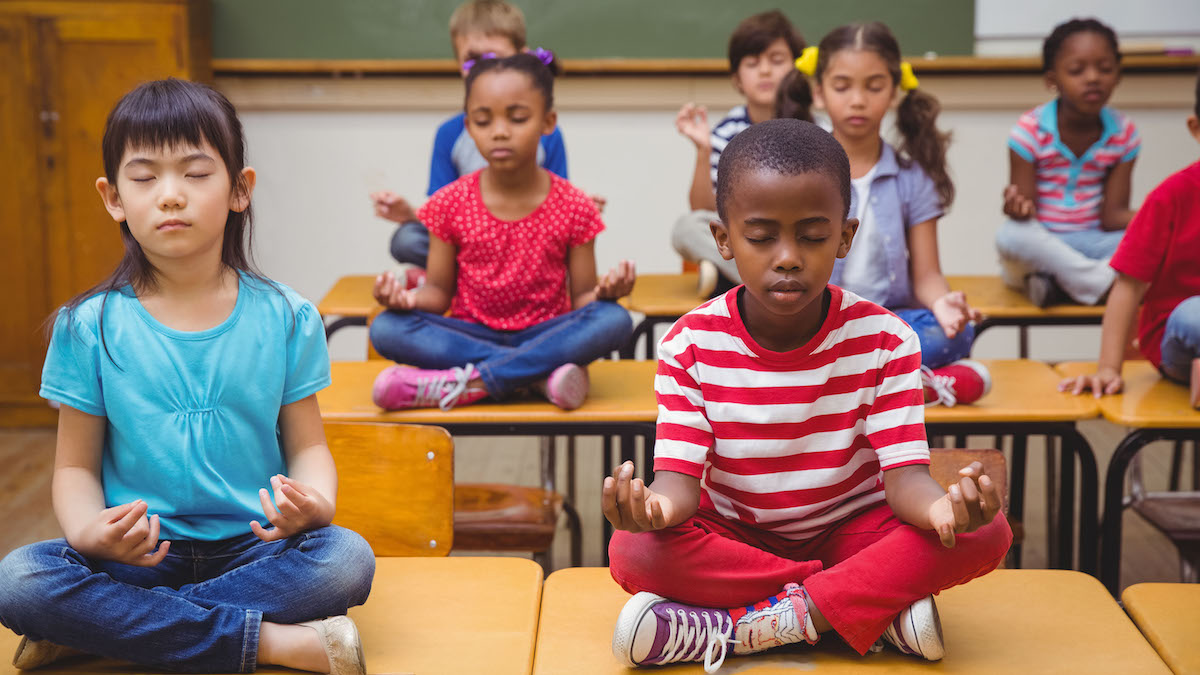 From the comfort of her kitchen table in Belgrade, Montana, Amy Spicka logs onto Zoom, set up in front of a wall filled with busy calendars, homemade cards and finger paintings. The constant chatter of her sons playing Scrabble can be heard in the background.
It's a scene of peaceful, domestic bliss made possible by the mother of two's insistence on teaching her rambunctious boys how to meditate.
"Before I showed them how to be more mindful, their lives were 75-per-cent fighting and 25-per-cent peace," she said. "Now it's the other way around."
Spicka is one of a growing number of parents and teachers around the world turning to the ancient art of mindfulness to improve the mental health and resilience of their children.
Stress, depression and anxiety affect young children too and an increasing number of studies show the benefits of mindfulness for children.
Programs implemented in school curriculums and private mindfulness practices, are starting to reap benefits for the children using these techniques. With the addition of online resources, such as zivaKIDS and Headspace, learning these practices is more accessible than ever.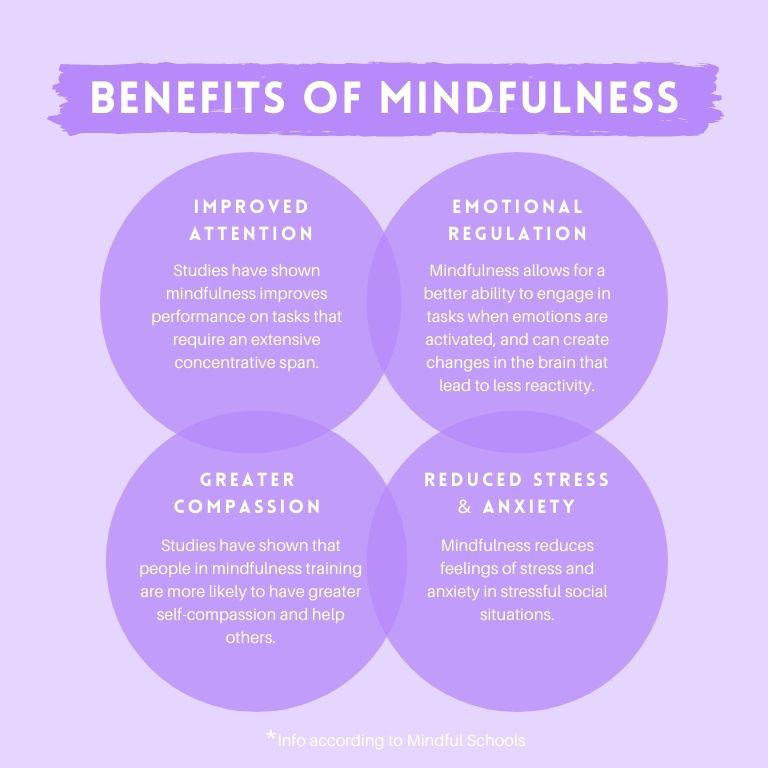 According to Psychology Today, mindfulness is meditation that allows a person to focus on what they are seeing and feeling in the moment in a non-judgmental environment. It involves breathing and other techniques to relax the mind and body.
Spicka has been teaching her sons mindfulness to calm them down and introduce more quiet contemplation to their lives.
Living in the Montana countryside, Spicka takes her children for nature walks as part of their practice.
"Often times, I have them stop at particularly calming spots. I ask them to look around, and truly appreciate where we are," she said. A persistent warm smile on her face, she details her methods of teaching mindfulness to the boys — reflecting on their behaviour, focusing on nature, and breathing in the fresh air.
"These acts of appreciation and gratitude, even though they're small and quick methods, have really been having benefits on them over time," she said.
According to Mindful Schools, based in California that educates schools on how and why mindfulness should be part of the curriculum, the practice can benefit children in many ways.
After completing the Mindful Schools curriculum, teachers reported 89 per cent of students are better able to regulate their emotions, 83 per cent have improved focus and 79 per cent have improved engagement.
With mindfulness increasing in popularity in educational settings, Ottawa's Victoria Lynes took full advantage of the opportunity. As a trained yoga and meditation instructor for children, Lynes has introduced her methods into the curriculum at several Montessori schools. Her methods have also been used by many public schools within the Ottawa-Carleton District School Board.
Through her business, Little Soul yoga, Lynes has taught yoga and mindfulness classes in various schools to help improve both the students' and teachers' lives.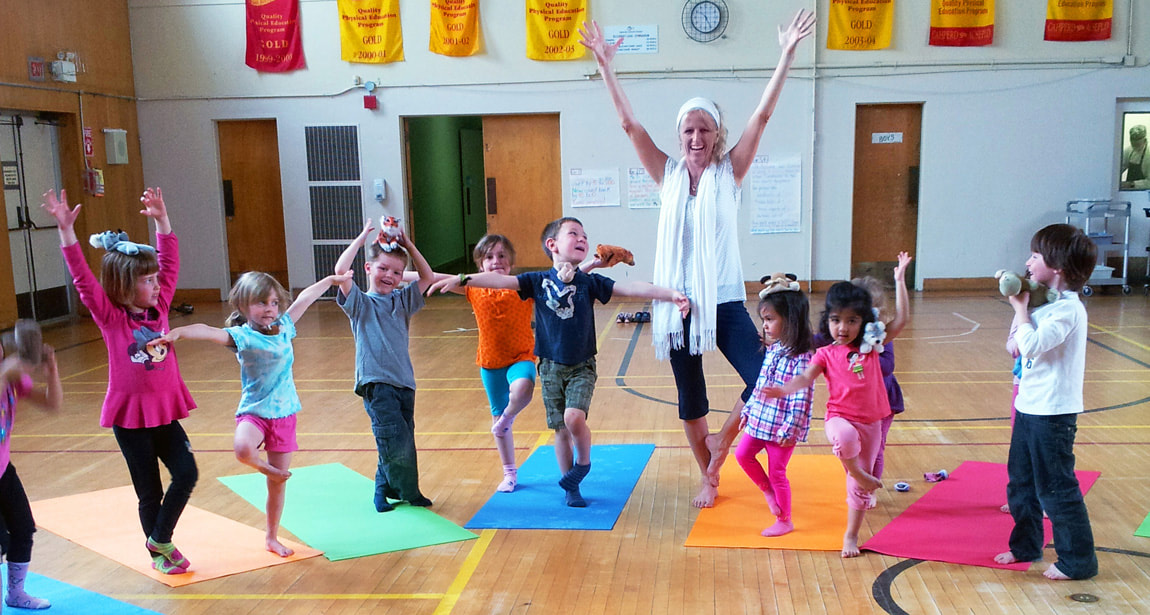 "When I first started teaching, I could tell there was a deep need for stillness, especially within the school setting," she said. "Kids don't really get the chance to just sit and be with themselves."
Lynes said she wishes practising mindfulness could be written into public school curriculum, but for now is hopeful many schools are moving in that direction.
"It has been proven over and over again that these practices are so vital for mental health, and if we can teach it when they're young it can be such a beautiful thing," she said.
With a high-pitched voice and hands shaking excitedly in the air, Lynes humorously imitates her young students describing how grateful they all appear to be when it's time for her to teach. "Yay, it's time for mindfulness today!" they all say.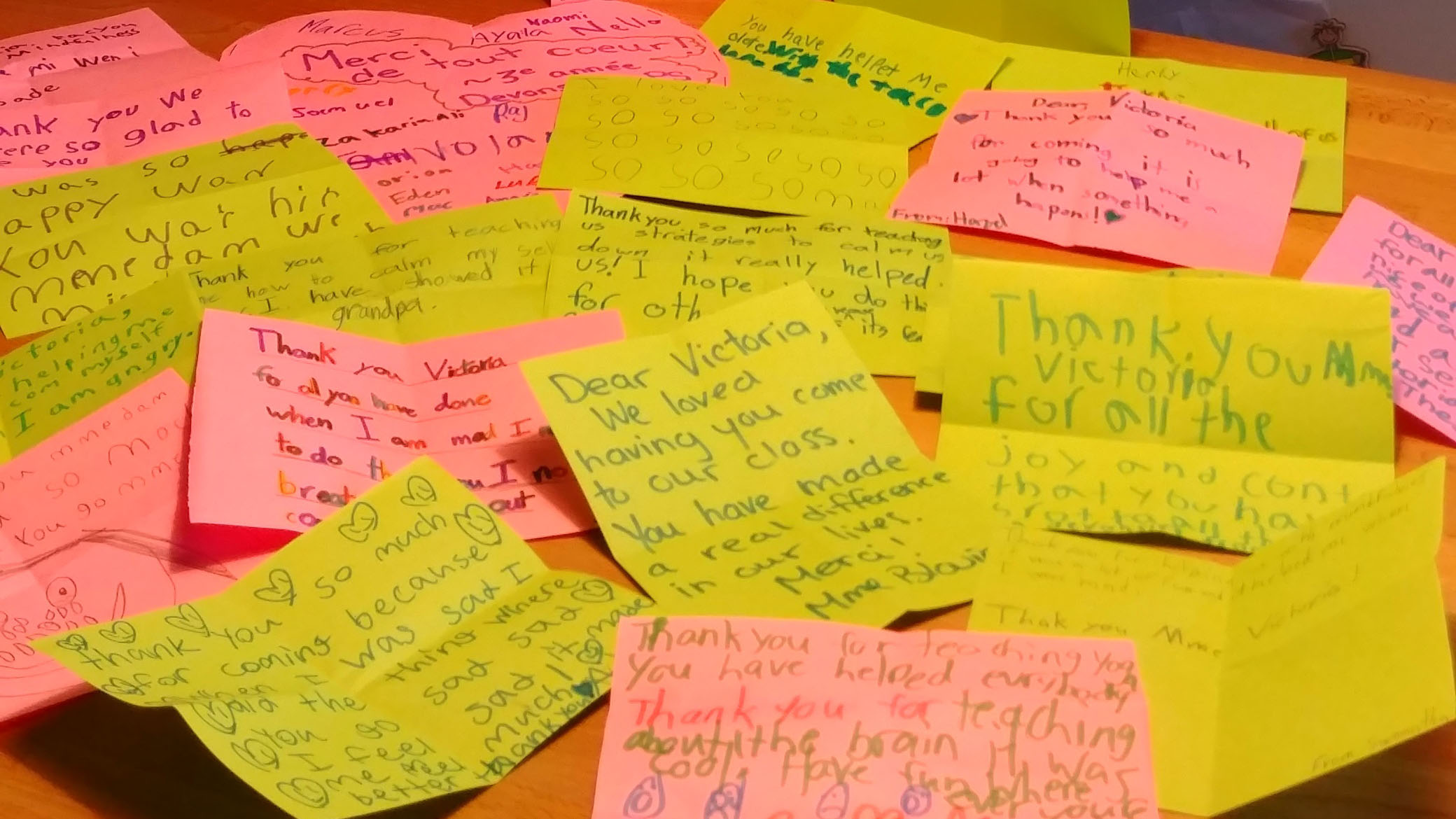 Kathy Giles, principal of Roland Michener Public School, has had Lynes teaching mindfulness programs at the Kanata public school for several years now.
"Victoria's program really supported our students. With the skills they learned, they were able to refocus and also settle their bodies as a form of 'reset'," said Giles.
She said she's grateful for Lynes and her ability to teach the students to create a "calming" and "influential" school environment.
Dr. Erin McCarthy, a member of the University of Ottawa's Academy for Mindfulness and Contemplative Studies, received much of her mindfulness training through Mindful Schools. She teaches mindfulness and meditation to children ages six to 13 to help them cope with emotions, reduce stress and anxiety, and live a healthier life.
"Having kids of my own, I see the importance of keeping up with their mental health. … And kids are so resilient, but things can still have a toll on them and it's crucial we help them cope with that," she said.
Bringing together Eastern and Western philosophies, McCarthy helps children flourish while coping with whatever life throws their way.
Living through a global pandemic more than a year, everyone is experiencing the consequences — and the effects of isolation on children have been detrimental. According to SickKids, childrens' diminished social lives and the challenge of trying to understand the pandemic and its consequences can increase stress and anxiety.
"These mindfulness techniques are being used across the board and this year, during COVID-19, have been disseminated as supportive to students and adults to help us all navigate a difficult year," said Giles.
The impacts of mindfulness for children are still being discovered as this research area continues to grow. Most research uses adults as subjects, proving the benefits for them and leaving us to wonder about children. But even with a lot still to be learned, many studies highlight the benefits.
A systematic review published by JAMA Internal Medicine in 2014 generated positive results confirming the benefits of mindfulness for anxiety and depression. Another 2014 review published by Frontiers in Psychology found that across 24 different studies, mindfulness clearly improved cognitive performance.
The only caution about these findings: is mindfulness more effective than other wellness interventions? Although beneficial and virtually harmless, it is important to note that techniques such as exercise and cognitive behavioural therapy could be at least as effective for some people as practising mindfulness.
"I only teach techniques and programs that are based on evidence," said McCarthy. "I don't even bother receiving the training myself if it's not a technique backed up by evidence, and close to all evidence points towards to positives impacts."
Bend Wellness is a counselling, yoga and mindfulness practice designated for kids and teens in Lanark County, west of Ottawa. Co-owned by Deb McQuire and Lillian Gudmundsson, the practice has been able to allow youth to access professional mindfulness since 2019.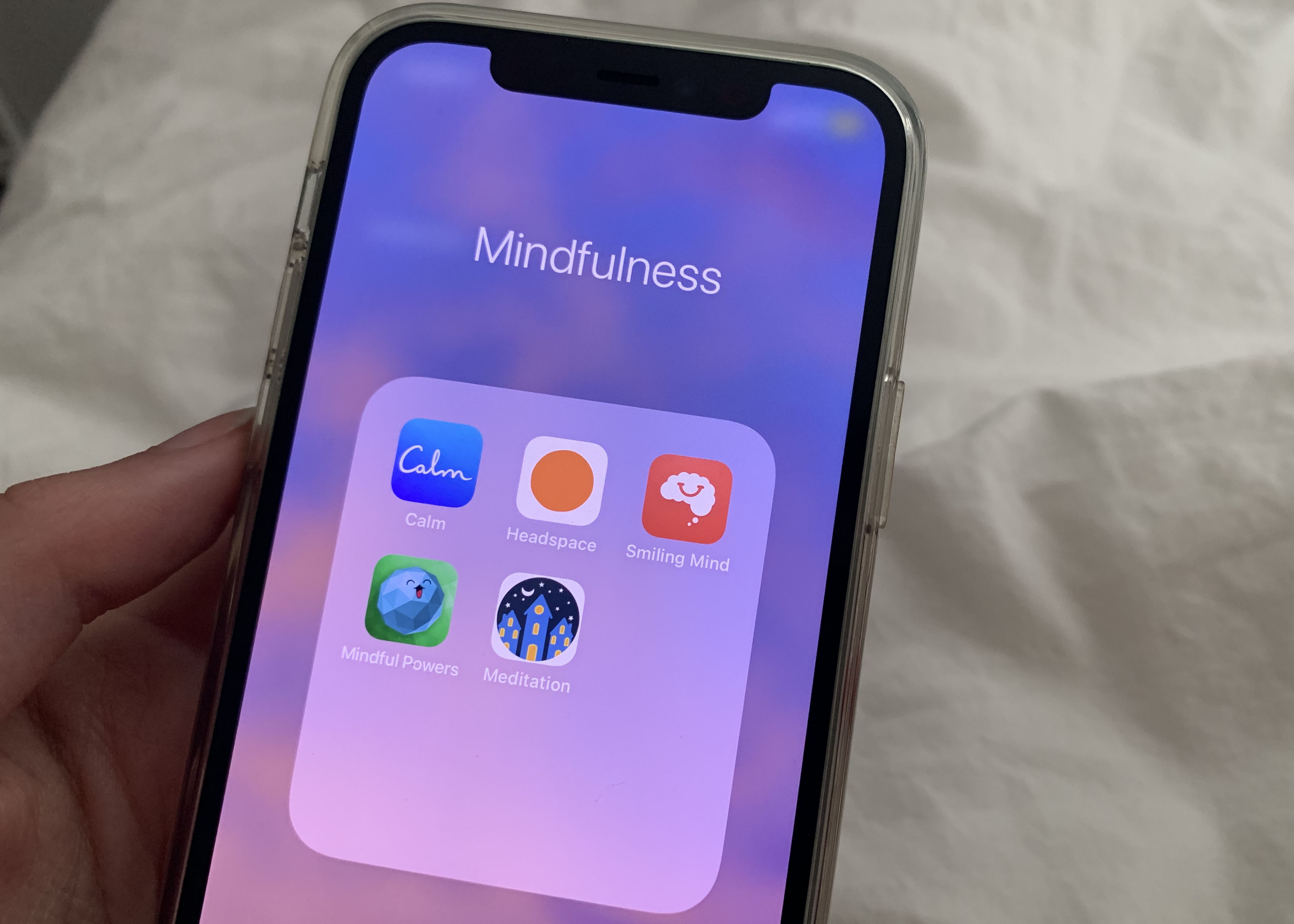 "I see a lot of teens who are struggling with anxiety, depression or intense emotions, and those are all things that are fed by rumination, by forecasting, by catastrophizing. And when you experience those things, you feel powerless," says McGuire.
She notes that when a young person slows things down, it teaches them that they can always come back to the moment and build awareness around the fact that they can gain greater control over their emotions than they think they can.
As a method of stress relief, relaxation and tuning in to your personal emotions, mindfulness continues to make its way into mainstream society through apps, podcasts and videos. It has made its way from ancient Buddhist practices all the way into our smartphones through Headspace for Kids, Smiling Minds and many more.
"Many describe mindfulness as just switching off your autopilot, and that's all it takes to start focusing on it and bettering yourself," said McGuire.
Back in Montana, Spicka has her arms wrapped protectively around her son, who has decided to take a seat on his mother's lap, as she continues to speak about the importance of mindfulness.
"For healthy and successful living, and to not have to backtrack and heal old wounds, you have to teach mindfulness to your kids and to yourself," Spicka said. "I think it's a critical thing that we continue to pass on. We need to not let modernization and these concepts of disconnect that we've put into place rule our societies anymore. This concept of mindfulness is where we can start."
---
More Stories