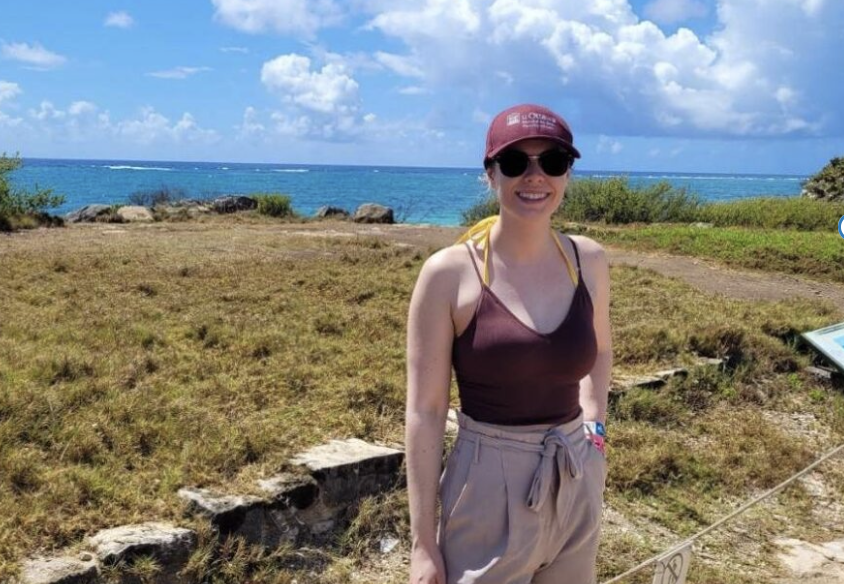 Canadians heading to Mexico for the upcoming spring break can expect continued warnings from their government to "exercise a high degree of caution" in the southern vacation hotspot because of "high levels of criminal activity and kidnapping."
The alarming Canadian travel advisory was issued after the January arrest of Ovidio Guzmán-López, the son of the notorious former drug cartel leader Joaquín "El Chapo" Guzmán. And it resonates after the high profile and now bloody kidnapping of four Americans in the city of Matamoros.
While the Canadian government has had travel advisories in place for Canadians travelling to various regions of Mexico for several years, recent events have escalated the situation.
"Criminal groups and drug cartels are present in tourist areas. Inter-gang and cartel fighting has taken place in restaurants, hotels and nightclubs frequented by tourists," states the Government of Canada travel site.
Mexico remains a popular tourist destination for Americans and Canadians, especially during the winter.
Brooke Simmons, a licensed travel agent with Centrum Travel in Ottawa, said demand for vacations to Mexico remains high despite the risks.
"This is the best year we have ever had. Travel this year is insane, and we have not seen anything like it", said Simmons.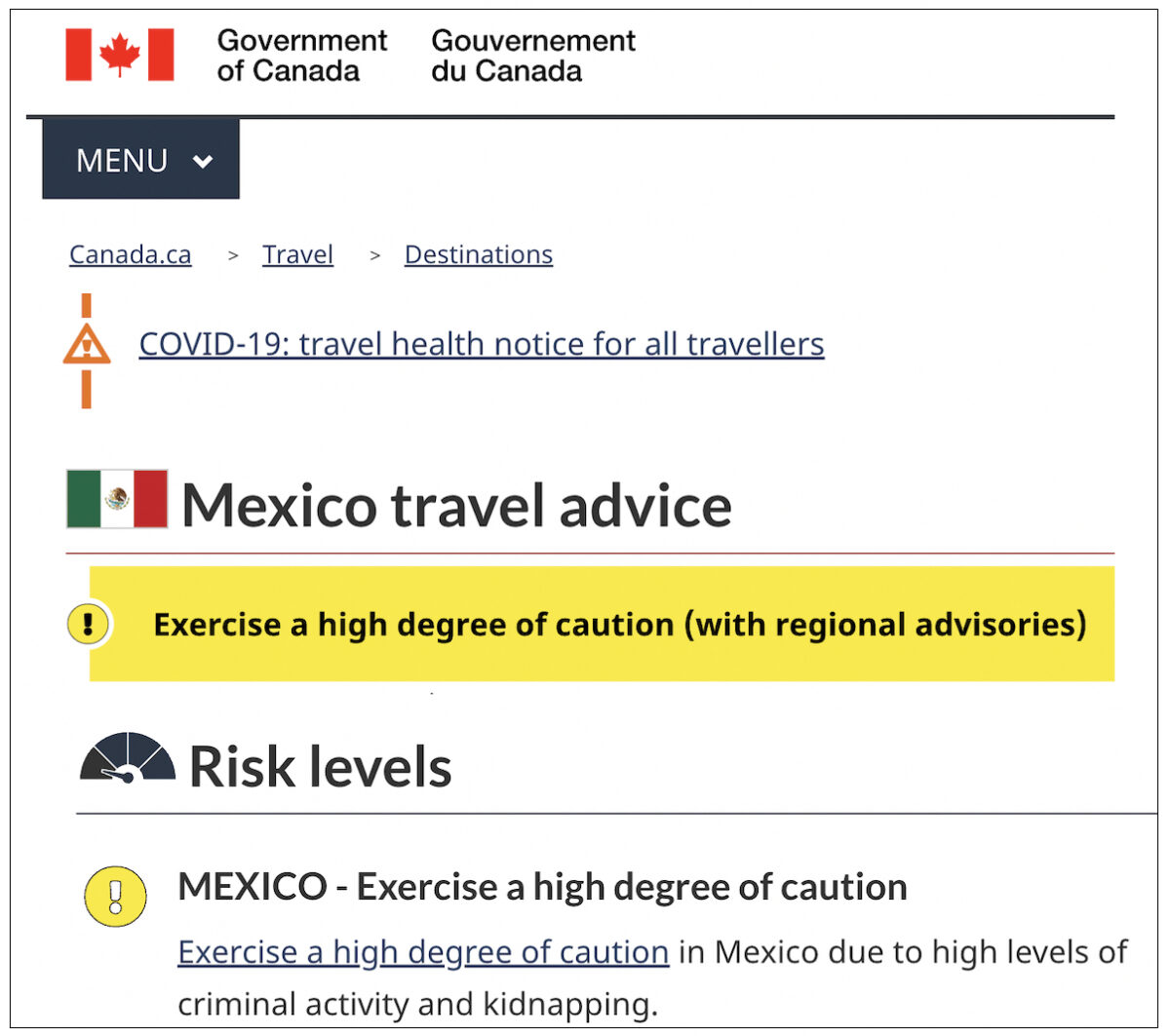 According to the Government of Canada, despite the COVID-19 pandemic, the country most visited by Canadians in 2022 was Mexico with more than 1.8 million visitors.
"Canada continues to be Mexico's second biggest source country for visitors after the United States," said the government site.
Patricia Fortier is a retired Canadian diplomat who acted as the assistant deputy minister for Security, Consular, and Emergency Management with Global Affairs Canada — the federal department that oversees foreign relations.
"Our travel advisory for Mexico is more specific than many other travel advisories to other countries because millions of Canadians go to Mexico," said Fortier.
The U.S. Department of State issued its own updated travel advisory on Oct. 5, 2022, but no further advisory was posted on the site after the Jan. 5 arrest of Guzmán-López. The American travel advisory advises U.S. citizens not to travel to the following regions in Mexico: Colima state, Guerrero, Michoacan, Sinaloa, Tamaulipas, and Zacatecas.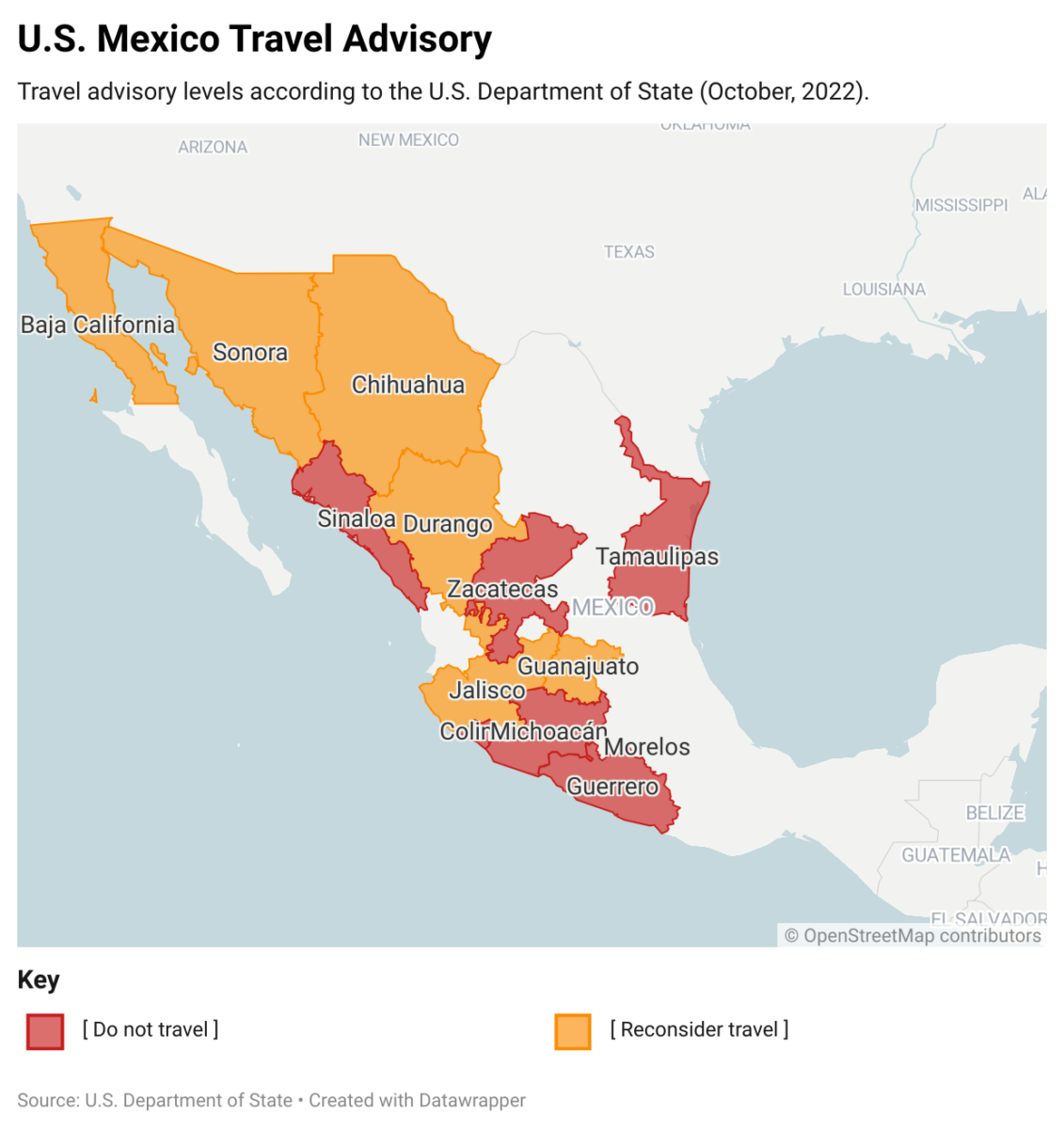 The Canadian travel advisory, meanwhile, warns travellers to avoid non-essential travel to a broader swath of Mexico, including Chihuahua, Colima, Coahuila, Durango, Guerrero, Guanajuato, Michoacán, Morelos, Nayarit, Nuevo León (except the city of Monterrey), Sinaloa (except the city of Mazatlán), Sonora, Tamaulipas and Zacatecas.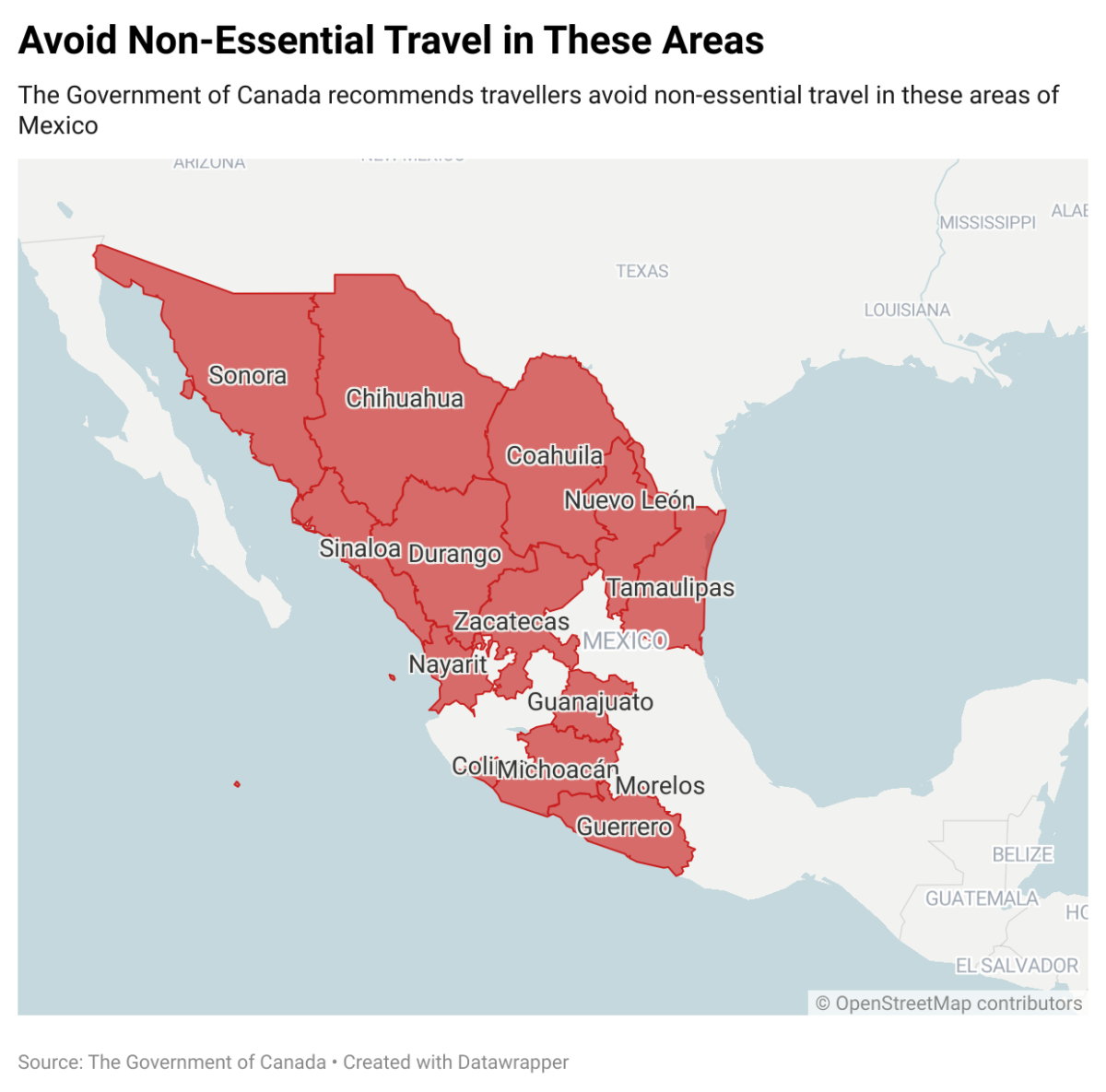 "The U.S. travel advisory has a lot of specificity about where to go and about where U.S. employees should go," Fortier explained. "Canadians don't make a distinction between employees and regular Canadian citizens."
Simmons said the Canadian government's advice is based on a higher degree of transparency.
"I think we have a higher standard of what we call for safety," she said. "We make sure that everything is out in the open and that we are not hiding anything from anyone."
'Crime and such can happen anywhere. You could go downtown Ottawa, and something could happen.'

— Brooke Simmons, travel agent, Ottawa
Despite the Canadian government's attempt to keep citizens informed about the Mexico travel advisory, some tourists were unaware of the warning until recently.
Samantha Savage, an articling student, said she had not heard of the heightened travel warning. Savage travelled to Mexico's Mayan Riviera for the first time last April.
However, she added: "I have seen articles on the increase of violence in Mexico and Canadians trapped at hotels in the country."
According to the Government of Canada, "kidnappers in Mexico target all classes; however Canadian citizens and contractors of Canadian businesses have been kidnapped in areas that are not under police control."
Savage said she is not surprised about the stronger travel advisory considering the escalation of violence in certain regions in Mexico.
"However, since the most recent advisory only asks Canadians to avoid non-essential travel through particular regions — and none of which appear to be in the Mayan Riviera or Cancun region — I doubt it will deter many Canadians from continuing to travel to Mexico," she added.
The government's site also states that if you are kidnapped, "comply with the kidnappers' requests" and "don't attempt to resist."
Simmons, unfazed by the warnings, said that "crime and such can happen anywhere. You could go downtown Ottawa, and something could happen."
Jose Roberto Islas Telich, who heads the tourism promotion section at the Mexican Embassy in Ottawa, said the country's diplomats are aware of Canada's warnings to its citizens about travelling in Mexico.
With the March 13-17 spring break approaching, Fortier recommends that anyone thinking of visiting Mexico should look closely at the travel advisories issued by Canadian officials.
---
More Stories