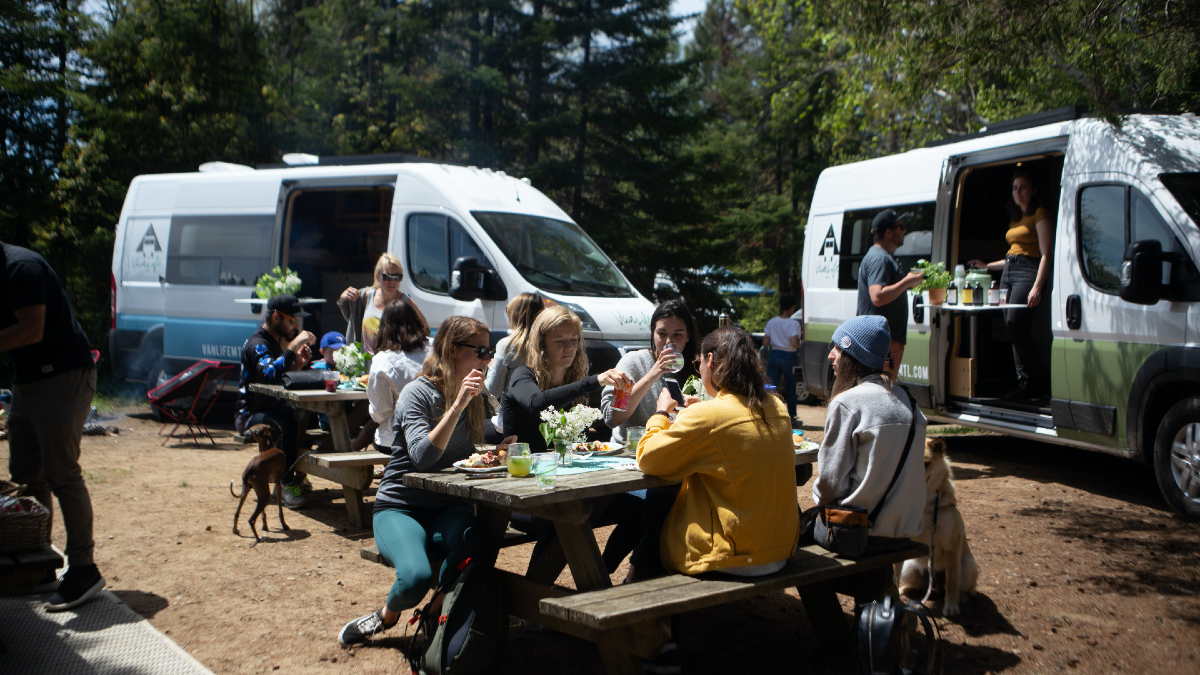 It was a tough senior year for Tom Gogan, Draydon Scott, Evan Larkin, Chanwoo Park and Matt White.
Like many other Canadian university students, they learned to work online, from home while completing their degrees at the University of New Brunswick and at McGill University this past year. 
With the group of five friends about to start their new careers in the fall, they wanted to take one last trip together, settling on the idea of a cross-country road trip. 
After spending eight weeks converting a $7,500 school bus they bought in May into a motorhome, equipped with a living room, bathroom, kitchen and bunk beds, the group headed off on the road on June 28 with the aim to reaching B.C. by August.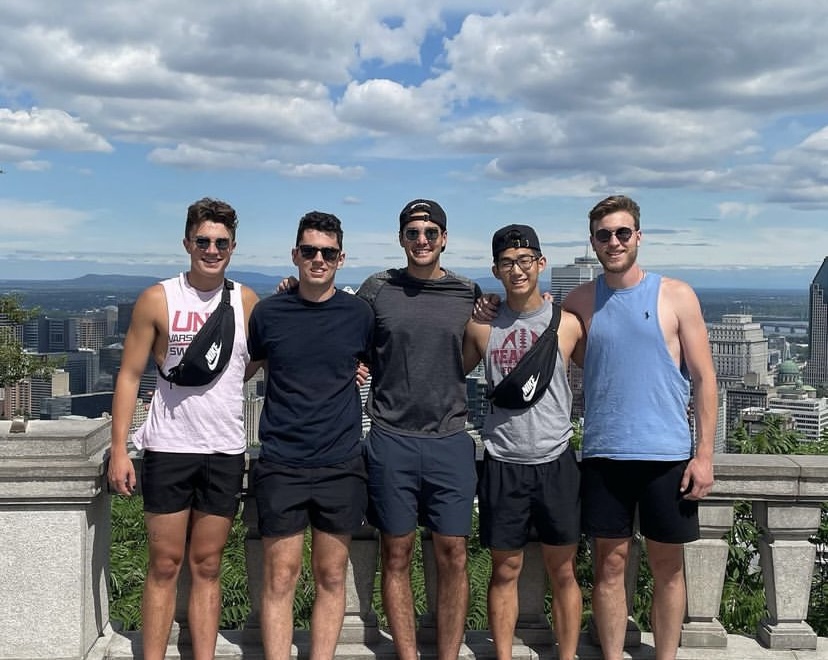 "We started at Quebec City, went to Trois-Rivieres, Montreal, and yeah, so far so good," says Larkin, who says it was particularly exciting to start travelling considering most of their year was spent doing online school. "We were pretty eager to get out of the bedroom and do some travelling. So that's kind of what fueled the desire."
Larkin says the flexibility of being in a motorhome has allowed him and his friends to travel albeit the restrictions and COVID-19 precautions still in place.
"COVID was still kind of lingering around, (so) we weren't going to be able to do the travelling globally that we hoped," says Larkin. "So we figured we could travel the country, and the best way to do that, or maybe the cheapest for a long period of time, would be an RV."
When people think of motorhomes, they often think of "retired couples going to Florida", says Michel Ferland, rentals manager at RV Canada in Gatineau. That assumption may have once been the case, but today families, solo female travellers and young adults also make up a large number of clients — particularly with the pandemic resulting in more Canadians exploring motorhome travelling as a viable option.
Ferland says the clientele at an RV Canada dealership in Nepean has changed quite a bit since the start of the pandemic, with them now welcoming more "newbies", or those who want to try out motorhome vacationing for the first time. 
"I'd say probably 80 per cent of the people that we've been dealing with over the last 18 months or so have been new to this type of vacation travel," says Ferland. "It's a great way to actually get out and be able to do something."
He says the pandemic resulted in an "exponential increase" in people interested in renting and buying RVs – a direct result of public safety concerns relating to COVID-19.
"When customers talk to us, they're looking for a safe escape. So they don't want to enter hotels and be subject to several encounters, several people going into a room that they're not sure of," says Ferland. "The units (we offer) are essentially self-sufficient … so you can be self-sustaining."
Catherine Vachon, director of business development, communications and marketing at VanLife MTL, says motorhomes have become "plan A" for many Canadians because of the pandemic.
VanLife MTL offers both rental and buying options for Jeeps and converted sprinter vans– vehicles that despite their size have sleeping, toiletry and kitchen amenities similar to larger RVs.
It is also a very different experience compared to camping, says Vachon. Although some might equate motorhome travelling to sleeping in a tent, she notes that it definitely has its luxuries– something which often come at a cost to renters and buyers.
Renting has become a great solution for those new to the experience, says Ferland. He says that, while renting has really taken off in recent years, initially, it was set up to allow for clients to test out the lifestyle and motorhome design before fully committing to owning one.
Ferland says RV Canada lowered the price of rentals slightly and offered packages which started at a three-day commitment last summer during the pandemic.
"There's been an awful lot of trials last year …So, a couple or (a) small family that had never tried this before, felt comfortable in leaving for a three-day weekend," says Ferland. "They could come back and, you know, just try it out."
He says this year they are getting return customers, who tried out the experience and are back looking for a bigger vehicle or an extended vacation. 
Although this summer has mimicked that of 2020 to some degree, there is no guarantee of what summer 2022 will hold. With close to 40 million COVID-19 vaccines administered in Canada and more to come in the following months, more Canadians might feel comfortable travelling again in the near future resulting in more international trips and air travel. 
Ferland says he is not worried about that affecting business. He says the concept behind motorhomes is being "propagated", something that he thinks will continue to make it a relevant option for Canadians in the future.
"Once you get into this like community and (see) the advantage of van life road tripping, I think you kind of fall in love with," says Vachon. "I'm being very positive about it. I feel like those people that we have reached (during) the pandemic, will never be lost."
Just over a week into their trip, Larkin says there are no major complaints. 
"We can kind of have our house wherever we want. Like we figured initially we'd park on the outside of the cities and bike in but we kind of got comfortable driving it, so we took it right into downtown… So being able to kind of set up close to all the sites we want to visit has been super awesome and easy and cheap," says Larkin. "It's definitely worth it, it's been going pretty well."
---
More Stories