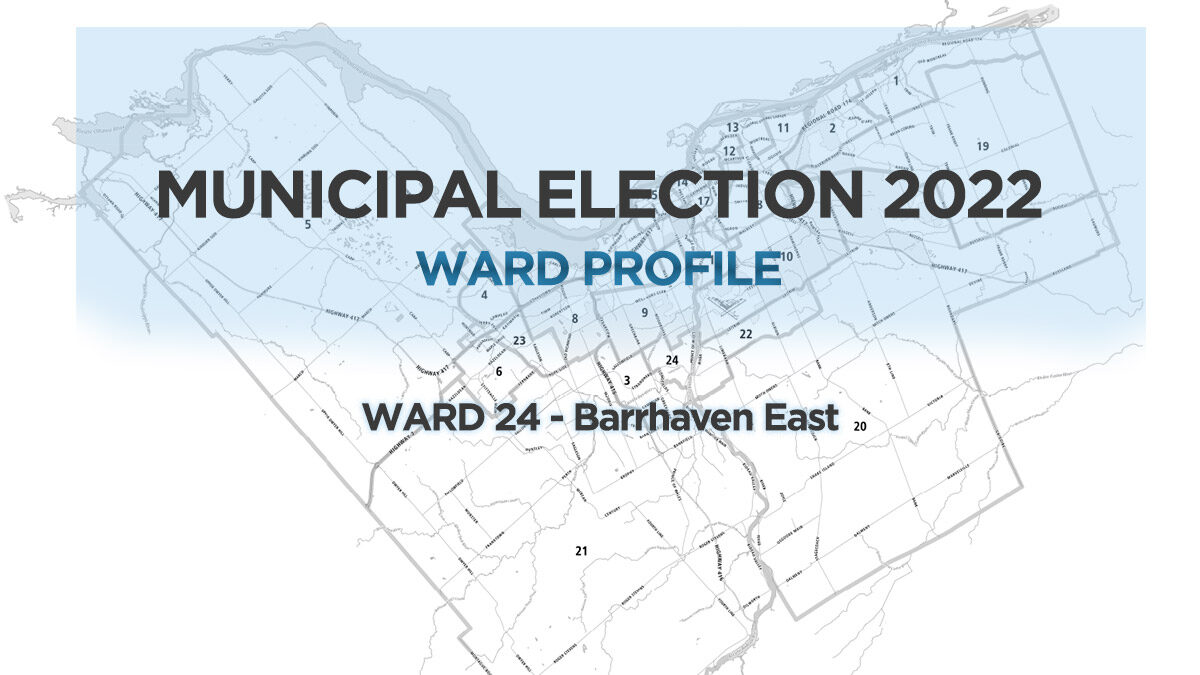 Where is it?
Barrhaven East — a new ward in the 2022 municipal election — is bounded by Greenbank Road on its west side, but it cuts in at Strandherd Drive to Longfields Drive to avoid the Riocan Shopping Centre. The boundary then follows Longfields Drive down to the Rideau River. The Rideau River provides the eastern boundary taking in Prince of Wales Drive until it intersects with Fallowfield Road. The northern border then runs to the intersection of Greenbank and Fallowfield roads, cutting out greenspace to the north. For a map of the ward, visit here.
Who's running?
There is no incumbent because this is a new ward. Seven candidates have officially registered: Guy Boone, Patrick Brennan, Kathleen Caught, Richard Garrick, Dominik Janelle, Wilson Lo, and Atiq Qureshi. Voting day is Oct. 24. For more information on candidates or how to vote, visit here.
Demographics at a glance:
About 52,600 people live in Barrhaven East (Ward 24). The ward is relatively young with 23 per cent of the population under age 14. Another 14 per cent is between ages 15 and 24. Seven per cent of the population is more than 65. Voters 25 to 64 make up more than 55 per cent of the population. Close to 80 per cent of the population speak English at home; five per cent speak French. More than 25 per cent of the population speak a language other than English or French at home, such as Chinese or Arabic. About a third of people in Barrhaven East were born outside Canada.
One key issue:
An issue that affects Barrhaven East, along with other Ottawa suburbs, is what many in the ward see as an inefficient and unreliable city transit system. OC Transpo sometimes reports more than 300 bus cancellations each day citywide. At the same time, with the pandemic causing many transit habits to change, there is less need for transit from Barrhaven to the downtown. Numerous park-and-rides now get minimal use as remote work has grown in popularity. Candidates all say that the focus needs to be on local transit within Barrhaven, rather than routes to other parts of Ottawa.
One local landmark:
Though Barrhaven East is primarily residential with small amounts of green space, Chapman Mills Conservation Area remains a staple for the community. Many residents often go for walks along the path that sits along the shore of the Rideau River.
---
More Stories