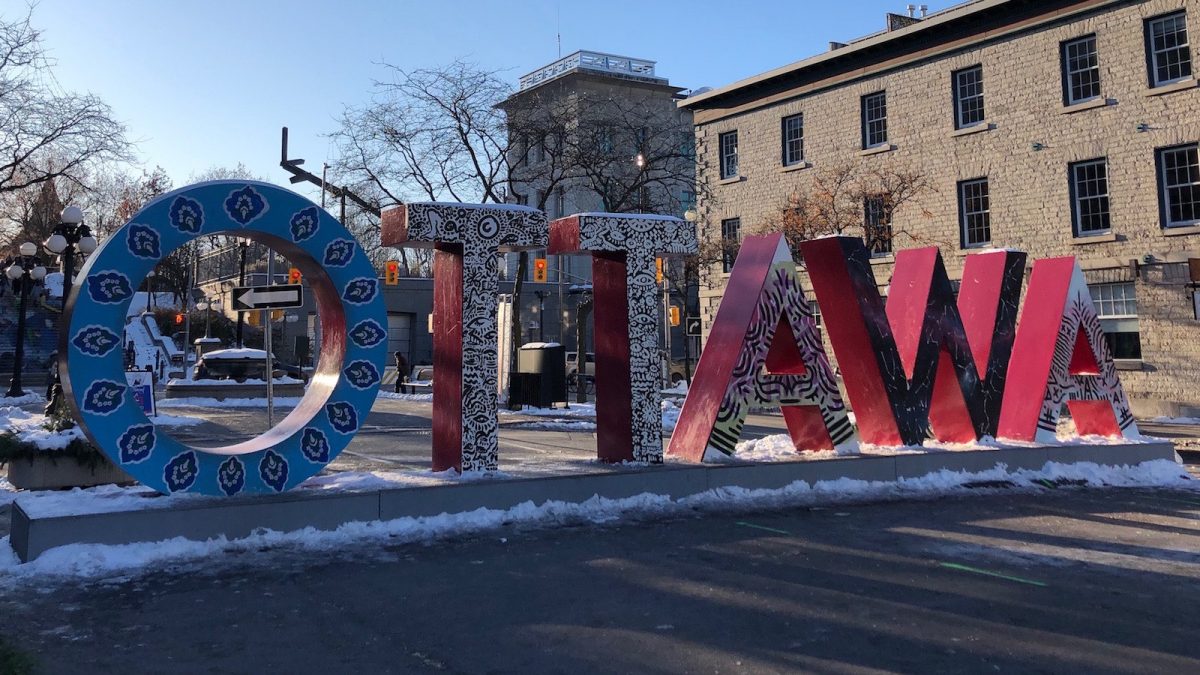 The iconic, three-dimensional "OTTAWA" sign in the Byward Market came down Nov. 18 to be replaced by a new, more durable sign by mid-December.
The new sign – which cost about $150,000 – will have an internal lighting system. It will glow in different colours that will change in step with holidays and special requests. Groups or individuals will be able to submit special lighting requests through the City of Ottawa's website.
The original sign – with block letters taller than the average adult spelling out the name of the city – was introduced in 2017 as part the capital's Canada 150 celebrations commemorating the anniversary of Confederation.
Kim Copeland of the City of Ottawa was the project initiator for the new sign. She said the original was a temporary fixture. But the sign "became such a draw for people and such an important symbol and landmark that the city decided to adopt it" permanently.
The sign's popularity can be quantified by the "ottawasign" hashtag that's been included in more than 1,000 Instagram posts.
Its replacement will occupy the same space in the Byward Market's York Street Plaza, and its letters will be the same size. The main differences with the new sign will be its custom lighting feature as well as its improved durability, as it's being constructed to be a long-lasting landmark.
One organization that's expressed interest in having its colours on display is Soldiers Helping Soldiers, a national non-profit that reaches out to veterans to help them get the benefits and services they need.
Jeff Evely, head of SHS's Ottawa chapter, said he thinks the Ottawa sign lit up in the red and white colours of the organization's logo could be an effective method of promoting its cause – including bringing in more volunteers and donations.
"We have about 15,000 military personnel here in the National Capital Region, so I'm sure that a significant portion of the people who will be viewing the sign will in fact be uniformed military members," said Evely. "They would kind of be the target audience for our recruitment, and I'm just very excited to raise some awareness in the general public, as well, about our organization."
According to the City of Ottawa website, the lighting request program will begin in 2020, with specific protocols for granting requests still to be determined.
The $150,000 cost of the sign – including labour and materials – will be split between the City of Ottawa ($100,000) and Ottawa Tourism ($50,000), the region's destination marketing organization that represents hundreds of member hotels, restaurants and other local businesses and tourist attractions.
Jantine Van Kragten, director of communications for Ottawa Tourism, said the new sign was a worthwhile investment because of the tourists it draws in and the publicity it generates for Ottawa, especially through social media.
"I think Instagram is a powerful marketing tool and I've seen that Ottawa sign on plenty of Instagram accounts," she said, adding that cities throughout the world, including Toronto, have erected similar signs for the same reasons.
Van Kragten also said she thinks people will be encouraged to revisit the sign because of its ever-changing colours, and that this will also benefit the various community groups that will be represented.
"I think that's a great opportunity for charities and nonprofits to promote everything from breast cancer awareness to capital pride to St. Patrick's Day," she said.
Information about what or whom is being represented through the lighting at different times will be available at the City of Ottawa's website.
"I think there's definitely a demand and an appetite for it," said Copeland.
If multiple requests are made for the same time frame, there will be a process for determining how to proceed, but Copeland said she thinks most requests will be successfully accommodated.
---
More Stories