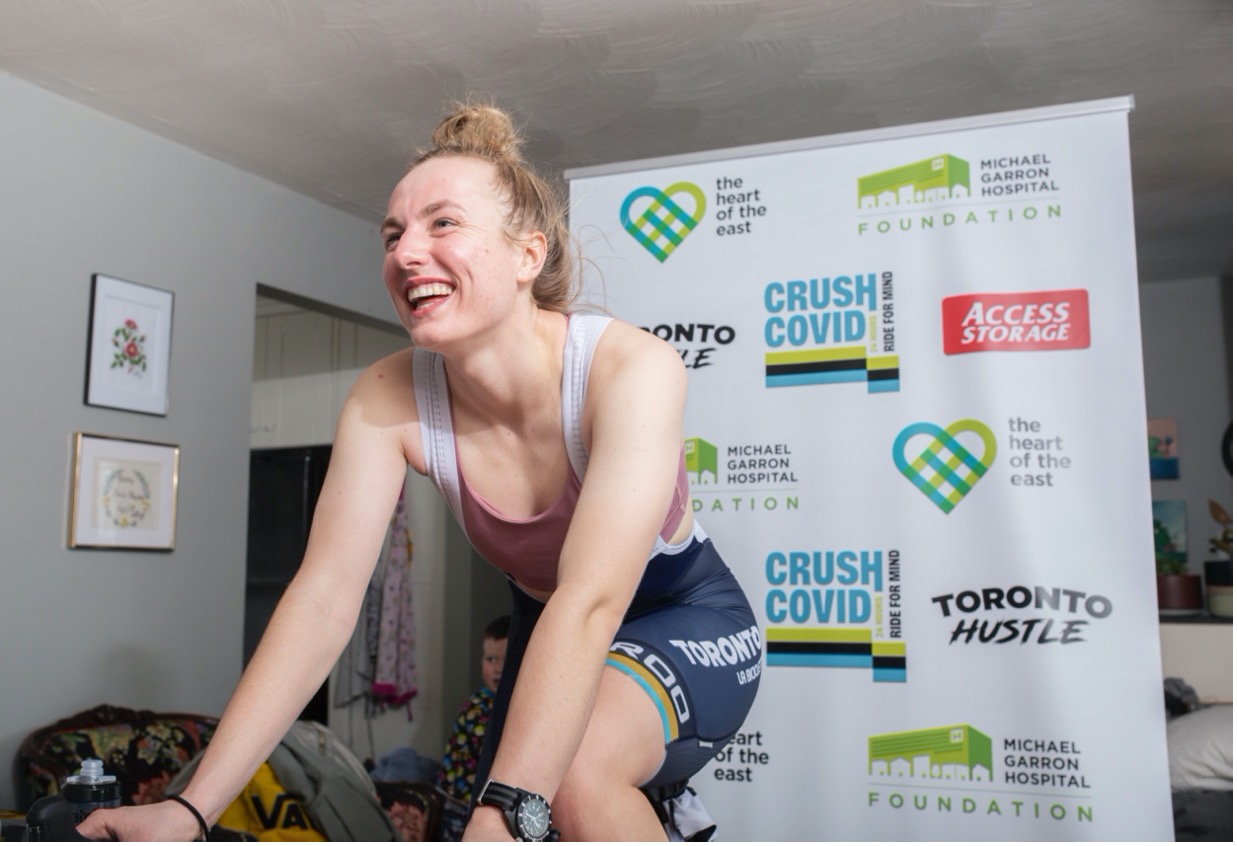 Ottawa native Lucy Hempstead popped open a well-deserved bottle of sparkling wine just after 6 p.m. on March 13 to resounding cheers from family and friends after cycling 812 kilometres, breaking the Guinness World Record for the longest distance travelled on a stationary bike in 24 hours.
Lucy smashed the previous record of 680 km as part of CRUSH COVID: Ride for Mind, a 24-hour virtual cycling marathon to support mental health programs at Michael Garron Hospital in Toronto.
"I knew the world record attempt was going to be a challenge," Hempstead said in a statement afterwards, "but I wasn't expecting the incredible outpouring of support — not only for my ride, but for CRUSH COVID: Ride for Mind – raising over $400,000."
Growing up, the Olympics were always the goal for the 20-year-old Hempstead. But she believed it would be for track and field — not cycling. But multiple stress fractures made it clear that competitive running was no longer possible.
It wasn't until she tried out for the RBC Training Ground in 2019 and was identified by Cycling Canada as a 2024 Olympic hopeful in that sport that she decided to switch gears.
With the funding and support from RBC, Hempstead now trains — from Ottawa — with the Toronto Hustle cycling team.
Grahame Rivers, communications director of Toronto Hustle, said Hempstead's inspiring story is a large reason why CRUSH COVID was such a success.
"The possibility of Lucy becoming a professional cyclist is incredibly high and I think people get excited about that stuff. They want to see young Canadian athletes reach their potential," said Rivers.
Hempstead was able to encourage the national capital community to support a cause even when the main fundraising impact would happen hundreds of kilometres away.
"We saw almost $20,000 raised from the Ottawa area for an event that is more centered around southwest Ontario, and so that for me was a big highlight," said Rivers. "Her effort was able to bring the Ottawa community together to support a good cause," he said.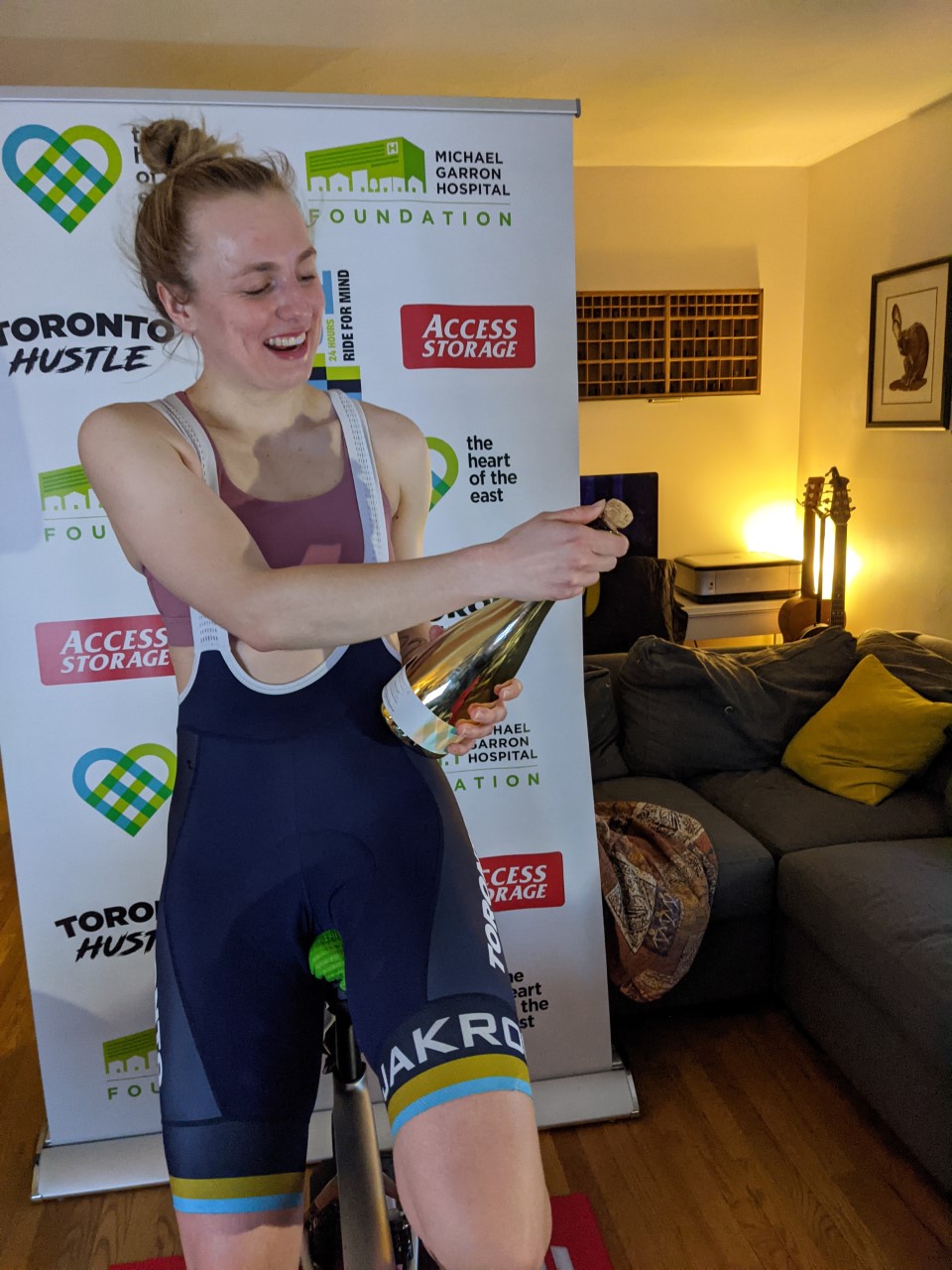 "Thank you to everyone that has supported me along the way and those who donated to this important cause," Hempstead stated after her unprecedented long-distance performance. "I'm so proud to have smashed this record!"
Toronto city councillor Brad Bradford is a founding member of Toronto Hustle and played a major organizing role in the event. He said that even though the vaccine rollout has begun, the isolation and the massive disruption on people's lives caused by COVID-19 will affect people's mental health for a long time.
"CRUSH COVID was all about shining a light on the mental health crisis and the need for more investment in mental health care that's going to come out of the pandemic," said Bradford.
Bradford live-streamed the 24-hour event over Zoom through his Facebook page, with guest speakers throughout the day. Those who participated included professional cyclist Hannah Barnes, Olympic kayak gold medalist and Liberal MP Adam Van Koeverden, and various mental health professionals.
This is the second year of the CRUSH COVID fundraiser, with the first event happening at the onset of the pandemic.
Something meaningful
"At the time when we were organizing it, we were in a pretty big hurry because we thought the pandemic was going to be over soon and that we wanted to do something meaningful before the pandemic was over," recalled Rivers.
Their initial goal was to raise $10,000 for frontline workers, but the target was exceeded by far. The 2020 event generated $250,000.
A big part of the decision to partner with Michael Garron Hospital again in 2021 was the facility's support for under-served populations.
"A big focus of the event was to draw particular attention to how the pandemic has disproportionately affected vulnerable populations — especially racialized communities, youth, and those living in poverty," said Bradford.
"The above-average rates of COVID-19 infection in these communities have only compounded the deep existing disparities in mental health outcomes for vulnerable groups," he added.
Though Rivers is optimistic the pandemic will be over by this time next year, he predicted that the impact of COVID — particularly in the area of mental health — will continue for years. And now that Toronto Hustle has seen what they are capable of as far as fundraising, he doesn't see the team stopping any time soon.
"I think the feeling that all of the team members get – having made that kind of contribution to the community – is something that nobody would willingly give up."
---
More Stories