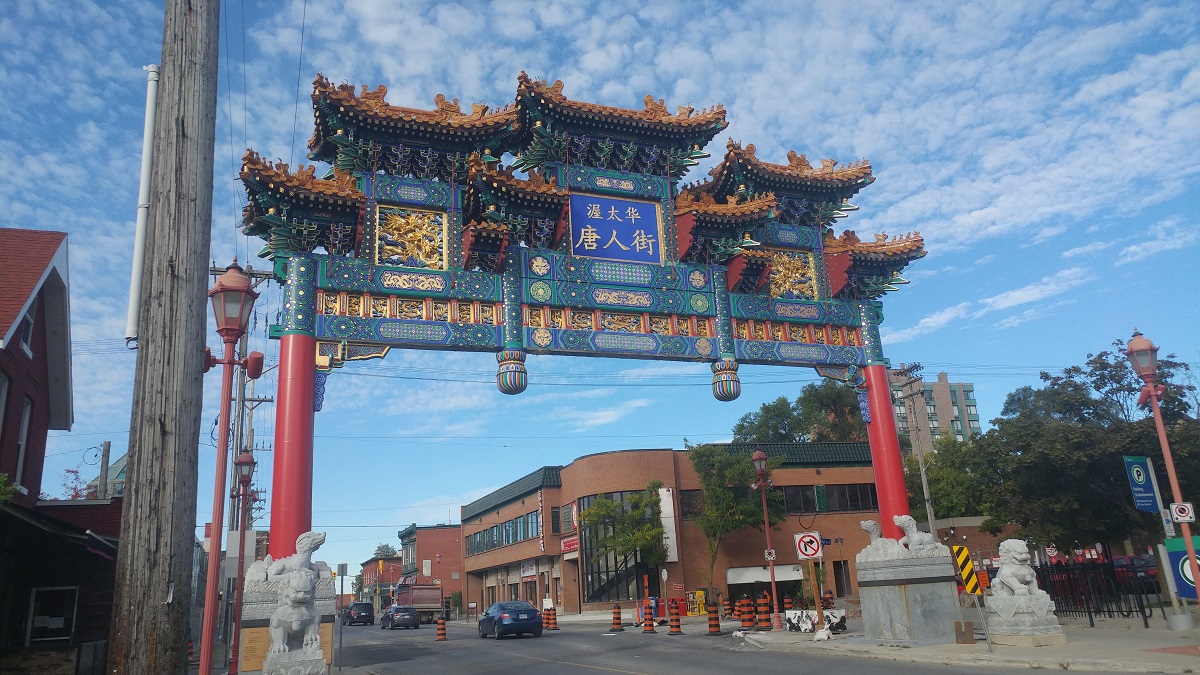 While the pandemic has been very difficult for most people, data suggests that some have faced more hardships during COVID-19's onslaught because of their identity. For new Canadians and people of colour issues of discrimination and other disparities have been amplified.
"It's tough, personally, in this situation, I'm really worried about people who will become even more isolated due to instances of racism," said Amy Yee, a staff member at the Chinese Canadian Collective, an Ottawa-based organization dedicated to examining Chinese Canadian experiences, issues, and representation.
"I'm very cognizant of how my own actions and behaviours have changed." said Yee.
Over the pandemic the collective has shared many articles on discrimination and other issues minority communities face here in Canada. Yee has also written two articles on the organization's website that analyzes racism and proposes actions that need to be taken.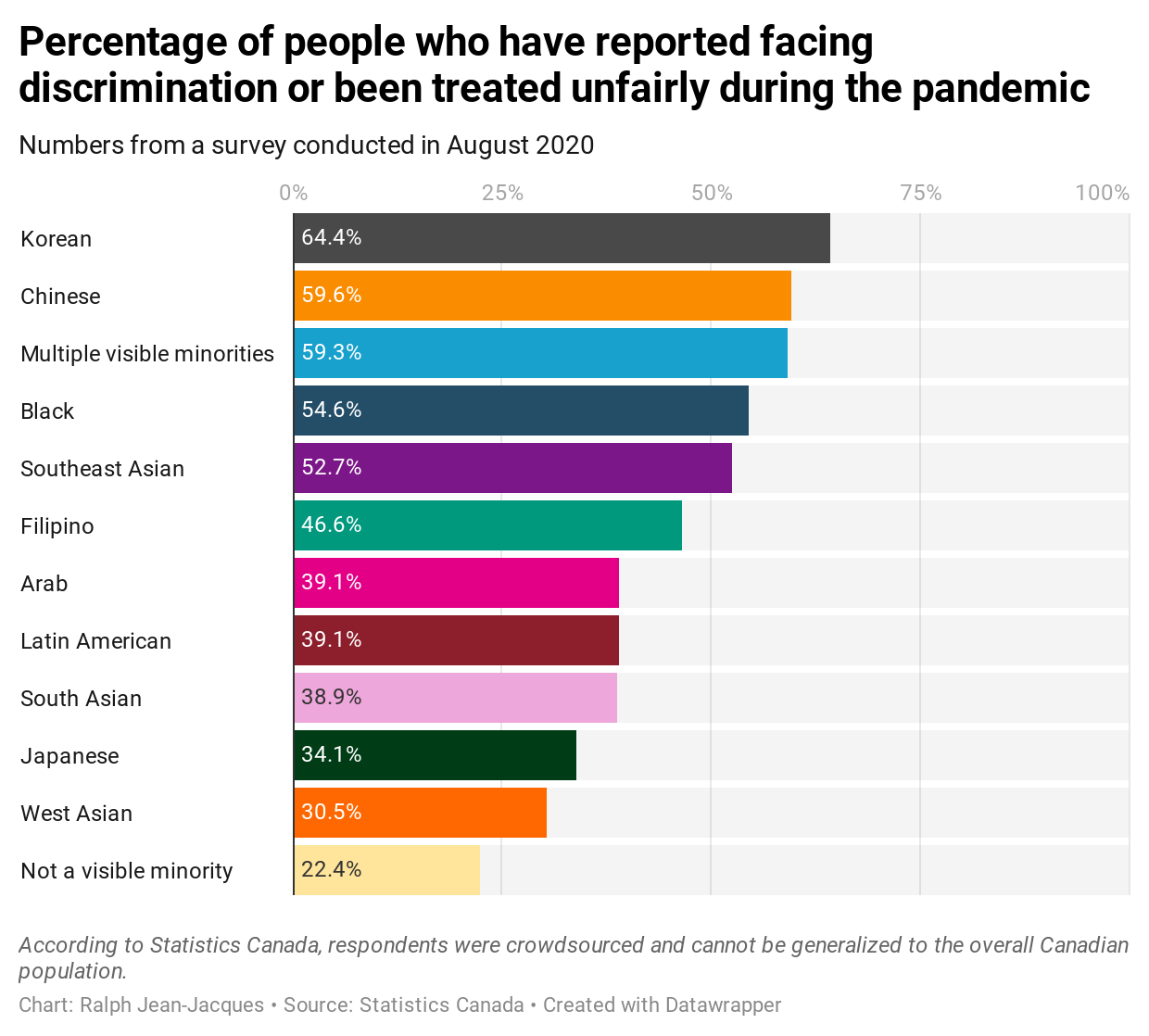 A new crowdsourcing initiative by Statistics Canada has found that more than a quarter of participants out of the 35,000 that took part had experienced discrimination or greater challenges during the pandemic. 
Many of the groups mentioned were already vulnerable and susceptible to inequity before to the pandemic. 
"When diseases, communicable disease, transferable diseases break out in places such as Africa, Asia, Latin America, these diseases assume racial overtones. This is what I am trying really to tell you from my own research. And that is what we need to take into account, because racism doesn't happen overnight. Discrimination doesn't happen overnight," said Carleton University sociology professor Amina Mire.
Dr. Amal Madibbo, a visiting scholar at Carleton University, added that phenomena like a pandemic can exacerbate existing differences.
"The privileged remain privileged and the marginalized don't even remain marginalized, they become even more excluded. And I believe that is what has happened and what continues to happen at present during COVID," said Madibbo.
While many groups faced discrimination because of ethnicity, gender or other factors, many other Statistics Canada surveys show that the pandemic had varying impacts on all groups in Canada. 
According to Statistics Canada, "[i]mmigrants are disproportionately represented in sectors with greater exposure to COVID-19 – front-line/essential service workers, including long-term care, where the majority of deaths in Canada have occurred."
"The pandemic has shown us the problems in our current society, unfortunately," said University of Ottawa professor and Research Chair in Immigration and Franco-Ontarian Communities, Luisa Veronis.
"Those who are on the shorter end of the stick, so to speak, have been more affected and unfortunately visible minorities and immigrants tend to be among those groups that are low income … or don't have resources," she said, adding that they may not have the kind of jobs where they can work remotely.
"[T]hose jobs [are] left to newcomers, or people with qualifications, who come from abroad," she said, adding that there are many different factors at work.
Visible minorities, Indigenous peoples, and recent immigrants were found to be disproportionately affected by the economic impact of the pandemic while other minorities such as the Chinese, Korean and Southeast Asian communities experienced increased harassment based on race.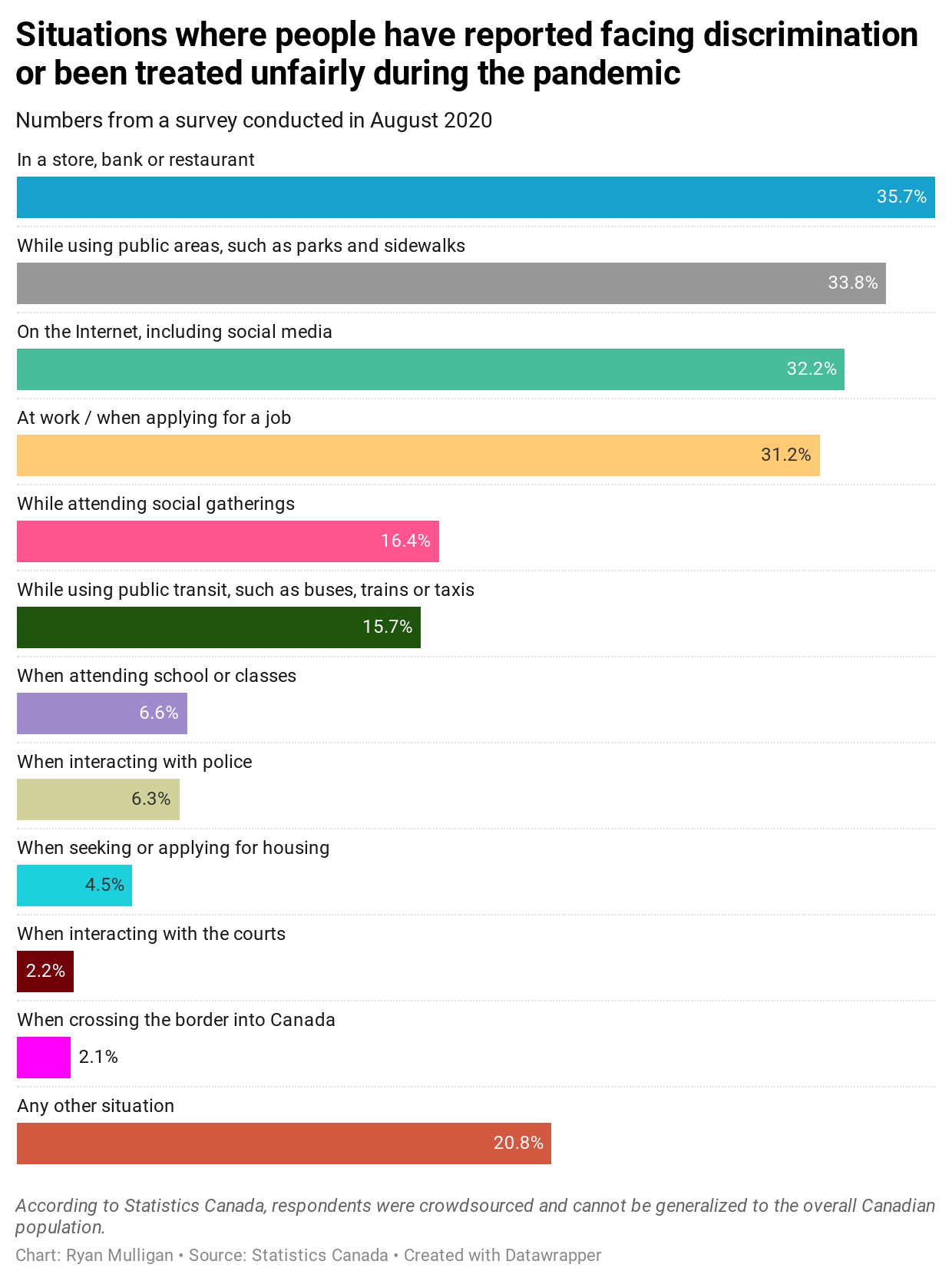 In May Ottawa Public Health, the City of Ottawa, and the Ottawa Police began a campaign to encourage reporting of hate incidents over the pandemic.
The public education campaign was launched after two hate incidents in Ottawa's west-end.
Anyone who has experienced a hate incident is highly urged to contact the Ottawa Police Hate Crime Unit at 613-236-1222, ext. 5453.
---
More Stories