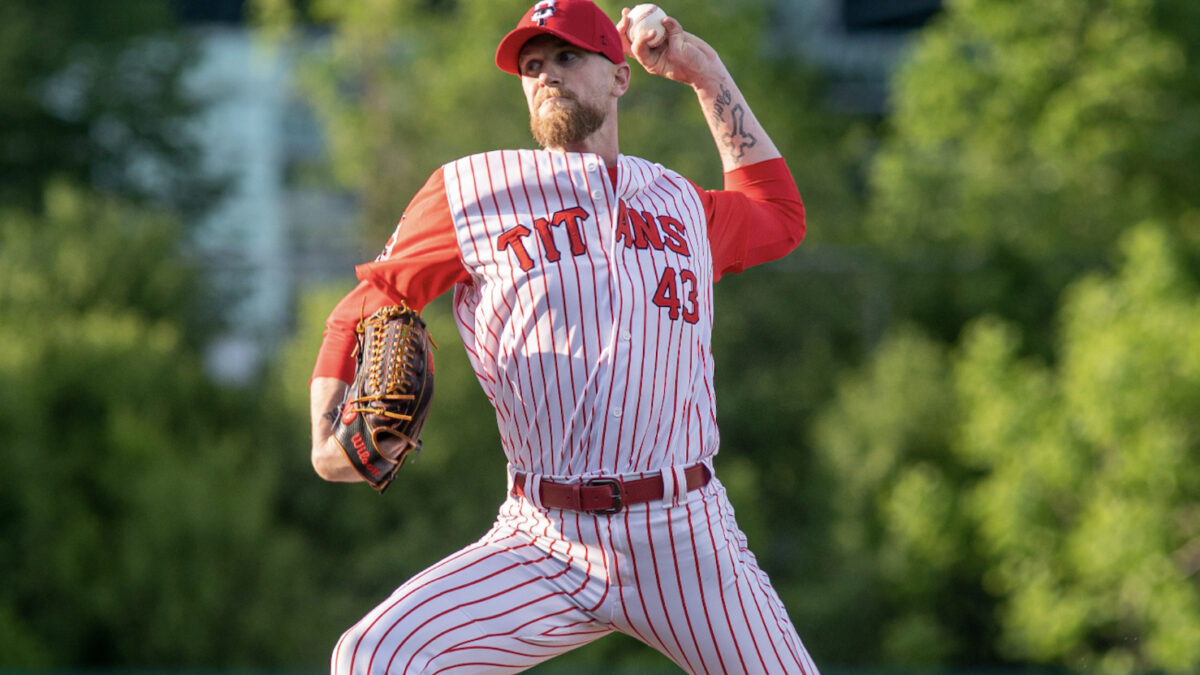 The Ottawa Titans franchise is still in its infancy. But in the much-anticipated return of professional baseball to the nation's capital on Tuesday, Evan Grills made history.
The team's starting pitcher from nearby St. Albert, Ont. struck out 15 batters in eight scoreless innings, leading the Titans to a 2-0 win over the Evansville Otters in the first home game in franchise history.
Grills allowed only six baserunners; the Otters had a runner in scoring position on just two occasions.
The 2022 season has been a long time coming for the Titans, who compete in the MLB-partnered Frontier League. The Can-Am League's Ottawa Champions folded after the 2019 season, leaving Ottawa without a pro ball club.
The Titans were unveiled as an expansion team in September 2020, but didn't play in 2021 because of COVID-19 border restrictions.
That game-less season extended what has been a tumultuous recent history of elite baseball in the nation's capital, with six other pro teams coming and going over the past 30 years — most notably the Triple-A Ottawa Lynx from 1993 to 2007, the 1995 International League champions.
But after a season-opening nine-game road trip this month, during which the Titans went 5-4, the fans at Ottawa's RCGT Park were treated to an impressive home-field debut. With the bleachers lightly populated and the weather sunny but chilly, Grills dominated.
Between the third and sixth innings, the Titans starter retired 10 consecutive batters. At one point, he struck out five straight. In another stretch of the game, Ottawa's last seven outs were strikeouts.
By the time Grills left the game at the end of the eighth inning to a standing ovation, he had thrown 108 pitches in sparkling performance.
"That was the game plan: have Grills go out there and pitch eight innings, 15 strikeouts — no, I'm just kidding!" said manager Bobby Brown. "This is what I envisioned of him being our ace all season long."
"Our job as pitchers is to keep the hitters off balance . . . It was just kind of a perfect storm scenario where I felt really good with my mechanics."

— Evan Grills, Ottawa's winning pitcher in the Titans' home opener
Grills said he felt good during a bullpen session earlier in the week, but still had a case of nerves — as he always does — before his start.
He said he shook off catcher Tyrus Greene only once and had all four of his pitches working.
"Our job as pitchers is to keep the hitters off balance," said Grills. "So if you get all four (pitches working), then it makes your life a lot easier . . . It was just kind of a perfect storm scenario where I felt really good with my mechanics."
Grills' arrangement with the Titans is unique. Drafted out of high school in 2010 by the Houston Astros, Grills bounced around MLB-affiliated and independent baseball until 2021, when he signed with the CTBC Brothers of the Chinese Professional Baseball League in Taiwan.
But while overseas, he missed the birth of his son.
"It was kind of not a great scenario . . . so I'm just happy to play at home," said Grills. "This is what I wanted to do and have my family there."
As a result, Grills pitches only at Canadian ballparks and doesn't travel with the team to the United States. His deal with Brown is that he'll travel south of the border if the team makes the playoffs.
"I love independent ball for the reason that we're all just trying to win and have each other's backs and I honestly feel no disconnect," Grills said. "I stay in the group chat when they're gone . . . I actually miss them when they're gone because it's a little break from the family life."
The team will clearly miss Grills, too, given the game he pitched Tuesday against the visitors from Indiana. The performance was needed as Ottawa's hitters — who had scored at least six runs in each of the last five games, including a 13-run, 20-hit drubbing of Chicago's Windy City Thunderbolts on May 19 — notched only two against Evansville.
The Titans struck quickly in the bottom of the first. Left fielder Rodrigo Orozco walked, advanced to second on an errant pickoff throw and cruised into third with a stolen base. Right fielder Jacob Sanford, who was recently cut by the New York Yankees for allegedly stealing collectibles from teammates and defrauding fans, doubled to score Orozco.
Ottawa scored again in the third with a solo home run to left-centre field from third baseman AJ Wright. It was Wright's fourth homer of the young season, despite proclaiming himself as "not typically a power hitter."
"He's got some power. Don't let him fool you," Brown said. "He's a little guy with some power in the bat."
The Titans play Evansville again on Wednesday and Thursday before the Gateway Grizzlies — based in the St. Louis suburb of Sauget, Illinois — come to Ottawa for a three-game series on Friday, Saturday and Sunday.
"To get seven or eight for Evan today bodes well for the rest of the home stand," Brown said.
---
More Stories