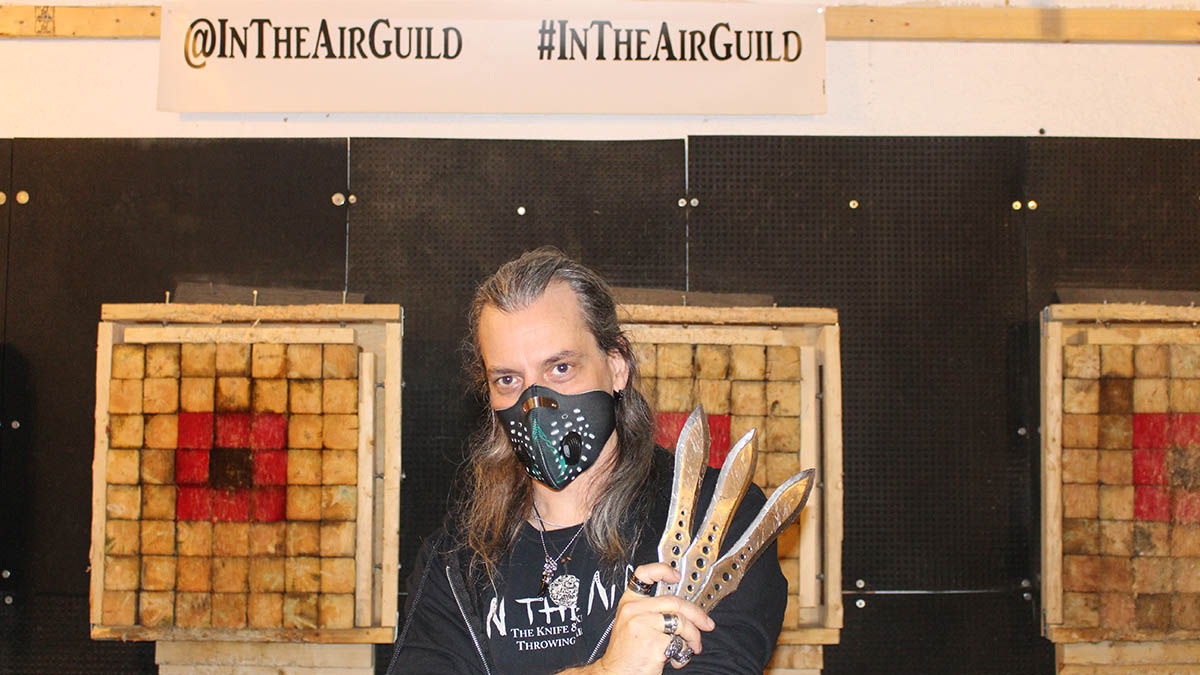 In September 2019, Bren Walker was excited to embark on a new business venture when he opened up The Wreck Room, a "rage" space where customers armed with, say, a baseball bat could take out their frustrations on an old stereo in a safe and controlled environment.
"Right away, people really responded to it — it was a lot of fun," Walker recalled. "It was great for stress relief, so it was really cool in that sense."
Flash forward a year, and The Wreck Room has shut down. It could not survive the heavy restrictions that the COVID-19 pandemic placed on many small businesses.
However, the demand for rage rooms and similar recreational outlets — including knife- and axe-throwing attractions — has only increased as people find themselves under greater stress as a result of the COVID-19 pandemic. Rage and other recreation rooms have had to find creative ways to serve their communities while keeping their businesses going.
Walker, however, has been able to adapt to the changing world by rethinking his product. When he was cleaning out The Wreck Room, he was struck with an idea that inspired his new business: The Vengeance Van.
"One of my teammates was helping us out and he kind of looked around and was, like — it's too bad we can't do a mobile version of this," he recalled. " I kind of just looked at him like, what an amazing idea!"
Walker worked over the summer to purchase and prepare a truck that he could remodel as a rage room, and it's now fully operational.
"The response has been kind of crazy," he said. "Everyone really likes the mobile aspect. They think it's kind of like a novelty."
Walker said the Vengeance Van is a perfect alternative for people who want to relieve their stress but not venture far from their homes. "We can offer people the same service (as a traditional rage room), but we bring it right to them, and with increased sanitation we can mitigate the safety and health factor."
He added: "I think that everybody's got some tension and stress they want to release on a general basis, but COVID really adds that . . . For us, a lot of people are coming because they have pent up energy, their kids can't leave the house, or are frustrated with restrictions. So it's just a way for people to let loose and have some fun."
Lawrence Rogers, who owns The Axe Shop Inc. in Perth, said more and more people have been coming from Ottawa to blow off steam by throwing knives and destroying objects in his rage cage.
"It's a lot of first timers, people who want to get out and not be in crowds," said Rogers. "People are going stir-crazy and they are happy to get in and blow off some steam."
Perth, about an hour's drive west of Ottawa, is still in Stage 3 of reopening and has fewer restrictions on businesses than COVID-19 hotspot Ottawa, which has gone back to a modified Stage 2 status in which various recreational facilities have been forced to shut down again. Those restrictions will lift on Saturday in Ottawa.
Customers at The Axe Shop can pay to smash furniture, electronics and china with items such as baseball bats, metal pipes or golf clubs. The shop also offers an indoor and outdoor target range for axe throwing.
"We've put all the necessary precautions into place — sanitizing the equipment, enforcing people to wear masks in our indoor facility, and making sure that everyone is distancing," said Rogers. "We have a lot of people coming from the city who just want a little bit of fun."
Cutting to the chase
Rogers said that The Axe Shop will continue operating for as long as it can during the pandemic. "I think it's a good thing being in the country. We have more space to socially distance and we have lots of room indoors and outdoors for our activities."
In a recent survey conducted by the Toronto-based Centre for Addiction and Mental Health, which examined the mental health impacts of COVID-19, an estimated 21.1 per cent of people were experiencing increased anxiety and an estimated 20.1 per cent were feeling lonely during the pandemic.
Some key findings indicated that Canadians were coping by spending time outdoors, carving out time to relax or connecting socially with friends or family in person. 
"This is not surprising given the benefits of social support, but is of concern as case counts across the country rise," said Dr. Tara Elton-Marshall, a scientist at the Institute for Mental Health Policy Research at CAMH. "Canadians need to continue to find alternate coping strategies."
More than four in five Canadians (82.1 per cent) indicated connecting socially with friends or family in person was a key coping strategy.
In The Air, a knife- and axe-throwing venue in Old Ottawa South, is a relatively new enterprise that provides a safe space for the physical release of emotions. The facility offers target ranges to customers via walk-ins and paid memberships. Regulars frequently compete in tiered events, with each round presenting a new challenge.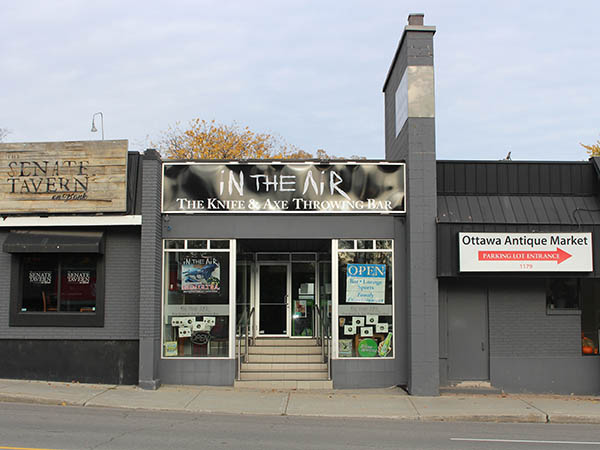 But the biggest challenge the venue faces are the modified Stage 2 restrictions imposed earlier this month in Ottawa. The lifting of those limits will no doubt be a relief.
Because it also operates as a bar, In The Air has been forced to close all inside operations of its business, leaving the only source of income as take-out and delivery sales of alcohol. The target ranges are currently closed, despite other recreational venues such as dance studios and pool halls remaining open.
The facility, by nature, is designed for social distancing because of safety requirements when throwing sharp objects.
According to Clinton "Morph" Butler, owner of In The Air, the current situation simply isn't sustainable.
"We've only been open three and a half months this year," Butler said. "I don't foresee us being (fully) open until March again."
Butler added: "From the ground up, this place has been a place to build character and develop confidence and a sense of adventure, every step of the way. Our goal is supporting local artists and supporting the local community that come in at every stage of life."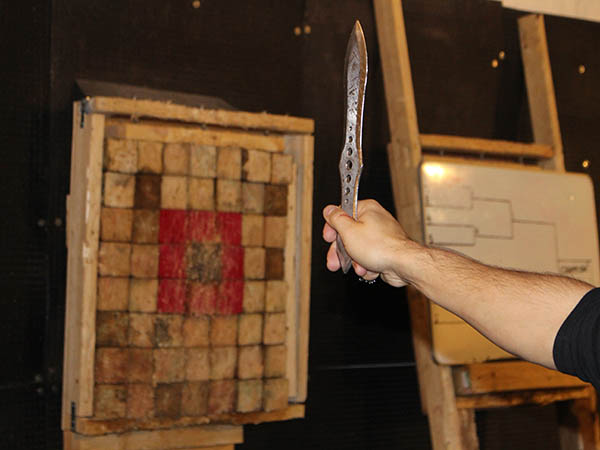 Laura Jill Goodacre, who goes by the nickname "Navi", is a regular at In The Air. She has two children who often accompany her when she goes to throw.
The pandemic has "lasted so much longer than I think people anticipated, and I think everybody is optimistic," said Goodacre. "I do think it's important that people have options, that they can get together socially and maintain those networks in a safe fashion."
For her 12-year old daughter, the social impacts of COVID-19 have been quite stressful.
"Her whole world's been turned upside down," she said. She has been trying to create some normalcy, which she says In The Air has helped to provide.
Similarly, Butler said he is constantly amazed at the confidence that is instilled in people while throwing, which he believes serves as a coping tool for dealing with social stressors resulting from COVID-19.
"You get to redefine yourself; the outside world doesn't apply here," Butler said. "It's like when you walk in, you plug into the matrix to become who you're supposed to be."