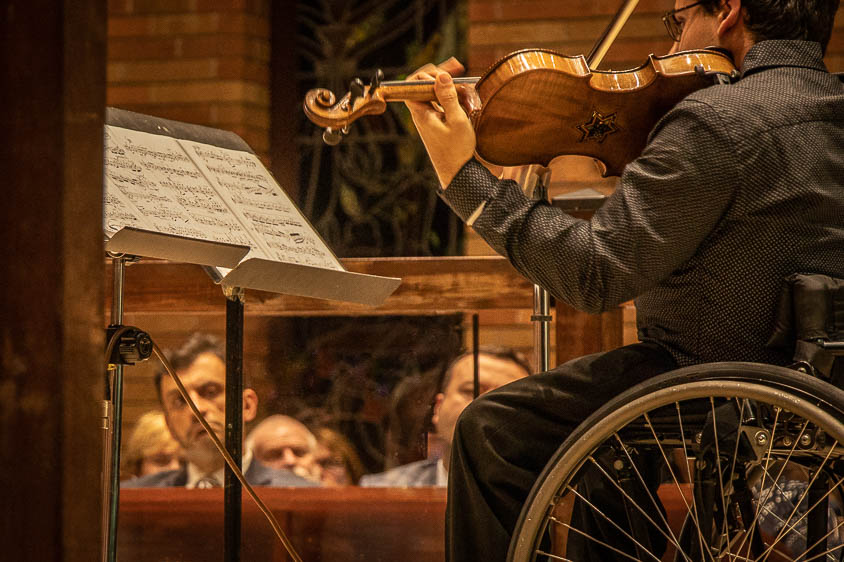 In a pre-pandemic world, eight-day-old Theo Rapkin would have had his bris ceremony in a Montreal synagogue, surrounded by friends and family, his parents and a rabbi.
There would have been prayers and a brunch.
The bris — formally known as the brit malah, or the "covenant of circumcision" — is a ceremony performed on the eighth day of a boy's life.
Theo's father, Cory Rapkin, a Montreal resident and teacher, describes the scene — a rite of passage for most Jewish boys — that never came to be because of COVID-19, at least not in the traditional sense.
Instead, Cory and his partner Chantal Burgy were forced to adapt.
In mid-May, Rapkin and Burgy, who were expecting their son in June, planned to hold the bris at the hospital. It didn't look like synagogues, along with other places of worship, would be opening any time soon.
But two weeks prior to Theo's birth, the hospital announced that they would no longer perform circumcisions during the pandemic. So the Rapkins decided to hold the bris at home, inviting a Rabbi in to perform the ceremony two weeks ago.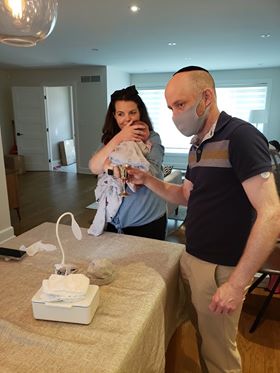 Those in attendance were Rapkin, his wife, his best friend — ceremonially dubbed "the zander," a title akin to "godfather" — and the rabbi, all donning masks for protection. About 30 guests also tuned in over a Zoom call.
Rapkin said that this was their way of observing the tradition while "trying to be respectful of social distancing."
He isn't the only one seeking this balance during the pandemic.
The Jewish community in Canada and beyond has been forced to adapt to the circumstances of the COVID-19 public health crisis.
For example, the "Violins of Hope" concert series planned for this spring in the U.S. — and featuring virtuoso American violinist Niv Ashkenazi, who performed in Ottawa in November 2018 using an instrument reclaimed from the Holocaust — has been postponed to several dates in Los Angeles in January and February 2021.
But Ashkenazi did perform a live-streamed concert in April from The Soraya arts centre in California, including an interview "adhering to current State, County and City safe-distancing guidelines."
In the past three months, Ottawa's Rabbi Reuven Bulka has performed a virtual bar mitzvah over Zoom and a physically distanced bris, leading the ceremony through an open window at the family's house.
Bulka is the Rabbi Emeritus at Congregation Machzikei Hadas in Ottawa's Alta Vista neighbourhood. The congregation opened its doors for in-person services last week.
"There's a lot of things we are doing that we never did before, and we didn't even dream we'd be doing," said Bulka, who has been leading the congregation for more than 50 years.
"Did I ever think there would be a time that it would be a backhoe?" he said, referring to the burial process. "No."

Rabbi Reuven Bulka
While COVID-19 has transformed the ways religious rites can be performed, respecting public health guidelines was never up for debate, said Bulka.
"The rule that we work about — something that we've had to implement many times in our history— is, in times of danger, life is paramount," he said.
For Bulka, the health and safety of the community is the most important thing and "everything else folds into it."
He said he has also seen some good come from these precautions.
While some have found beauty in these new ways of gathering, not all ceremonies lend themselves to virtual alternatives.
Traditional interment, for example, is usually far a more intimate ceremony to mark the passing of a loved one. The casket is buried by hand or shovel, as each person in attendance throws three scoops of dirt into the grave.
No longer possible
But Bulka said that this practice is no longer possible during the pandemic.
"Did I ever think there would be a time that it would be a backhoe?" he said, referring to the burial process. "No."
Faith, tradition, and ceremony during a pandemic "is not a one size fits all," said Bulka.
As for Rapkin, he said he really enjoyed the intimacy of his son's bris ceremony.
It "felt more personal," he said.
With no travel and minimal organization required, the experience was actually less stressful than a normal bris. More people could also attend, he noted, including Cory's brother who lives in Vancouver, along with friends and family from Los Angeles and Florida.
His only concern was with certain Zoom guests, one of whom gained access to the feed without being invited.
Virtual etiquette is something that many will have to learn to navigate if ceremonies are to be held remotely, according to Rabbi Bulka.
"Zoom shivah visits," he noted, "are going to be a permanent part of our vocabulary."