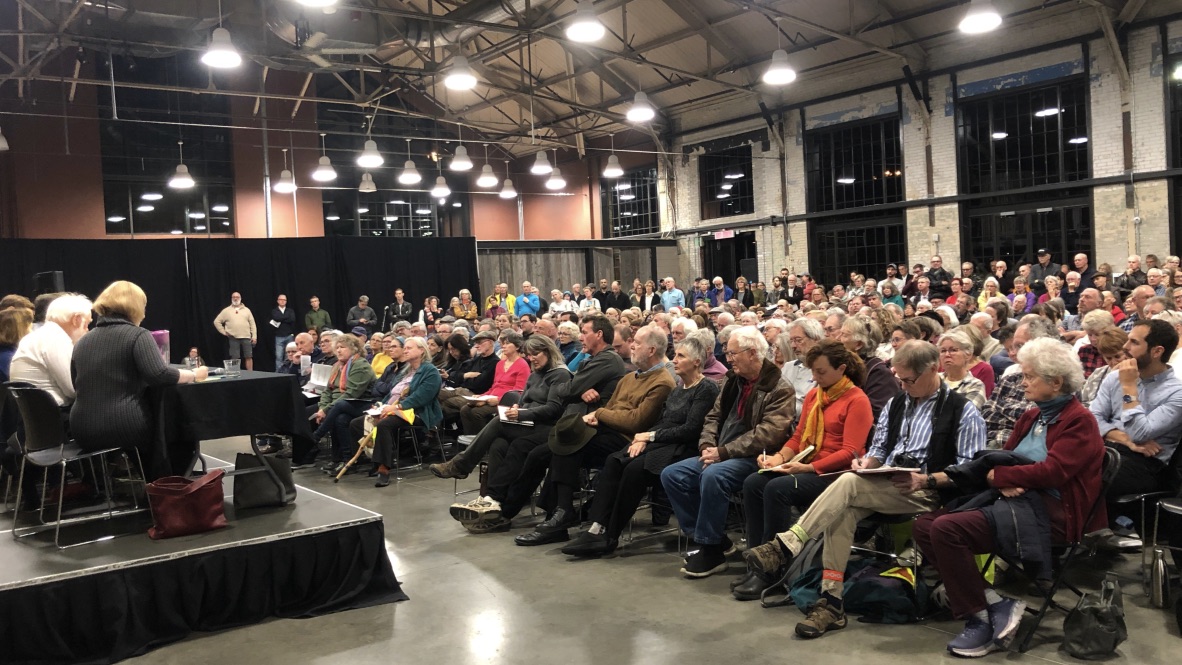 A proposal that would see the Ottawa Sports and Entertainment Group (OSEG) operate all of Lansdowne Park is raising concerns for local residents.
Those concerns were raised at a packed meeting Monday night in the Horticulture Building.
In a document released Oct. 25 OSEG requested that the city give it all programming and site operations at Lansdowne. OSEG currently oversees, the TD Place stadium and arena. The company owns the three sports teams who use the facilities and manages commercial leases at Lansdowne
"The fact that the headlines said that OSEG is making this deal with the city made everyone here change their plans tonight and attend this meeting," says Tahera Mufti, who has lived in the Glebe for 15 years.
The Horticulture Building was filled with uneasy residents who wanted answers. The community panel was run by Sarah Viehbeck, President of the Glebe Community Association, along with June Creelman and Bob Brocklebank. Also attending were the city's general manager of parks, recreation and cultural services Dan Chenier, Counc. Sean Menard and OSEG president, Mark Goudie.
Mayor Jim Watson was not in attendance and when Viehbeck addressed this, the audience erupted in a loud booing. Watson was attending a second large community meeting on a controverisal project proposal, this one involving a possible development on the Kanata Lakes Golf Course.
The OSEG proposal has some wondering what will happen to popular features on the site including the Farmers's Market which runs every Sunday. The front row Monday night was lined with local farmers awaiting an answer.
Menard tried to calm those fears by saying that, "the farmers market will be fine."
Jocelyne Garland who owns Garland Sugar Shack and is a vendor at the market. "The fact that he (Menard) was able to say it publicly does bring some relief," says Garland.
OSEG has invested about $150 million into Lansdowne but Goudie told residents that they have not broken even yet.
He said OSEG hopes to better use space in Aberdeen Square by building a pavilion or stage.
"I hope it's something for everybody … I see comics using it, performance artists, Shakespeare in the park that type of thing. If we do it right, it's going to be very effective."
Mufti said she was disappointed by what she called a lack of preparation for the meeting by OSEG. She has been an active volunteer in her area and is also chair of Taste in the Glebe.
"OSEG needed to show up with a business plan, if you want to take over prime public space then show me what you're going to do with it, " says Mufti.
On Nov. 5 OSEG will go before the city's finance and economic development committee with its proposal.
---
More Stories