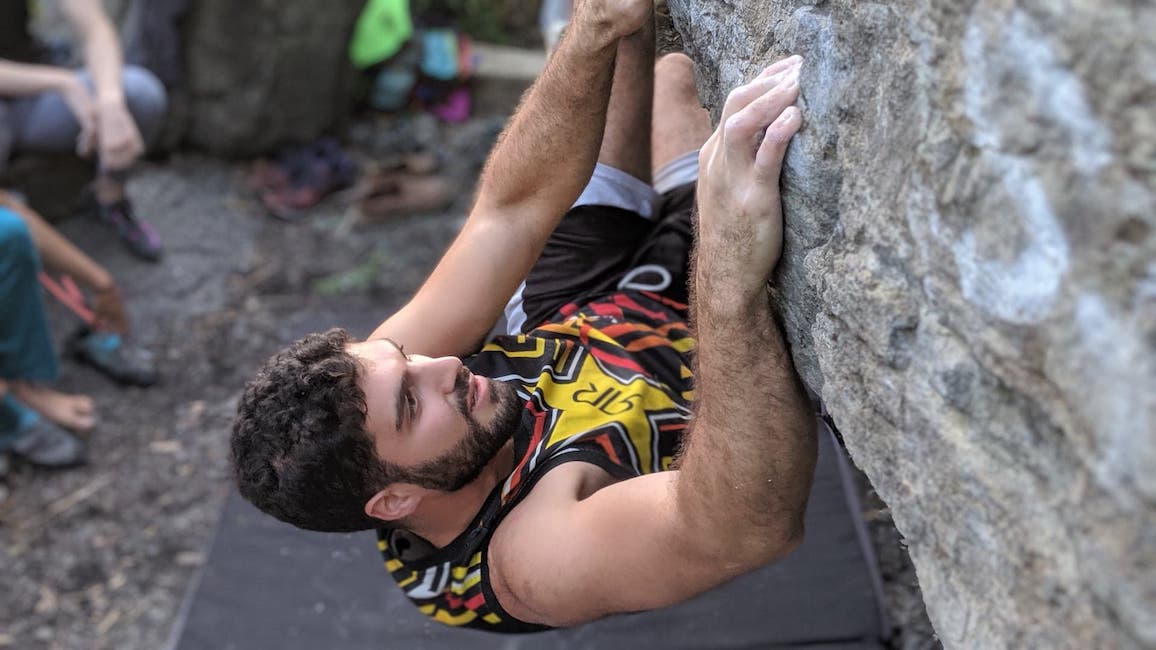 Outdoor rock climbers are bound by a very specific set of rules passed from the wider community to the individual climber. A basic respect for nature, as well as a regard for the safety of fellow climbers, are paramount for the well-being of the community.
But with Ontario climbing gyms closed during the COVID-19 pandemic, many climbers are flocking to outdoor sites.
Those climbers are accustomed to indoor exercise where rules are few and easily followed. And these newcomers have raised concerns among Ottawa's outdoor climbers, both for the future of their favourite spots and for their own safety.
Calabogie is one of these sites. An hour west of Ottawa, it remains a popular destination for vacationers and hikers alike. It's also one of just a few challenging sites available to Ottawa climbers during the pandemic.
The Canada-U.S. border is closed, cutting off climbers from top-notch climbing sites to the south. And the town of Val-David in Quebec, which boasts 970 climbing routes, is not permitting visits from non-residents.
While outdoor climbing typically starts in late March, the season in Calabogie was suspended with the COVID-19 outbreak. The municipality of Greater Madawaska limited access to surrounding trails by prohibiting parking nearby. That changed on May 19, when the town council, in step with the National Capital Commission, loosened restrictions.
Calabogie is thus a rare spot open for Ontario climbers during the public health crisis. Its cliffs and boulders are bringing out all sorts — and with them, thorny questions about climbing etiquette in the age of COVID-19.
Climbers and Hikers are back
Bouldering and climbing sites in Calabogie are technically on Crown land. Outside of municipal jurisdiction, these areas were never officially closed. Climbers continued to visit despite local restrictions, a fact made abundantly clear to Kristal Dubois when she returned to Calabogie in late May.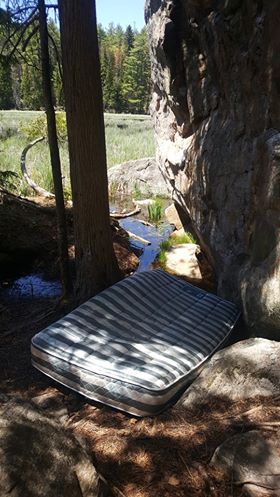 "When we got out there, it was obvious that people had not stopped climbing at all," said the 15-year climbing vet. "To be fair, they could have hiked in from a long distance, because it was never actually closed."
One of the most obvious signs of visitors was an abandoned mattress sitting at the base of a boulder, clearly used as a landing pad for climbers.
The sight of the mattress, as well as other garbage scattered around the site, was upsetting for Dubois, a pioneer of climbing culture in the area.
Ten years ago, she and her partner — in search of new bouldering climbs after the closure of many sites in Gatineau Park — began cleaning off the rocks and finding routes. They would eventually write the guidebook for bouldering in Calabogie.
The apparent disrespect she's witnessed around these sites is a major concern for Dubois.
"For someone who has spent a ton of time out there…we put a lot of work into developing it into a good place for our community," she said. "But it was really depressing to go out there and find that someone had left a mattress out under the boulders."
She suggests that the mattress was likely left by inexperienced climbers, unfamiliar with the "leave no trace" ethos of outdoor climbing.
"It's not the climbing gym," said Dubois. "It's nature."
She added that the mentorship normally fostered in the gym, where new climbers typically learn these unwritten rules, has been lost with COVID-19 closures.
"There's no communication between the people who've been out there for years and people who are going there for the first time," she said.
Social distancing for rock climbers
Dubois has been climbing at Calabogie for a couple of weeks now. She said most people respect the social distancing guidelines laid out by health authorities. These include small groups moving on to different boulders if one is taken, or at the very least asking permission to climb in proximity to others.
Distancing is certainly possible at Calabogie. Boulders can be found along a wide stretch of hiking trail and are typically big enough to accommodate two climbers at a time, maintaining far more than two metres of separation.
For some climbers, this distance is especially important.
Toby Grey has been climbing for just over a year. Originally from Berlin, this is his first outdoor bouldering season in Ottawa.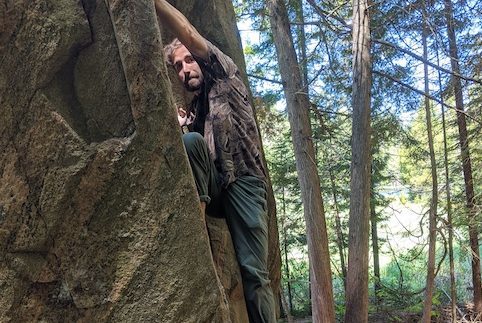 He has been visiting Calabogie since it re-opened, but with caution. A member of his family is immuno-compromised, so Grey says he's extra careful to remind others to keep two metres away.
"I am a big believer in distancing anyways, but it can feel a little weird to always be reminding people to keep the two-metre distance," he said.
While many governing bodies have released pandemic guidelines for indoor climbers, no such authority exists for outdoor climbing in Canada. That said, The Ontario Alliance of Climbers has created a publicly accessible spreadsheet where climbers can check which rock areas (also known as crags) are still closed.
The Alliance — a non-profit organization committed to keeping "climbing and bouldering areas open"— has also posted information concerning proper climbing etiquette during COVID-19 on its website and Instagram page.
The emphasis on etiquette precedes the pandemic, as violations such as fires and litter have always been a concern for the future of climbing sites.
Keeping on the climb
Maged Kadri is one of six moderators on the Ottawa-Gatineau Rock Climbing Community Facebook page. The group is home to more than 1,000 rock climbers from the Ottawa area and elsewhere.
Kadri has seen a number of posts recently complaining of trash scattered at climbing sites, which he attributes to increased traffic due to COVID-19.
"There's no question that there are idiots in every community, not just the climbing community," he said. "The more you increase the amount of traffic to an area, the more likely to have trash."
Some in the Ottawa-Gatineau climbing community are worried that violations like littering might lead to the closure of certain climbing areas, like those imposed in the past by the NCC in Gatineau Park.
"There's a huge fear," said Kadri, referring to potential closures if more care isn't taken.
The Mental Side
Carson Sherwood and J.M. Miszaniec resumed outdoor climbing in mid-May, when Quebec opened its border to non-residents.
For Sherwood, a four year veteran of the sport, some of the biggest challenges in coming back were not physical but mental.
He explained that although climbing can be performed safely during the pandemic, there is still a stigma attached to the activity.
"It can be stressful at times to get around the idea that I am going to get out with a couple friends and climb, and not everyone is OK with that," he said.
Miszaniec considers it a privilege to climb during the pandemic, though it's a privilege that comes with certain "stipulations and responsibilities."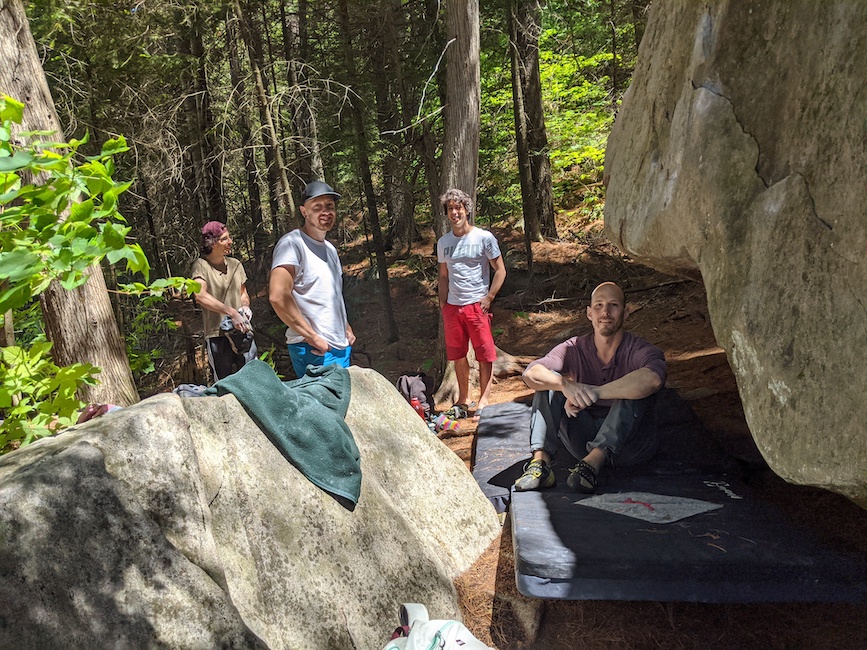 "Climbing is very community-oriented, so those in the community are conscious that we all have to do our part to make it work," he said.
This includes respecting broader public health guidelines, something that Sherwood says he's confident the climbing community is capable of. He expects people to resist the urge to climb should COVID-19 numbers spike.
"I feel so damn grateful to have the opportunity do this at all," said Miszaniec, "because it's been so critical to mental health — makes everything feel normal."
---
More Stories