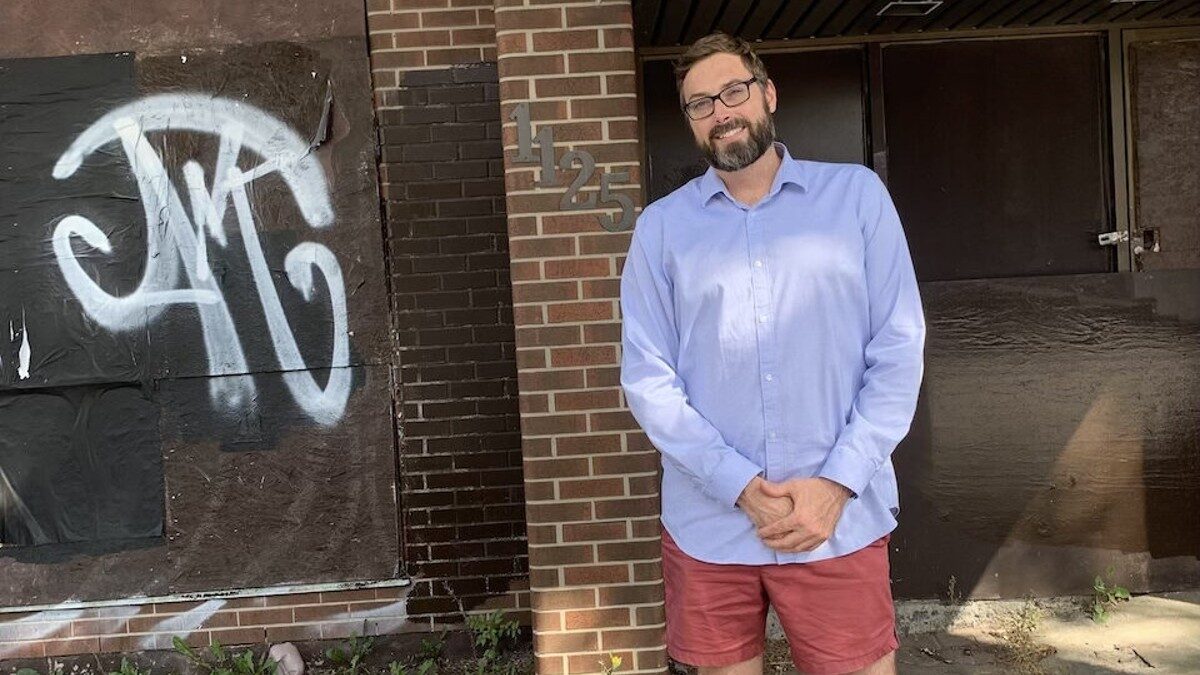 Shawn Menard says he wants Ottawa to become a more progressive city.
That's why he is running for re-election in Capital Ward in this October's municipal election after serving on the last city council term from 2018 to 2022.
Menard is not only running against one other candidate for Ward 17, Rebecca Bromwich, but he is also assisting fellow councillor Catherine McKenney's mayoral campaign. McKenney has served on the Ottawa city council for two terms as the councillor for Somerset Ward.
Menard was elected after running a progressive campaign in 2018. He hopes to continue this work with his upcoming campaign as well as his support for McKenney.
"We vote very similarly on those sorts of things," Menard said.
"We're very aligned on a lot of the things that we want to see city hall do," Menard said. "I'm just there to support what I think would be the first progressive mayor in this city's history. It's an exciting time for the city."
Menard said he's "helping (McKenney) where I can with policy and communications and just uniting the city around suburban, rural, urban, what do people want to see."
Menard's 2018 campaign focused on "fighting for your city". Some of his campaign promises included:
barring planning committee members from taking developer donations
Launching a free bus on Bank Street
Slashing OC Transpo fares by 50 per cent
Eliminating single-use plastics
Putting a progressive tax on building owners who leave buildings empty and let them decay
Menard managed to get a few buildings demolished as part of his campaign promise to get rid of abandoned buildings to make more green space or community city space including 1225 Bank St., which had been boarded up for 13 years.
Menard said one of his personal highlights from the first term is the city's climate master plan which he worked hard to see put in place.
"Early on in the term, we ushered in a climate emergency in the city," Menard said. "It led to a climate resiliency plan and led to our full climate change master plan. It led to changes in the way we evaluate new road building projects, and development projects.
"We've got Bank Street Bridge under construction – people said that could never be done," he said. "The last councillor, the last couple of councillors tried and couldn't, (but) it was able to happen and we got it done."
Menard said he believes this upcoming election will certainly lead to a very different city council makeup.
"There's going to be huge turnover at city hall this time around," Menard said. "We're going to have at least 10 new councillors, and it looks like a new mayor."
Along with McKenney, there are 11 other candidates running for mayor this fall.
As Menard put it, "I think this is much more of a change election." Menard says he believes there is demand within the city for progressive change, whether it's with transportation, the environment or the development of more affordable housing.
"I was certainly running on change four years ago," Menard said. He said he helped deliver some change in his first term, but he said "the city needs to evolve into a much more progressive city."
"I really want to see us evolve our streets. So, safer walking and biking, not just focused on automobiles, but actual active transportation. I'd love to see a gondola one day run up and down Bank Street."

Shawn Menard, Capital Ward councillor
If he wins re-election, Menard says his focus is on street level and developing a better plan for major roads, mainly Bank Street.
"I really want to see us evolve our streets," Menard said. "So, safer walking and biking, not just focused on automobiles, but actual active transportation. I'd love to see a gondola one day run up and down Bank Street."
Menard says he also believes voters will be looking at how prospective councillors and mayors say they will react the next time a protest such as the so-called Freedom Convoy returns to Ottawa.
For his part, Menard says he's ready to show voters he has their back in unforeseen circumstances such as the occupation of the Freedom Convoy.
"People are looking for leadership and they want people on their side when those sorts of things happen that'll push back against traditional authorities that weren't actually assisting us at the time," Menard said. "I hope that people see that and recognize you know who's on their side when those things happen."
He believes McKenney showed such leadership during the month-long occupation.
"Catherine McKenney passed out leaflets to people about the noise injunction that had been won, so things like that where we were on the ground, it makes a difference," Menard said.
---
More Stories