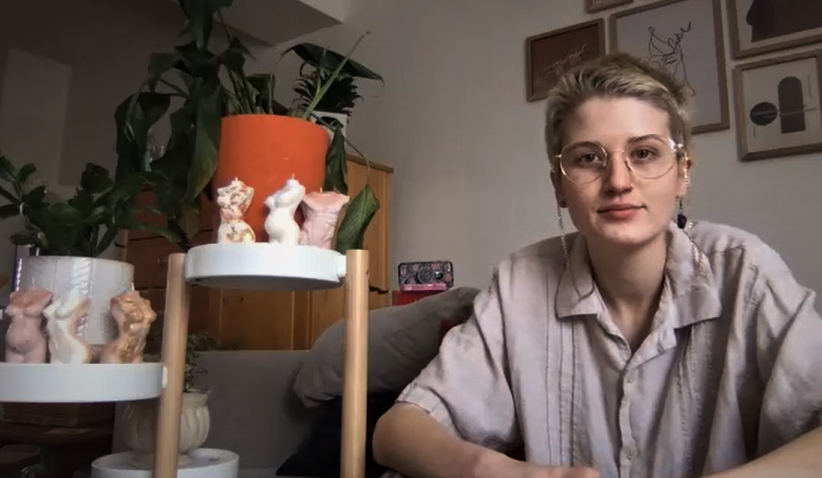 Charlie Baze is a boudoir photographer from Kitchener Waterloo, Ont.
Like so many business owners the pandemic lockdowns have cut into income from photography so something had to change.
Baze has turned to selling body-shaped candles online to help compensate for lost revenue. But the new enterprise is tied in theme and purpose to the photography business, which emphasizes body positivity.
"The first week was a task," said Baze, "I was pouring candles from like 8 a.m. to 12 o'clock at night to make sure I could fill all the orders."
Baze said the businesses are about love, body positivity, inclusivity and connecting clients with their inner child to counter condition and trauma from societal expectations and negative life experiences.
Focus on body image
The 23-year-old counsels clients and coaches other boudoir photographers on body image and the effect of growing up as an assigned female at birth.
"I realized there's so much psychology around coaching someone on their body and how to get them to relax with their body," said Baze.
One of the reasons the candle business emerged is because Baze wanted to give clients boudoir candles after the photography session. But the trendy candles were expensive. So Baze realized they wanted to make the candles to exercise their own creativity.
When the COVID-19 pandemic first hit in early 2020, Baze's business was hit harder as there were fewer people able to book sessions. With income reduced, Baze had to sell the studio in Hamilton.
Baze currently lives with two roommates, creating candles in the living room.
"I moved to a way smaller place just for (bringing) all my costs down because during COVID, the amount that comes in from the government is not the same of what we're used to bringing in," said Baze.
This is where the candles came in.
With the second wave of COVID-19 in late 2020 and early 2021, residents of the Greater Toronto Area started quarantining and being left alone with their thoughts.
During the lockdown, Baze started probing more deeply into the subject of body image and that resulted in them exploring their own gender more deeply.
"I realized I was non-binary. So, I came out as non-binary," they said.
When Baze was researching body-shaped candles, the first thought was there are no transgender candles.
"I really want it to be more inclusive, so I started trying to carve," Baze said. Then they realized they could make the candles look realistic. That is what prompted Baze to add cellulite, stretch marks or surgery scars for whoever wants those features.
Baze said clients are seeing beauty in putting their own scars on something and asking for customized candles that look like them.
"No one ever asks you to idolize yourself, they always ask you to idolize these models and what you see around society. So you grew up breaking down your entire body and entire self."
One client at Baze's new candle business is 25-year-old Samara Davis. Since the launch of the business, Davis has ordered 15 candles and she asked Baze to add cellulite to four of the body-shaped candles.
Davis said she is extremely interested in body positivity which is what drew her to Baze's Instagram, where the two frequently communicate.  
Davis connects deeply with the shape of the body candle, saying it made her happy – more so than just a regular candle.
"I feel like the act of burning the candle away is also very therapeutic in a way, if you've had issues with your body," said Davis, "You can just burn that candle to the ground and say nice things."
The candles are not only making the clients happy, but they are also affecting Baze's outlook on the business.
Baze's partner Alicia Gregory said she noticed a change in Baze's state of mind after starting the candle business. Baze had been feeling a bit stagnant before the venture, said Gregory.
But the candles have re-energized Baze's perspective on both businesses. Gregory said Baze has been inspired to just talk about how candles tie in with boudoir photography, inclusivity and body positivity.
"Charlie's really built a wonderful business that's based off of self-love and connecting with your inner child and your inner soul," said Gregory. "I think the candles are just a really great physical reminder of all of the things that their business is about."
---
More Stories