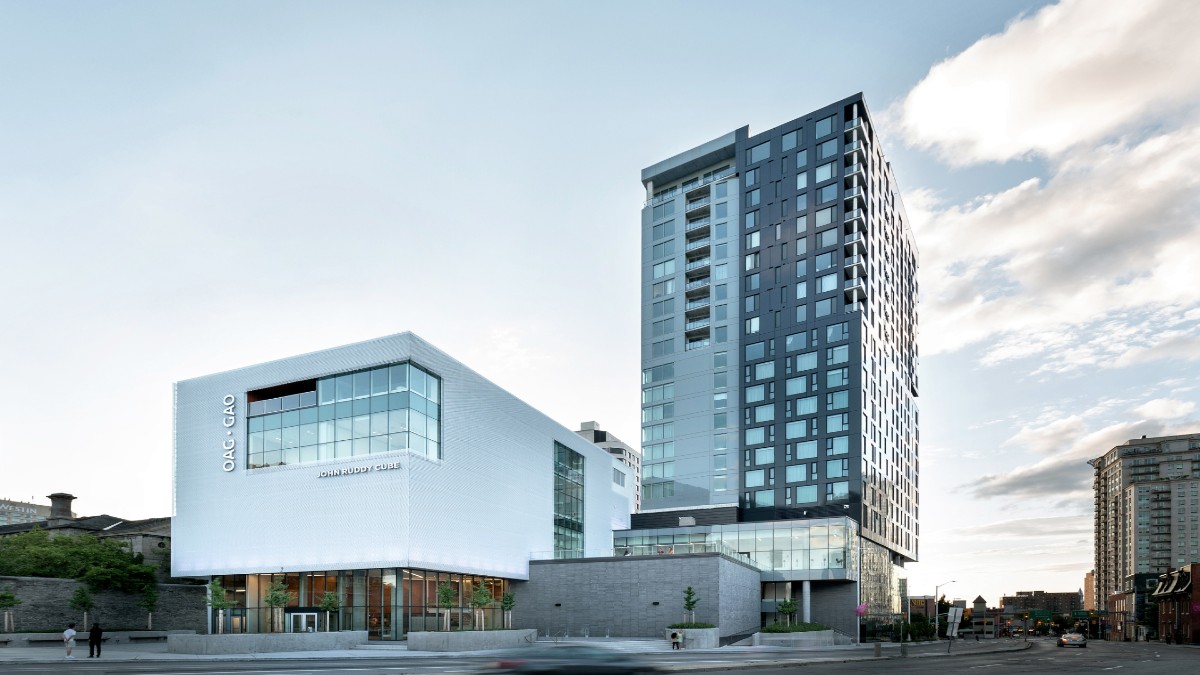 After 18 weeks closed, the Ottawa Art Gallery is reopening to the public today.
Taline Jirian, OAG's deputy director of marketing, says the gallery wanted to open as soon as possible to offer the public a safe way to engage the community during the pandemic.
"We consider ourselves a community hub, central to the city and a welcome space," she said. "In addition to feeling that the art is kind of a respite for people, especially at this time, (we're) giving people the opportunity to really engage in something that might take their mind off what's going on."
OAG is ensuring safe visits, based on recommendations from the City of Ottawa, including the mandatory wearing of a face mask.
"The last few weeks have been dedicated to ensuring safety and cleaning measures are in place," gallery CEO Alexandra Badzak said in a press release announcing the opening.
The gallery is asking visitors to pre-book two-hour time slots, by phone or online. OAG's new hours are 10 a.m. to 6 p.m, from Wednesday to Sunday. The 10 a.m. to noon period is reserved for seniors or people who are immunocompromised.
Only a certain number of people will be allowed into the gallery at a time, in order to maintain physical distancing. Walks-in are not allowed and people will be asked to present an e-ticket or a printed version on arrival.
Hand sanitizer will be available on every floor, and the gallery will be cleaned every 30 minutes during visiting hours. More thorough cleaning will be done on Monday and Tuesday, when OAG is closed.
Accessibility tools are still available upon request. The cafe will be open, but all payment is contactless.
Rideau-Vanier Coun. Mathieu Fleury, whose ward includes the Daly Avenue galley, said he was delighted that OAG was welcoming back Ottawa residents.
"The OAG is a cultural epicentre for Ottawa and its reopening is a major step in reopening our downtown," he said in a press release.
OAG has collaborated with Ottawa Tourism to encourage residents to help get the city's tourism economy back on its feet.
"With the Ottawa Art Gallery's doors reopening to the public, together, we are sending a message that our city is ready to embrace, engage and kick-start our recovery," said Michael Crockatt, president and CEO of Ottawa Tourism, in the media release.
OAG hosted a special event on July 8, which opened up the gallery specifically for frontline health workers before the official reopening.
Jirian says it was a no brainer to offer the healthcare workers this opportunity as a thanks for all of their efforts in combatting COVID-19 in recent months.
"We just wanted to make sure they had a safe space and that they knew that we were appreciative of the continued work that's being done in the community," she said.
Mayor Jim Watson arrived at 10 a.m to mark the gallery's reopening, with the rest of the day being reserved for healthcare professionals from The Ottawa Hospital to enjoy the exhibits.
Jirian said she's excited that OAG is able to extend the exhibits that are on display; they had only been on display for three days before the gallery had to shut down.
"This is our opportunity to really share a lot of work the gallery has put into showcasing, so we're excited to have the public back."
Visitors are being asked to use the 10 Daly Ave. entrance of OAG to enter and leave the building. Admission is still free.
Said Jirian: "We're confident in the processes that are in place to make sure that staff and visitors are well taken care of."
---
More Stories