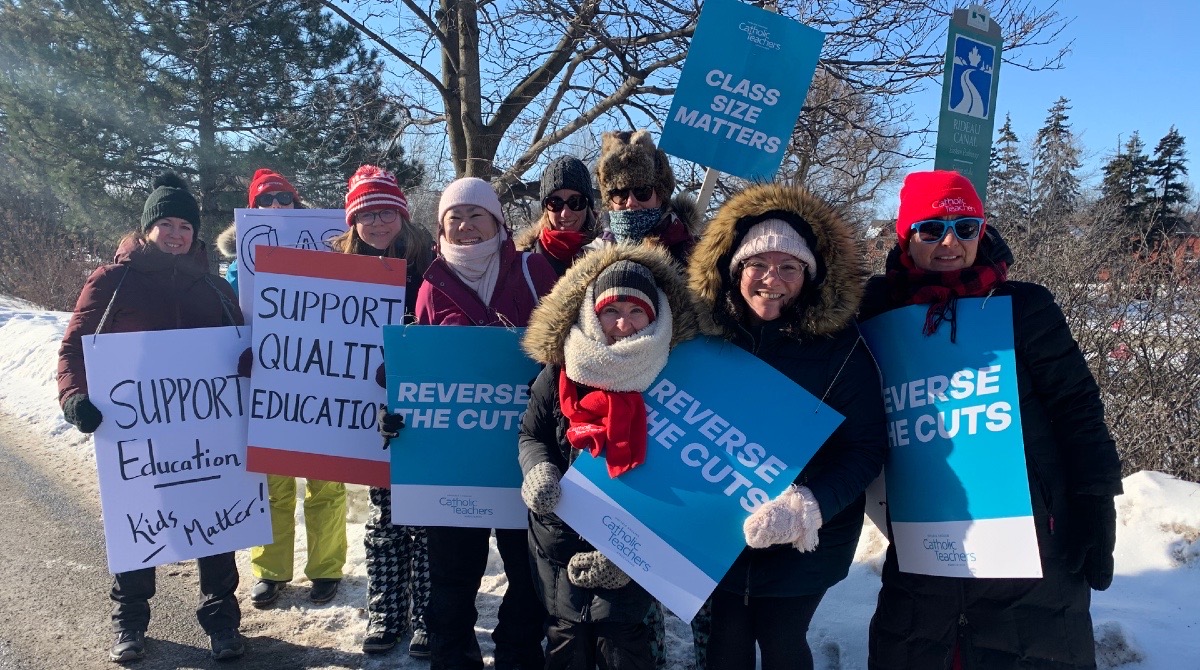 More than two million students were out of class in Ontario as teachers from the province's four largest unions walked off the job Friday.
The last time the province saw so many teachers off the job was almost 23 years ago in 1997. The Elementary Teachers' Federation of Ontario (ETFO) would not be established until a year later in 1998.
The unions that participated in Friday's mass strike for higher wages and against cuts to public education are the ETFO, the Ontario Secondary School Teachers' Federation (OSSTF), the Ontario English Catholic Teachers' Association (OECTA) and the Association des enseignantes et des enseignants franco-ontariens (AEFO).
Honks of encouragement kept protesters in good spirits as they marched along in the freezing temperatures.
Lisa, a teacher with the Catholic School Board who preferred not to say her last name, was on a picket line. She said she had been encouraged by the community's support which she said has been great, along with the support from staff.
"We're very fortunate because I think our staff has been like family, we've been tight and that's what gets you through. I mean, there's no complaints there," she said. "If anything, it's probably making morale better."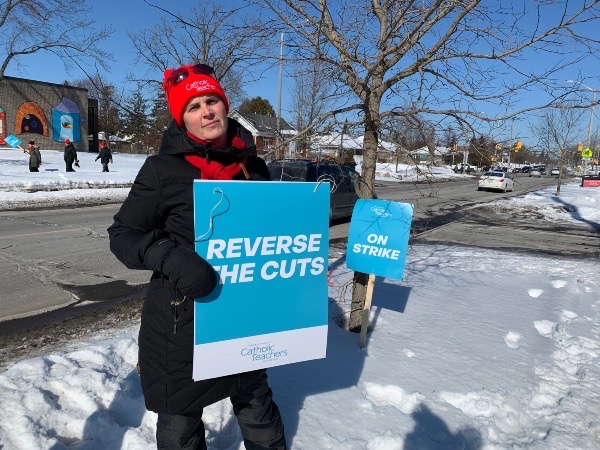 Last spring, the Conservative government announced it would increase the average high school class sizes from 22 to 28 and require students to take four online courses to graduate.
Since that announcement, Education minister Stephen Lecce has offered to instead increase the size to 25 and require two online courses.
Michele Pierce, OECTA Ottawa President, said these cuts do not mean the government has met the negation pleas from teachers.
"I think for us just maintaining what we have, we're not looking for new embellishments," said Pierce. "We just want to keep what we have that in itself will be enough."
Teacher unions are asking for a two per cent annual salary increase, while the government is offering one per cent which was included in legislation last year, capping wage hikes for all public sector workers for three years.
Adam Eastman, a learning support teacher at Hopewell Public School was one of the many teachers to strike in a loop around the canal from Pretoria Bridge to the Flora Foot Bridge.
"No one wants to be out here but it's important for the kids," he said.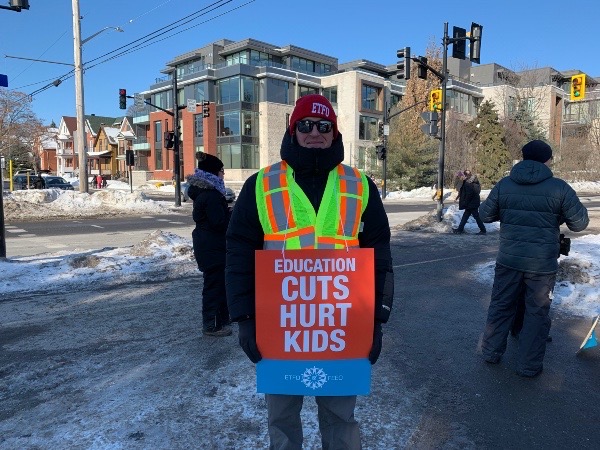 Unions representing Ontario's English Catholic teachers as well as those in the provinces French system met on Wednesday to negotiate.
Lecce expressed his frustration over the ongoing labour actions in a statement earlier in the week.
"The government's position quite clearly is that these strikes are having adverse impacts on kids, on their families and on their communities," Lecce said.
With no end in sight for the strike, Eastman said it is his daughter that keeps him going.
"She's only 16 months old, so not in school yet but thinking of her future it kind of highlights the importance of this work," said Eastman.
Pierce said the support they have been receiving from the public has been amazing. The teachers are encouraging people to contact their MPPs, she added.
Going forward, Pierce said there are more rotating strikes planned for next week if negotiations fail to reach a contract.
---
More Stories