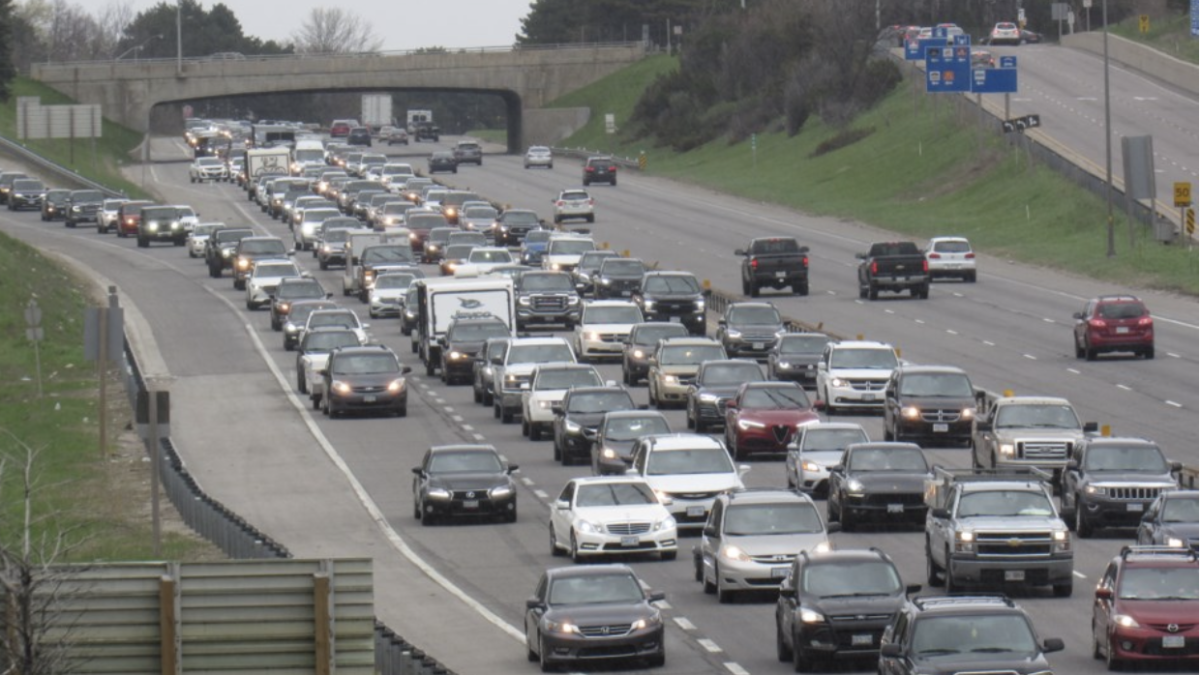 Environmental activists and experts are urging Ontario to abandon the proposed Bradford Bypass connecting Highways 400 and 404, which they say will destroy ecologically sensitive marsh land and likely won't alleviate congestion in the long term.
The project has been in the works for decades. First approved in 2002, the four-lane 16.2-kilometre highway's environmental assessment was completed in 1997, and exempted from an updated review under the Environmental Assessment Act last August. That means the project is not assessed by the standards of the Greenbelt Act of 2005, the Clean Water Act of 2006 and the Lake Simcoe Protection Act of 2008.
The highway would also be built on land that should be protected as part of the greenbelt, according to Margaret Prophet, executive director of the Simcoe County Greenbelt Coalition (SCGC). She added the project's 24-year-old environmental assessment was outdated.
"Just because a project has a legacy doesn't mean it's still right in a new context," Prophet said.
Laura Bowman, a lawyer with Ecojustice Canada, has written a letter on behalf of the SCGC asking then-federal environment minister, Jonathan Wilkinson, to reassess the environmental impact of the bypass.
Costs: The Holland Marsh wetlands & GHG emissions
The bypass would cut through the Holland Marsh Wetlands, which feed into Lake Simcoe. That land should be part of the Greenbelt, Prophet said.
"The Holland Marsh Wetland is one of the biggest and most important [wetlands] within the Greenbelt, the protected countryside," Prophet said. "This highway would destroy severe amounts of species' habitats and bisect this wetland, which is also the headwaters for Lake Simcoe."
While construction of the bypass would have significant environmental impacts on its own, once running the highway's operation would also contribute to Canada's Greenhouse Gas (GHG) emissions. In Canada, GHG emissions from transportation have been rising since the assessment was completed. According to data from Natural Resources Canada, GHG emissions from the transport sector rose 41.3 per cent from 1997 to 2019.
Traffic on the bypass could emit just under 87 million kilograms per year of carbon dioxide equivalent, according to the open letter by Bowman. University of Waterloo School of Planning professor Clarence Woudsma said the continued use of the highway would increase Ontario's emissions.
"The construction of the road itself has a significant GHG footprint," Woudsma said. "But when you're talking about the 50-year lifespan or longer ... you can imagine that the amount of GHG emitted by the traffic is going to be much more significant."
Woudsma added the highway would only encourage more people to drive their cars.
"[The highway is] essentially facilitating the ease of movement over larger distances," Woudsma said. "If transportation becomes easier and cheaper, we consume more of it."
Benefits: Economic growth, shorter, safer commutes
At a press conference at the site of the highway on Nov. 8, Ontario Premier Doug Ford said the bypass is a "critical part of our plan that's building Ontario."
The project aims to reduce highway congestion and connect Ontarians to more job opportunities, according to the Bradford Bypass' website. (The website is owned by AECCOM, the American infrastructure engineering firm Ontario hired to complete the bypass's environmental assessment.)
Highway expansion also stimulates economic growth, according to Mayank Rastogi, a senior policy advisor at Transport Canada. While highway matters are mainly designated as a provincial matter and therefore outside his jurisdiction, Rastogi said highway growth is generally followed by rapid urban development.
"When you have the infrastructure, people will start filling it up," Rastogi said.
Rastogi also said an increase in properly designed and built highways may also increase safety on roads.
"If you don't build more highways, the road conditions, slower traffic and impatience of drivers can lead to more traffic accidents," Rastogi said.
Furthermore, Toronto does suffer more serious congestion than most cities in Canada. According to 2016 census data, Toronto has the third-largest proportion of drivers who commute longer than an hour, behind Oshawa and Barrie.
The time lost to congestion is costly, according to Woudsma.
"Count up the millions of trips that are made every day and the millions of minutes that people spend stuck in traffic," Woudsma said. "It doesn't take you long to start generating billions of dollars of cost, if everyone is sitting in congestion."
At his press conference in November, Ford vowed the highway would help solve congestion on Highways 400 and 404..
"Our government is on the right track to say 'yes'," Ford said then. "Yes to putting shovels in the ground for new highways, so you don't spend hours and hours stuck in gridlock."
Yet Woudsma said he believes the new highway is not likely to ease congestion in the long term. He is not alone. A Bloomberg article by David Zipper outlines how expanding road networks is not a solution to congestion in September. Many studies have found that increasing the supply of something, such as roads, makes people want that thing even more, a phenomenon economists call induced demand.
"​​We can't build our way out of congestion," Woudsma said. "When the premier makes statements that this bypass is needed because it's going to relieve congestion, [that's] not going to happen."
---
More Stories