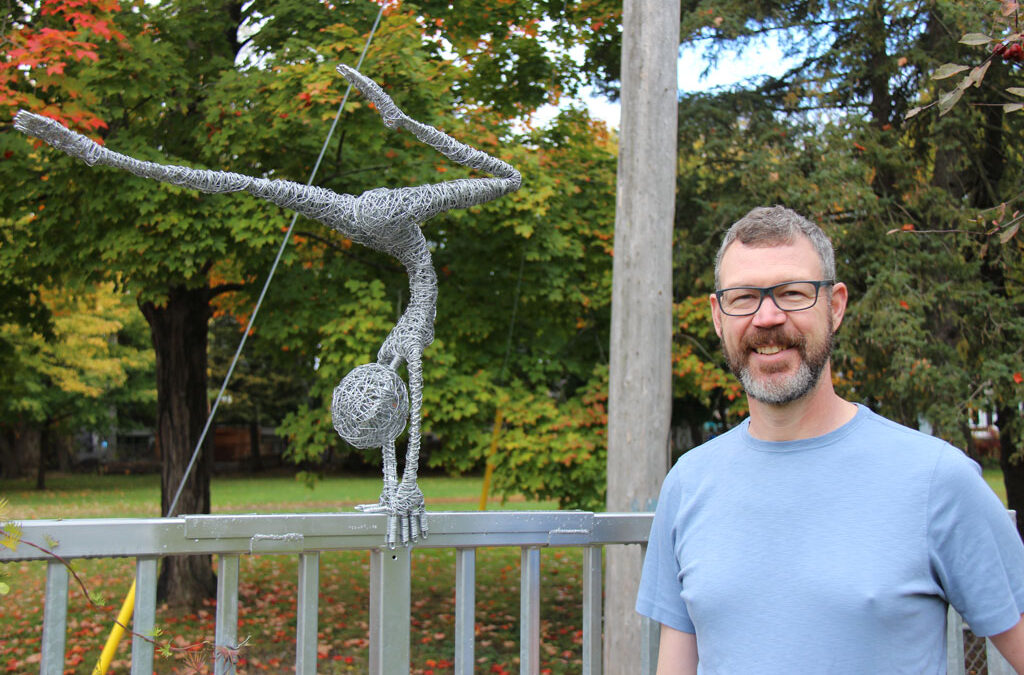 Chris McGuffin did not expect his first wire sculpture to become a local neighbourhood symbol. He just wanted to make a piece large enough to be interesting.
He only realized the community impact of this grassroots public art when it was stolen 20 days later.
"I didn't get a sense for how much people had noticed or appreciated it until I made a post about it having being stolen. Then there was an overwhelming response to that from the community, and it was that reaction that made it worth my time to create a second one," McGuffin explained.
His second statue went up on Oct. 1, perched on a metal fence over a culvert on Iona Street, above a small box of climbing flowers. It sits there still.
McGuffin's statue represents an emerging neighbourhood trend of grassroots art projects, with other examples including Pippa Beck's mosaic display across the street and some decorated book exchange boxes throughout the community.
In Westboro, public art reflects the area's relationship with history and its proximity to nature, notably showcased through the recent Style Over Status mural on Churchill Street, Shaun McInnis's large mural pieces along Richmond Road and Michelle Valberg's nature photography-wrapped utility boxes. 
"I think it's a community that has a deep passion for art in general. And they like to see when that is reflected in their communities," said Charlie Senack, editor of the Kitchissippi Times.
"The community is always trying to find ways to make itself even more vibrant. It's a very passionate community. The locals are incredibly involved with all the goings-on in Westboro village and we've seen the number of art installations, all kinds, whether it's murals or sculptures, popping up around the community," he said.
Hidden among 'bona fide' public art pieces are small grassroots displays such as those along Iona Street, made by residents for other residents to enjoy.
McGuffin's first statue was made of around 535 metres of steel wire, wrapped, twisted and woven to create the figure of a gymnast doing a handstand. The statue weighed about 14 pounds and was around 30 inches long.
"We frequently get people walking by, walking their dogs or walking with their kids to school. They're always commenting on my wife's gardens. So this was kind of something to add to that," he said.
The statue was stolen the night of Sept. 8. McGuffin's home security captured the event on camera and he turned over the evidence to police. In an email to Capital Current, Ottawa Police Services said the first sculpture has not been found and the case is not active, unless or until new information or evidence becomes available.
McGuffin was disappointed by the theft, but he felt encouraged by supportive messages left by community members and neighbours online and in conversation. "Knowing that she would be appreciated was the incentive, I guess, to get back to work," he said.
"I went outside to look after some stuff in the garden and it was missing. So that was unfortunate. But really? I'm past questioning why somebody would take it," he said. "I think the greater focus should be on the community appreciating a whimsical element on their walk by in a park."
He made a replacement statue in two weeks. Named "Handstand II," it is slightly heavier than the first statue but maintains the same pose and location.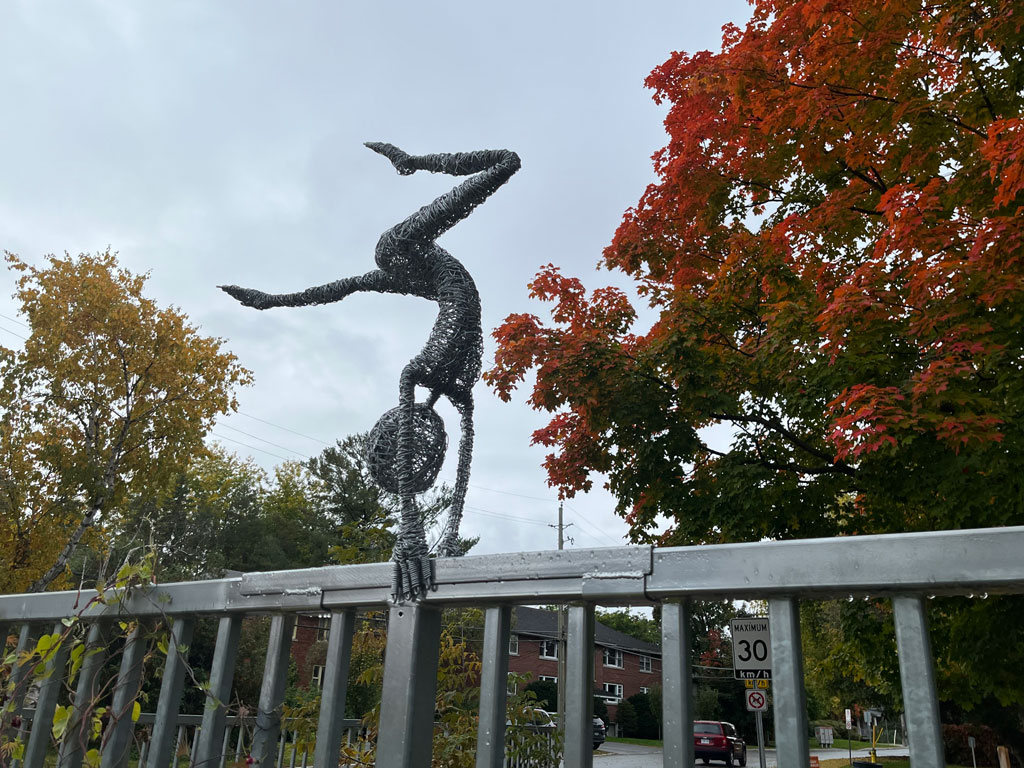 His statue stands on the railing over a culvert, and under it, the traditional lettering warning people of the dangers of the culvert is covered in glimmering rainbow-glass lettering — representing another piece of grassroots art in the area.
At the beginning of the pandemic, local mosaic artist Pippa Beck used the glass to create a colourful design over the indented "Danger. Keep Out" lettering just above the culvert.
"That, on one level, is art, and some people may say it's graffiti. So it's kind of subversive," said Beck.
"The role of public art on that level is for joy. It's making somewhere a more human place to live, right? We're surrounded by concrete, let's bring a little colour and interest into our lives," she said.
Last year, Beck installed a small windowed box on her property to showcase her mosaic work. "I call it the 'Biggest Little Art Gallery Ottawa,' " she said.
She showcases a different mosaic each month. Eventually, she says she would like to open the display to other local artists.
"For kids, I think it's so important, if they want to become an artist, to embrace that. I would hate for somebody to think that they weren't good enough or that they couldn't call themselves an artist. So, in part, this is me hoping to nurture that budding creativity," she explained.
"I also just think it would be such a gas, where the kids could say 'Oh yeah, I've got a solo show,' " said Beck. "Its tongue-in-cheek, I think it's hilarious."
The box allows her to connect with her community. "It's wonderful, I'll be on my back step, just having a cup of tea, just doing my own thing, minding my own business, and people will be walking past and they'll talk about the display," said Beck.
"I just can't tell you how wonderful it makes me feel. I get emotional, it's really awesome."
Similarly, McGuffin values public art for its ability to connect a community over provoked emotions or messages. "Whenever you get the community engaged in a conversation, it's an opportunity to exchange ideas, it's an opportunity to connect in a different way, and that has value," he said.
The art also adds an interesting element to a neighbourhood, explained Senack. "I think people love living in a community where they're unique in their own way," he said.
"It's a very dense neighbourhood and everything is very close together. They're fortunate to have a little bits of green space. However, they're always trying to find new ways to to make it look a little bit better, to make it more of a community where people want to live."
---
More Stories