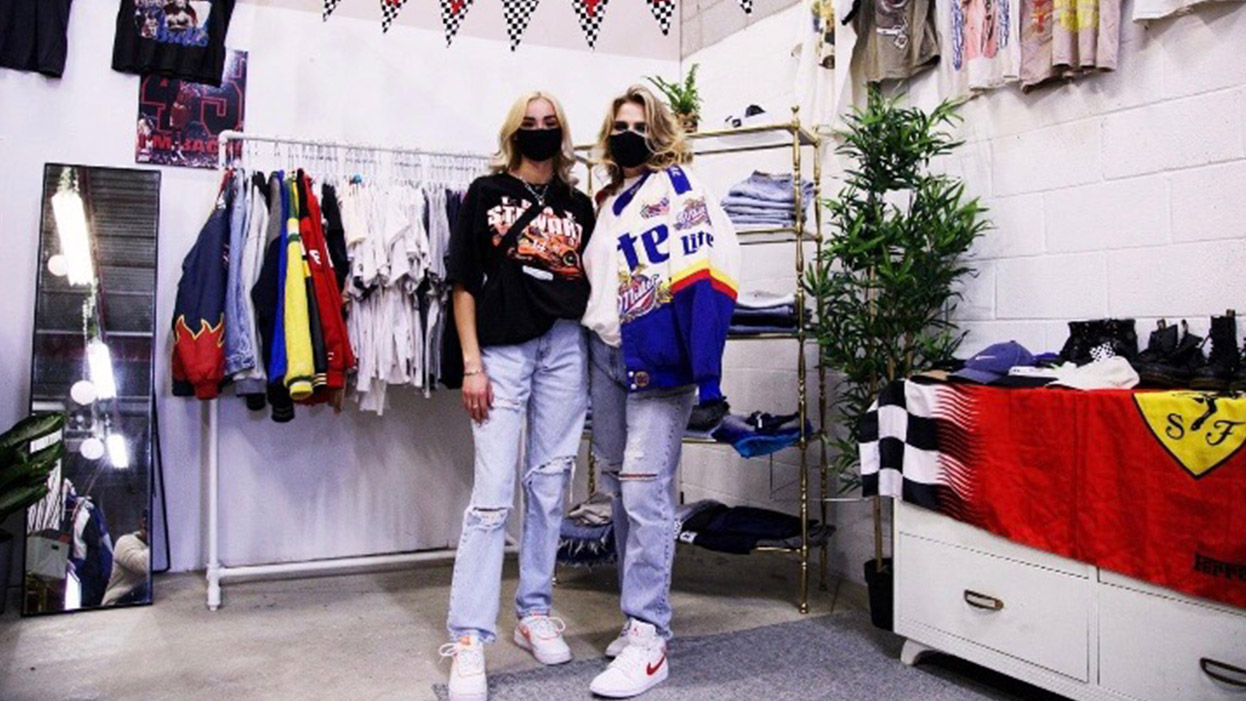 Going to the thrift store isn't the only way second-hand shoppers are getting their hands on used goods. Some people have turned their love of thrifting into a business, doing the work for shoppers by finding the best and top brands, and then re-selling the clothes through Instagram.
Filthy Thrift is an Instagram page run by Ellie Cuadrado and Danielle Lepitre, two recent Carleton graduates who started their business while in university.
"I was going to Value Village; I always loved thrifting and antiquing; it's what I grew up on," Cuadrado said.
"So I would always just go to see what I could find. And then I started bringing home random things for the girls [in the house] that didn't fit me but it would fit one of them"
"And then all of a sudden, we had like 25 pairs of jeans and three jumpers and a pile going."
Cuadrado and Lepitre started their business when they were roommates, along with the three other girls they lived with, but now the account is just the two of them.
They say they save people from having to sift through the racks.
"We do the work of thrifting for you," said Lepitre. "So it's just an easier way to find cool stuff without spending like three hours at a thrift store."
If both Cuadrado and Lepitre work with a piece then they split the cost and the profit. If one of them alone deals with everything then they get the full profit.
They have DePop and Grailed accounts, both of which are re-sale websites, but for the most part, they sell product through Instagram.
One of their customers is Christie Bascombe, a University of Ottawa student who met Lepitre through a part-time job when Filthy Thrift was just starting up. Bascombe buys from Filthy Thrift because it saves her time.
"Their pieces definitely match my style and it's nice not having to spend hours thrifting to find great pieces, so I think it's worth the extra money," Bascombe said.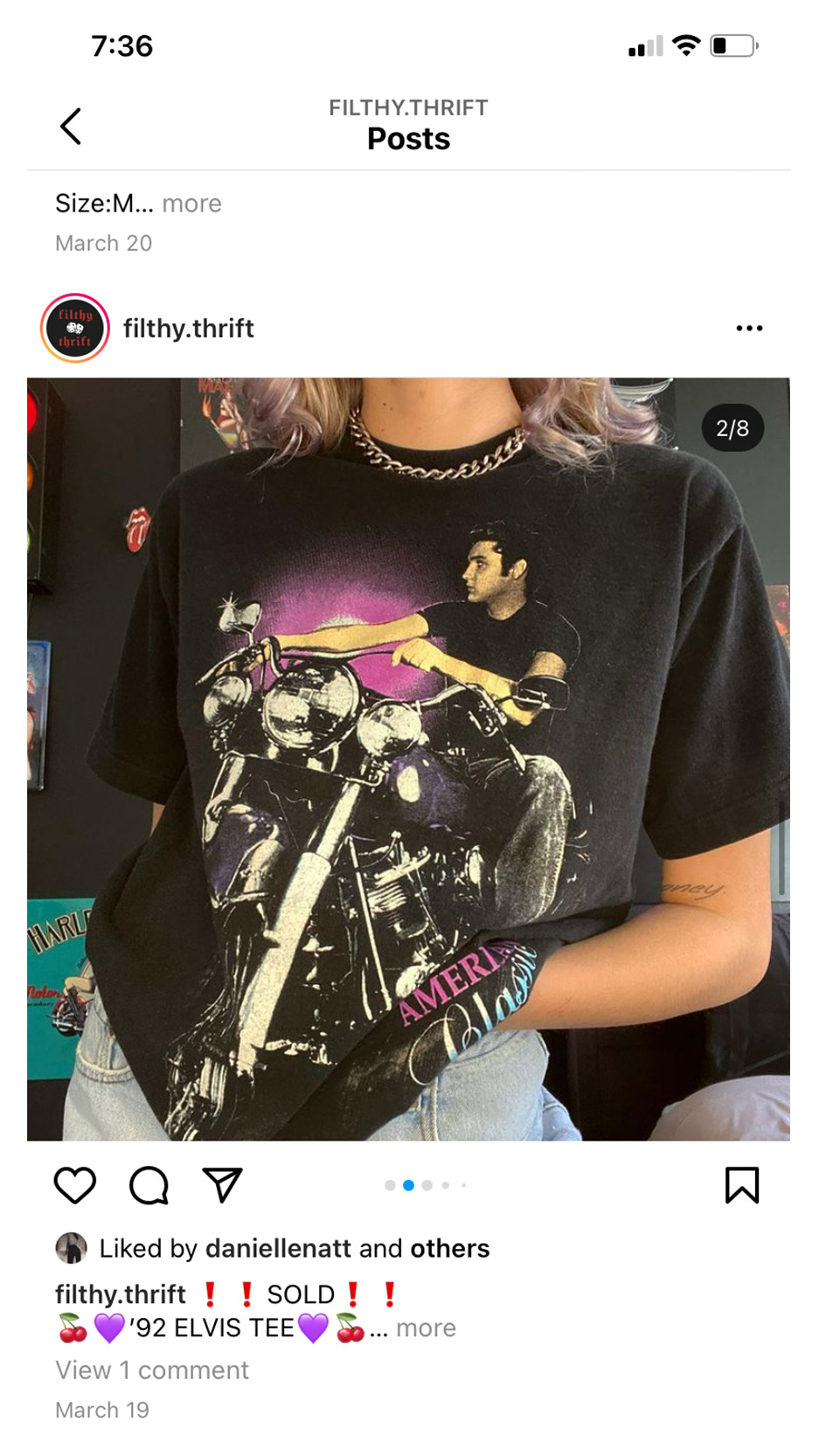 For young people now, fashion is all about being individual, having your own brand. Thrifting has allowed people to find unique pieces that fit their personal style at half the price.
"I love thrifting because I think there's always unique pieces no one else has. I love incorporating a ´70s type of vibe in my style and thrifting is a cheap, sustainable way to keep updating my closet," Bascombe said.
Popular brands like Patagonia, Matt & Nat, and Reformation are all sustainable, but shoppers can expect to pay at least $100 per item. For those on a budget, a $250 price tag on a dress is not an option.
Omnes is another vintage and thrift store based in Hamilton. Started by two friends who bonded over their love of vintage fashion, their Instagram page has more than 25,000 followers.
"We had just like a bunch of support through high school with our friends and family, of course," said Steven Olds, one of the founders of Omnes.
"And then we did a pop-up [store] downtown Hamilton, [which had an] extremely cool turnout. There was a lot of support from other people in Hamilton."
Omnes has had a physical store since March 2018, but even with the in-person experience available, they still find themselves selling many items on Instagram.
"That's how we connect with people, it's how we grow as a business. I mean, obviously, the in-store experience is very important and we were very keen on that. But the online presence is insane. And just the ability to grow on there and connect with people. It's, it's amazing," Olds said.
As a customer, Bascombe says that from Instagram sellers, you are getting quality pieces without the hassle of in-store shopping.
"I don't need to browse forever to find pieces I love, it's for sure quality over quantity with vintage shops on Instagram," Bascombe said.
Filthy Thrift and Omnes are not the only Instagram run thrifting and vintage shops; hundreds of similar accounts exist. The #thrift on Instagram has more than 7.5 million tags, and #thrifted has more than 3.5 million. This has brought together a community of people, and now, thrifting markets are held where accounts like Filthy Thrift can set up booths and sell their coolest items.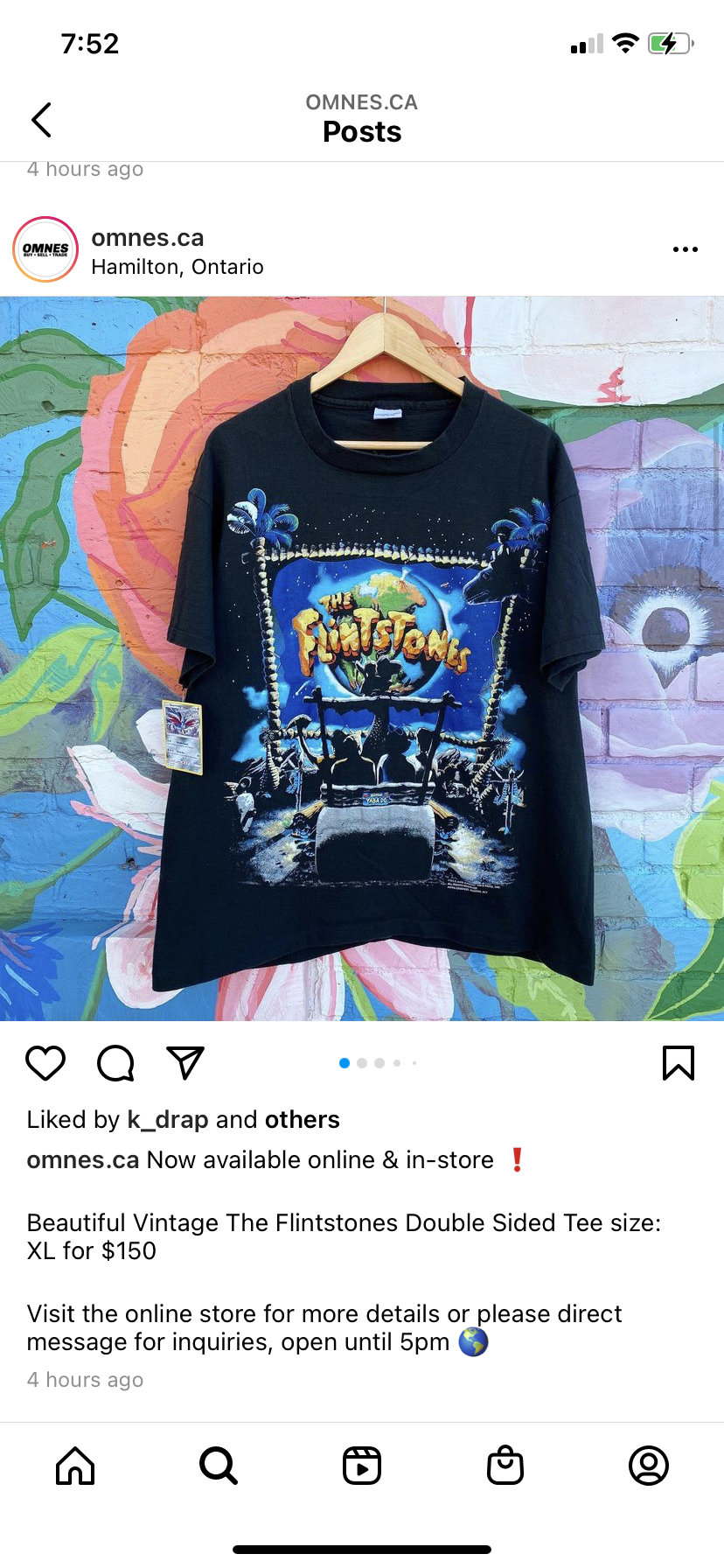 One of these markets is called The Real Fly market. Based in Ottawa, other accounts like Filthy Thrift can apply to be vendors, set up booths where other thrifters can walk around, buy thrifted clothes and it works as a networking event for the accounts and the public.
Most of these vendors come from accounts like Filthy Thrift. According to Cuadrado and Lepitre, Ottawa has a big thrifting culture.
The Real Fly market has an event planned for June 5, which may depend on pandemic conditions.
The partners from Filthy Thrift have attended many markets themselves, The Real Fly market being their first.
"We didn't really know what to expect," Cuadrado said. "We tried bringing measuring tapes and mirrors and we did shockingly well. I remember that."
Markets have allowed entrepreneurs like Filthy Thrift to continue to grow and gain followers.
"I feel like we stayed kind of like relevant with the markets because we got to meet a bunch of other thrifters. We just met everyone in the community and also so many new people came to see all the other sellers," Lepitre said. "So, every time we would see someone we'd be like, 'hey, like follow us on Instagram, we're Filthy Thrift.' So, we kind of just like got our name out there with markets."
Buying remotely is also a good selling point during the COVID-19 pandemic.
"I e-transfer Filthy Thrift for all my purchases and they ship them right to my house! So no contact needed," Bascombe said.
Cuadrado and Lepitre right now are happy on Instagram because it allows them to interact with their clients.
"You get to hear why the person likes it or you also get to hear back from them. Just today we had a girl saying 'thank you so much for the T-shirt … and it is 10 times better than I expected.' You would never get to hear that if someone just hit 'add to cart,'" Cuadrado said.
Olds, having been working in this industry for a few years now and running a successful business, says his advice to pages like Filthy Thrift is to never stop.
"We went through a whole bunch, like we had different names, we had different people helping us out, and people come and go, and things were tough, real tough at times. Sometimes it wasn't making any sense," Olds said. "The best message I can give is to basically never stop. And just make sure it's something that you love doing."
Lepeitre pointed out that thrifting is the perfect example of one person's trash being another person's treasure. Cuadrado said that her favourite part of it is to think about this history a piece of clothing holds.
"Just like the story behind each piece, I always think about like, 'oh, I wonder where this came from.' Or sometimes I'll find a jacket and it'll have like a concert ticket in it or like a receipt for dinner. It's so cool," Cuadrado said,
"That's part of vintage. Every piece meant something to someone. And it can continue to mean something to someone somewhere. That's my favourite part."
---
More Stories