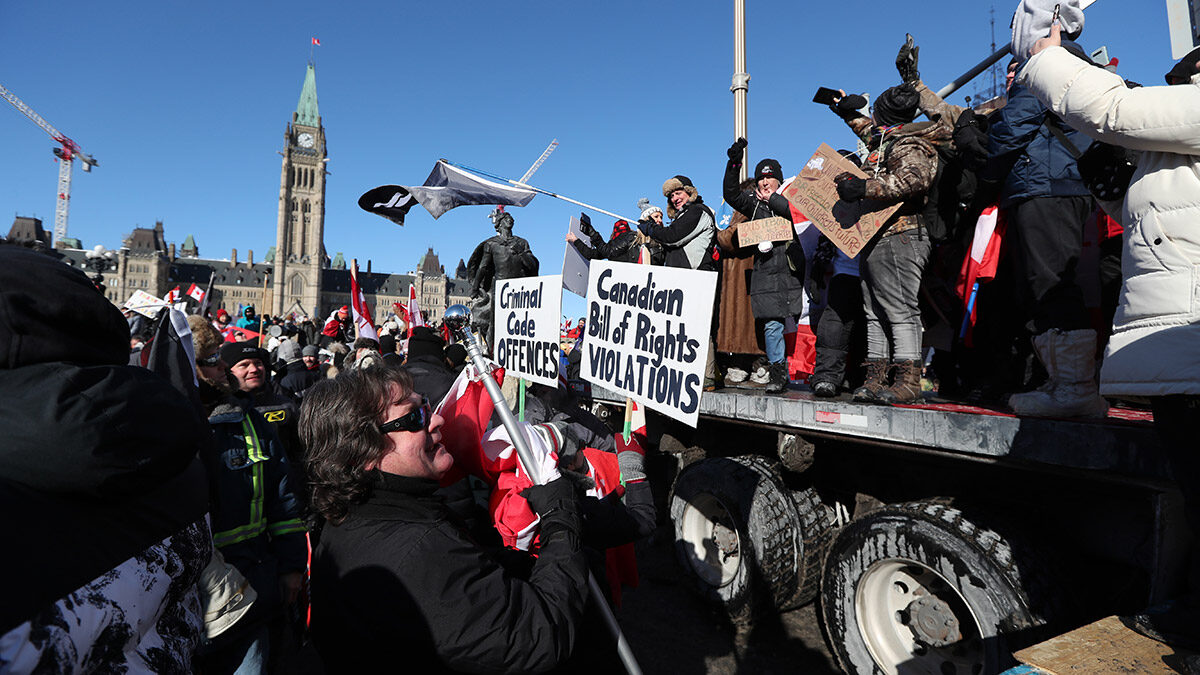 Enough is enough, Jim Watson says.
After three days of loud truck horns, Nazi and Confederate flags, public mischief and snarled traffic downtown, Ottawa's mayor wants the remaining members of the so-called "Freedom Convoy" to go home.
"People have had the opportunity to voice their frustration against government policy, but as the old saying goes, they have worn out their welcome," Watson said Monday afternoon.
The "Freedom Convoy" protests began in Ottawa on the weekend when about 10,000 protesters and dozens of large transport trucks packed the parliamentary precinct Saturday.
The convoy began as a protest against a federal vaccine mandate imposed on cross-border truckers. Thousands of truckers travelled across the country in protest, hoping to get attention from the federal government and threatening to stay until they get what they came for — an end to vaccine mandates and for some the end of the Liberal government.
The convoy, which has become a lightning rod for a variety of causes, including some unsavoury ones, ultimately put the safety of residents at risk, disrupting daily life and putting the downtown core into a gridlock.
The protest has featured excessive honking and idling, swastikas, intimidation of small businesses by unmasked individuals, an assault on a homeless person and the desecration of the National War Memorial.
It also has brought increased security attention across the city to help protect residents and the politicians who work on Parliament Hill from any harm this demonstration could cause.
Prime Minister Justin Trudeau emerged Monday from isolation after testing positive for COVID-19 to condemn the protests. He also said he won't meet with people who promote hate and espouse anti-science views.
Since the beginning of the protests, Ottawa Police Chief Peter Sloly said that "all options are on the table, from negotiation to enforcement," but so far the chief says, despite some incidents, the protest has been mostly contained.
Sloly said the police are "not interested in inflaming the situation. There have been no riots, no injuries, no deaths. That is a measure of success for any jurisdiction in Canada."
That's doesn't mean malign actors will get away with crimes. Sloly told a media conference that a hotline is being created for people to report hate crimes and other criminal offences connected to the convoy.
He said the force has the resources to track those who commit a crime.
"We will look for you, we will charge you. If necessary, we'll arrest you, and we will pursue prosecutions against you."
There have been several complaints so far, resulting in 12 investigations, Ottawa Police say.
Gloucester-Southgate Coun. Diane Deans, who is the head of the city's police board, said evidence is being collected and any individual that acts unlawfully will be investigated.
The size of the protest crowds have been shrinking since Saturday, police report. By Monday about 1,000 were still downtown.
When the protest will come to an end is in question, however. Some protesters have said they will stay until demands are met. They might mean what they say as hotel owners are reporting an increased number of rebookings which could mean the protests will continue Tuesday and may drag on into next weekend.
---
More Stories