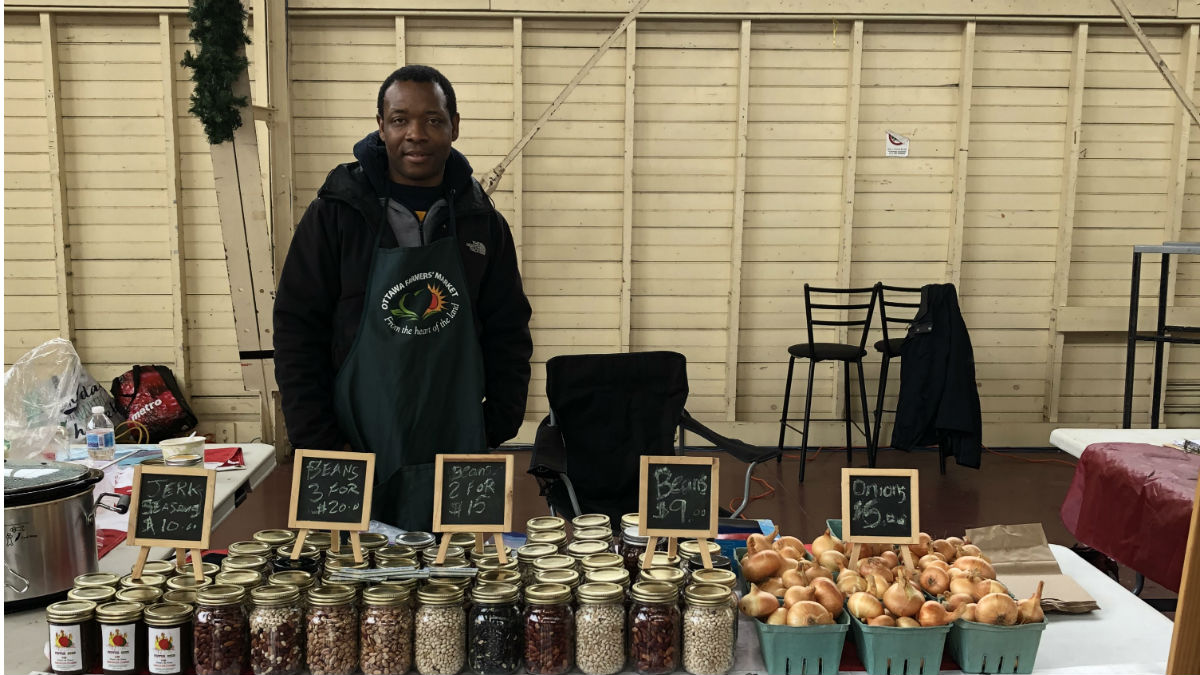 Trawling through baskets of potatoes in -20 C weather might not be your picture of a happy morning at a farmer's market. 
But the importance of eating local food no matter the season has been gaining traction in the past few years because of a rising awareness of the impact of climate change, among other things.
There is a growing consensus that eating local food is less harmful for the environment than buying food that has been grown far from where it is sold. The Canadian Food Inspection Agency has expanded the definition of local to mean food produced in the same province in which it's sold, or food sold across provincial borders within 50 kilometres of the originating province or territory.
The further away the food is from the market, the more greenhouse gas emissions caused by transporting the product there are. As well, the social benefits of eating local are numerous. It bolsters the local economy and strengthens community relations.
Ottawa's proximity to farms and farm produce has led to a thriving local food scene. But how do the farmers navigate the challenges of maintaining their business during winter?
A major key is knowing what to sell, says local farmer Dain Burrell. Burrell, who was born in Jamaica, owns and operates Burrell Farm in Ottawa and sells jars of dried beans, onions, jerk seasoning and homemade bean soup at a stall in the Ottawa Farmers Market. He started his farm after moving to Canada and realizing how many chemicals are used in agriculture here.
"I harvest my dried beans in the fall, and they can keep until next year. I try to grow stuff like that, so I can have them to sell in the wintertime," says Burrell.
Crops that can last the winter after being harvested in the fall, like beans, cabbages, potatoes and turnips, are called storage crops and are essential for farmers hoping to extend their business season. 
"We grow a lot of storage crops in the fall – we have cabbage, carrots, beets, turnips, radishes," says Jessica Weatherhead, one of the owners of Roots and Shoots Farm in Sainte-Cécile-de-Masham, Quebec. She also periodically harvests off-season produce in a greenhouse, but doesn't use heat out of concern for the environment. 
Roots and Shoots also relies on Community Supported Agriculture baskets, a program that delivers produce from local farms to people in the community, for off-season income.
"We do a summer basket, a fall basket that runs until Christmas and a winter basket. Part of the appeal is that they get a 15 per cent discount and they have a closer connection to us — we make little newsletters each month with recipes and updates on what's going on on the farm," she said.
Weatherhead notes the somewhat bland taste of winter seasonal produce can pose a challenge too. "We are relying on customers being willing to eat seasonally," she said. However, many of the customers at the farmers market in the winter recognize that the benefits of supporting local farms outweigh the inconvenience. "I assume they're competing with big grocery stores and they can't get out as much," says one market-goer Robert McAuley. "I'm guessing that they don't have to spend as much money to get into grocery stores, so they can maintain a low cost to sell stuff here." 
Despite the community support, many barriers remain to make business difficult for small farms, especially in the winter. "You need storage space. For example, we have three 20 by 20 containers that we use for storage, and not all farmers can afford that," says Weatherhead.
She also points out that although the Lansdowne market is getting busier during the winter, other venues to sell produce can be harder to find.
"We've worked with office buildings, churches, community centres … we've had to get really creative," Weatherhead says, adding that they sometimes have to make a donation to the host or give them free shares of the produce, whereas at the Landsowne market they just pay for a stall. Roots and Shoots is navigating these challenges as the season goes on, but Weatherhead worries about how they will affect new and smaller farms without, as she puts it, the "competitive edge."
The Ottawa Farmers Market runs in the Aberdeen Pavilion from January to April from 10 a.m. to 3 p.m.
https://www.google.com/maps/d/edit?hl=en&hl=en&mid=1xnG0r9xp4GeqopVdg3-StQ6lrUqQqH-D&ll=45.38832818340914%2C-75.68446305396725&z=8
---
More Stories