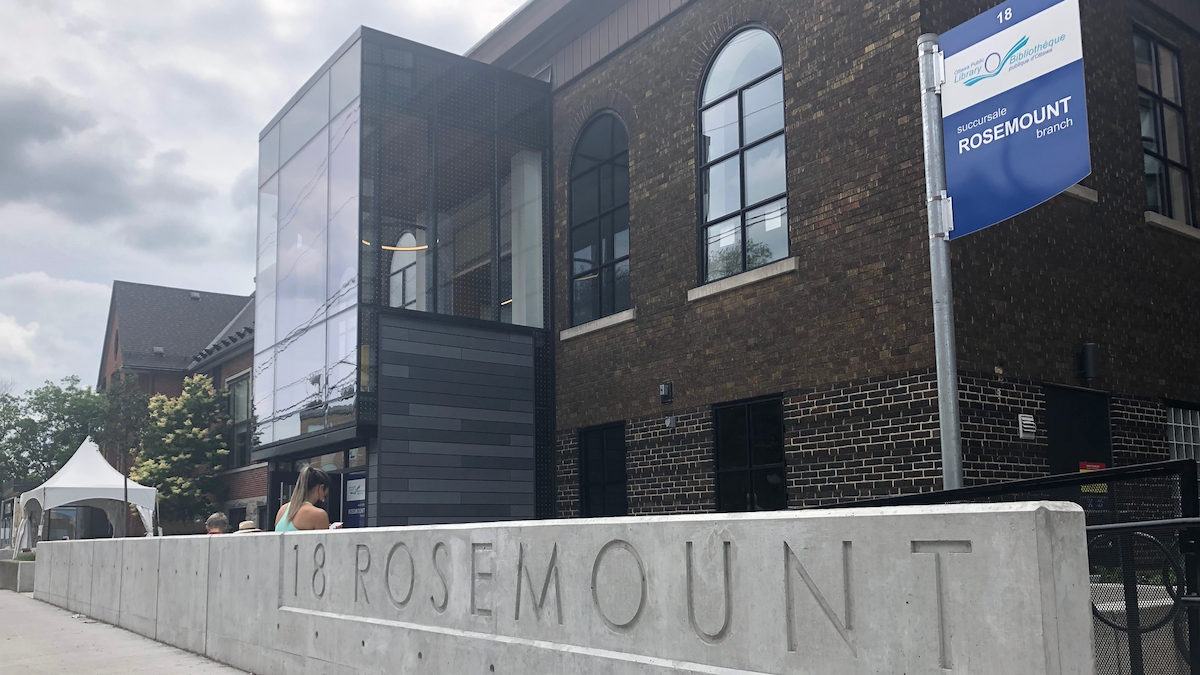 In the midst of the Spanish influenza epidemic of 1918, the Rosemount public library opened in Ottawa's Hintonburg neighbourhood.
Now 103 years later, the library has reopened after major renovations, a year and a half into the COVID-19 pandemic.
In 1918, the Ottawa Public Library Board did "reassure patrons that there was no danger to the public from books that have been in the hands of people who suffered from the recent epidemic," said Councillor Matthew Luloff, the current chair of Ottawa's library board.
The unveiling of the revitalized library took place over Zoom on Tuesday. Luloff moderated with speakers including Mayor Jim Watson, Councillor Jess Leiper, and OPL CEO Danielle McDonald.
"Rosemount is so much more than a building full of books," Luloff told the virtual gathering. "It's a busy community hub and an essential part of this neighbourhood."
When the branch, also Ottawa's last remaining Carnegie library, turned 100 in 2018, the OPL decided it was time for renewal.
That year, Ottawa residents were asked to fill out a survey about what they would like to see in the revitalization. According to the OPL, the survey received more than 700 responses.
The library closed June 3, 2019, and was to open the following spring, but the renovations were slowed as a result of the global health crisis.
Nonetheless, the renewed Rosemount library hosts some indispensable features including new signage, accessible entrances, energy efficient windows and art displays.
According to OPL's McDonald, the most noticeable change is the new glassed in lantern-like reading room which provides extra seating.
"(The reading room) provides a dramatic presence on the street, a welcoming beacon into the branch," she said.
The Rosemount library still holds some of its original features. The original wooden beams remain in the main room to hold a testament to the history of the building.
Residents of Ottawa, particularly the community of Hintonburg, are delighted to see the library up and running again.
"When I was working at Tunney's Pasture, we used to call the Rosemount branch the MFL for the mighty fine library," said Andrew Baldwin, an Ottawa resident. "It is awesome to see this rebuilt bigger and more beautiful than ever."
Because of the current COVID-19 restrictions, libraries are only open for curb-side pickup and access to essential services like computers and photocopiers. They will only open with 25 per cent capacity in stage two of Ontario's reopening plan.