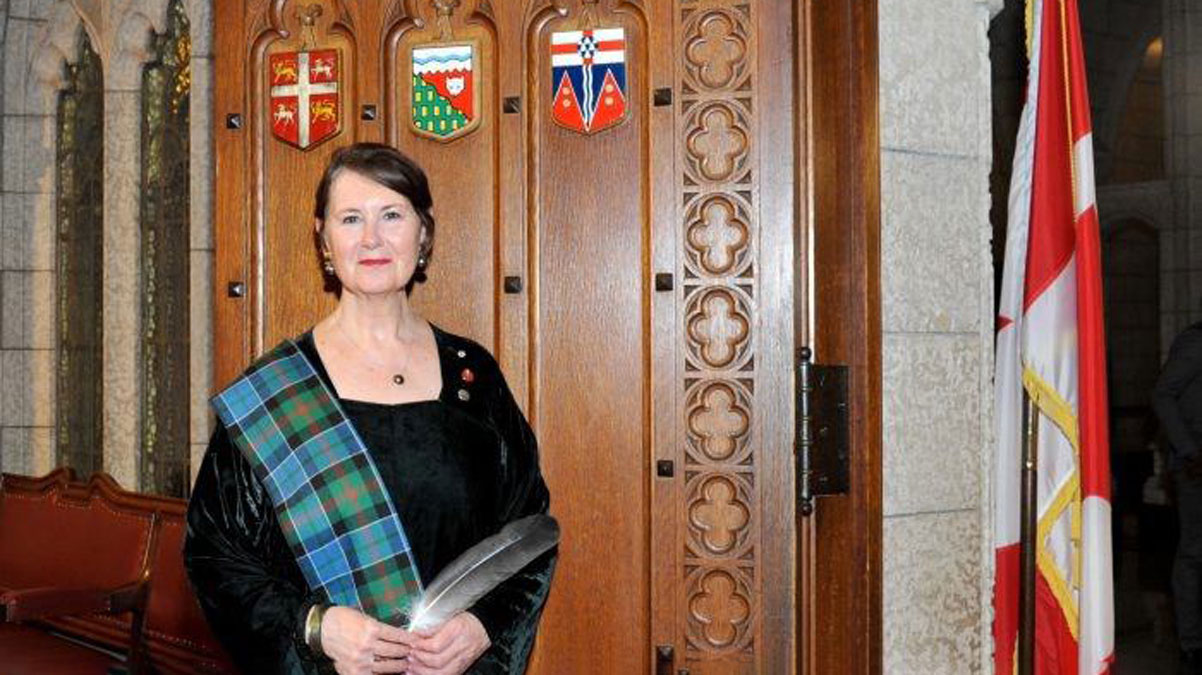 A Manitoba senator wants to lower the legal voting age in federal elections from 18 to 16, saying the move could help revitalize Canada's democracy.
Independent Sen. Marilou McPhedran's bill, S-209, has passed second reading in the Senate. She described it as simple and straightforward. But that does not mean an easy passage.
Lowering the voting age has been championed by other politicians, such as the NDP's Don Davies, who has introduced private member's bills in the House of Commons at different times. But there has been little forward movement.
McPhedran's bill would lower the voting age to 16 and defines those aged 14 and 15 as future electors. "Lowering the voting age would be giving around 800,000 people the ability to vote," she told the Senate. "I've often heard it said that young people are apathetic and young people are not engaged. That's not what I see. That's not what I hear. Young people are already engaged in their communities. "
Age no barrier to voting
Speaking to Capital Current, she said: "The bottom line here is that I am actually quite worried about our democracy for a bunch of different reasons." Voting is a right that even the least informed adults have, she said, so age should not define whether someone can cast a ballot.
"The way in which so many 16 year olds are earning money, paying taxes, driving what is essentially a killing machine, a car or another vehicle, can serve in the army, etc., and with the positive information about the engagement of 16 to 18 year olds in the livestream of our democracy – that just really clinches it for me in terms of this being a really important step forward in our democracy."
Aleksi Toiviainen, a high school student and a member of McPhedran's advisory council, the Canadian Council of Young Feminists (CCYF), supports the bill.
"Lowering the voting age would create an environment where more people will vote for the first time and will therefore be more likely to vote in the future. And under the principle of voting becoming a habit you can form or lose, we know that if people are engaged in elections younger, then they'll be engaged for longer," Toiviainen said.
That's based on modelling and research done in places where the voting age is 16, such as Austria, Malta and Scotland.
According to McPhedran, the research demonstrates there are more advantages than disadvantages to lowering the voting age.
Scott Bennett, a Carleton University professor specializing in research methods and public policy, said he does not particularly support lowering the voting age.
"The critical point is that age is not the only or even a critical factor in determining who can vote responsibly," he said.
In Bennett's view, it is not more voters we need but more educated and responsible voters.
He said that a good voter should know how the different levels of government work, should be involved in the economy and society in a consistent and productive way and should be able and experienced at handling their own practical affairs.
Many Canadians do not meet these criteria, he said, and emotionally driven, irresponsible or ignorant voters, regardless of age, will not lead to better government.
Lowering the voting age to 16 has been discussed on multiple occasions, but has not happened simply because many people do not strongly support it, said Bennett.
"I have not seen much good public opinion data on the issue. Generally, once these things reach the [House of] Commons, there are 20 or 30 MPs who will say good things about it – or, in this case, a small number of senators," he said.
Thalia Pierre-Phaneuf, a 16 year old high school student in Gatineau, is lukewarm on the idea of lowering the voting age. "Honestly, I don't think it's a good idea because it's not everyone who is ready to vote if you know what I mean, and if the 16 year old feels pressured to vote, I really believe that they can make a bad choice and could ruin their voting experience."
Still, Pierre-Phaneuf said that she is interested in politics and would absolutely vote if the bill passed.
Just over two million Canadians are in the 15-to-19 age group, Statistics Canada says, meaning the addition of younger voters could have a significant impact on future elections – if they were to vote.
Read McPhedran's bill and follow its progress.
Editor's note: This article has been updated from the original.
---
More Stories