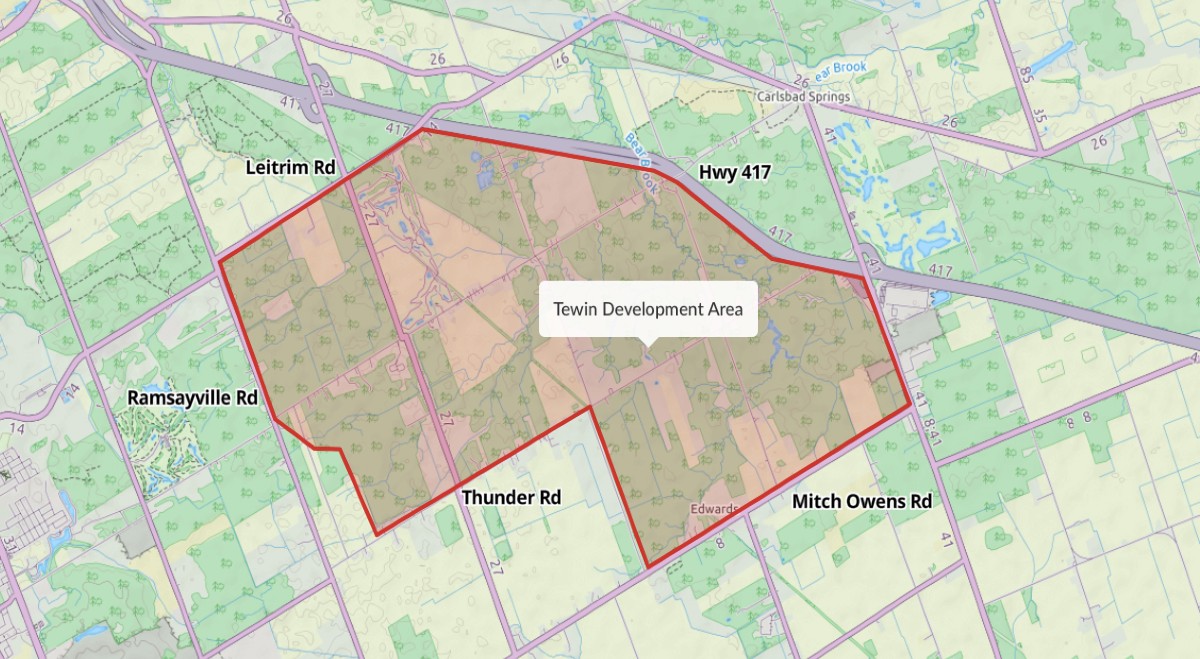 Ottawa City Council has voted 16 to 8 in favour of including a large development property owned by the Algonquins of Ontario in the city's new urban boundary.
The Algonquins of Ontario and Taggart Investments intend to eventually build a satellite community called Tewin in the Carlsbad Springs area. In voting they did, council overrode a city planning staff report and the protests of Algonquin nations in West Quebec.
"When I first heard the news … my heart was very heavy," said Claudette Commanda, from Kitigan Zibi Anishnabeg First Nation which is near Maniwaki.
Commanda, who is also a University of Ottawa professor and the granddaughter of the late William Commanda, said that she and others from Kitigan Zibi had asked the city to postpone this decision to allow more time to assess Tewin.
"You have a duty to listen to those voices, and we're not doing that right now," Coun. Shawn Menard said during the council meeting on Wednesday.
The request for the postponement was to allow a more complete analysis of the financial and environmental cost of the project and more consultation with Indigenous communities and Ottawa residents.
Menard's motion to postpone the decision for a year was rejected.
Mayor Jim Watson led the charge against delay.
"When people see a tough issue, the easy thing to do is 'let's delay it' and prolong the discussion … But at some point we have to make a decision move forward for the benefit of all citizens of our community."
The Algonquins of Ontario (AOO) purchased the land near Carlsbad Springsfrom the Ontario government in January, 2020. The land was purchased with help from Taggart, who is partnering with AOO for the Tewin project. Tewin means Home.
The land has been called into question by city planning staff because of problems with the clay soil that could make it difficult to construct buildings beyond four stories.
The project envisions a community of 35,000 to 45,000 residents in affordable accommodation. It would create jobs and promote Algonquin practices and teachings.
The Mayor and others have pointed to the project as an example of "reconciliation," but that has been criticized by Algonquins living in Quebec who have a large on-going claim to much of the City of Ottawa which they believe is unceded territory. They say they were not properly consulted about the plan. 
"Reconciliation means correcting the historical wrongs that were done to the inherent rights holders. And we, the Algonquin Nation, we have inherent rights and they are constitutionally protected as well," Commanda said.
AOO was formed in 2004 to negotiate land claims with the provincial and federal government, but it's legitimacy is disputed by other members of the Algonquin Nation, many of whom allege that the organization has questionable claims to Indigenous ancestry.
During the council debate, Watson addressed this divide saying that, "It is not Council's role to adjudicate an internal disagreement between the Algonquin family communities."
The decision to move forward with the Tewin development plan is creating further tension.
"As far as I'm concerned, he's burned a bridge with me. I am totally, totally disheartened," Commanda said. She expressed frustration and sadness, upset that the Mayor made no effort to contact her or other Algonquin leaders, including Grand Chief of the Algonquin Anishinabeg Nation Verna Polson, to address their concerns before the meeting.
"He's a leader, and he should have taken a pause," says Elder Commanda, adding that Watson should have been "doing his homework on reconciliation" first.