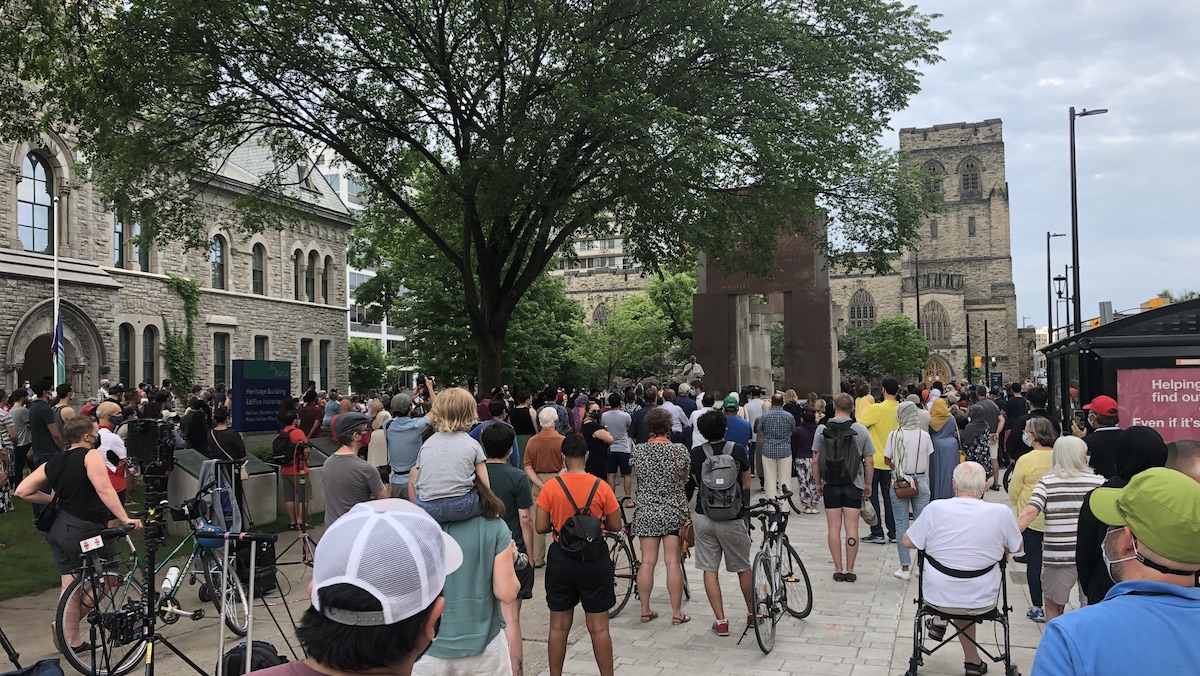 Hundreds of people of all backgrounds gathered to pay tribute to four members of a London, ON, family slain when they were struck by a truck driven by a 20 year old white man.
London police are saying the attack was planned and targeted the Muslim family as they waited to cross the street. A nine year old boy is the only survivor of the Sunday evening attack committed as the family was out for their regular evening stroll. The dead are: Salman Afzaal, 46, his wife Madiha Salman, 44, their 15-year-old daughter Yumna Afzaal and Salman Afzaal's 74-year-old mother, Talat Afzaal.
The youngest member of the family, nine-year-old Fayez Afzaal, is in hospital recovering from serious injuries. Nathaniel Veltman, 20, faces four counts of first-degree murder and one count of attempted murder. He is to make a court appearance on Thursday.
The crowd in Ottawa gathered at the Human Rights Monument on Elgin Street near City Hall to hear members of Ottawa's Muslim community speak, and to show solidarity. The vigil was organized by Nabila Kaci, president of the Ottawa-Gatineau chapter of the Canadian Council of Muslim Women, to give Ottawa's Muslim community a space to grieve.
"I'm sorry! We did not protect you enough!" Kaci cried in anguish at the vigil.
"I did not want to just cry by myself in my living room," she said. "When I woke up this morning, I felt afraid. Afraid for myself, afraid for my son, afraid for my sisters and brothers."
The Ottawa vigil was one of several held across the country. The biggest was in London outside the family's mosque where thousands, including Prime Minister Justin Trudeau, Ontario Premier Doug Ford, federal Conservative leader Erin O'Toole and federal NDP leader Jagmeet Singh, attended.
Earlier in the day the prime minister and other federal politicians condemned the brutal attack.
"Islamophobia is real, racism is real. You should not have to face that hate in your communities, in your country. We can and we will act," Trudeau said. "We must all stand together and say, no, no, to hatred and to Islamophobia, no to terror and to racism."
At the Ottawa vigil, Rafik Aggour, 42, said he came to push back against fear.
"We want also to show that we are not afraid," he said before succumbing to his tears. After a moment, he gathered and said, "it's always difficult to see people get killed for no reason. I'm really thinking about the little boy."
He took another moment to collect himself but then continued: "I need to talk," he says. "What worries me is that this will not be the last."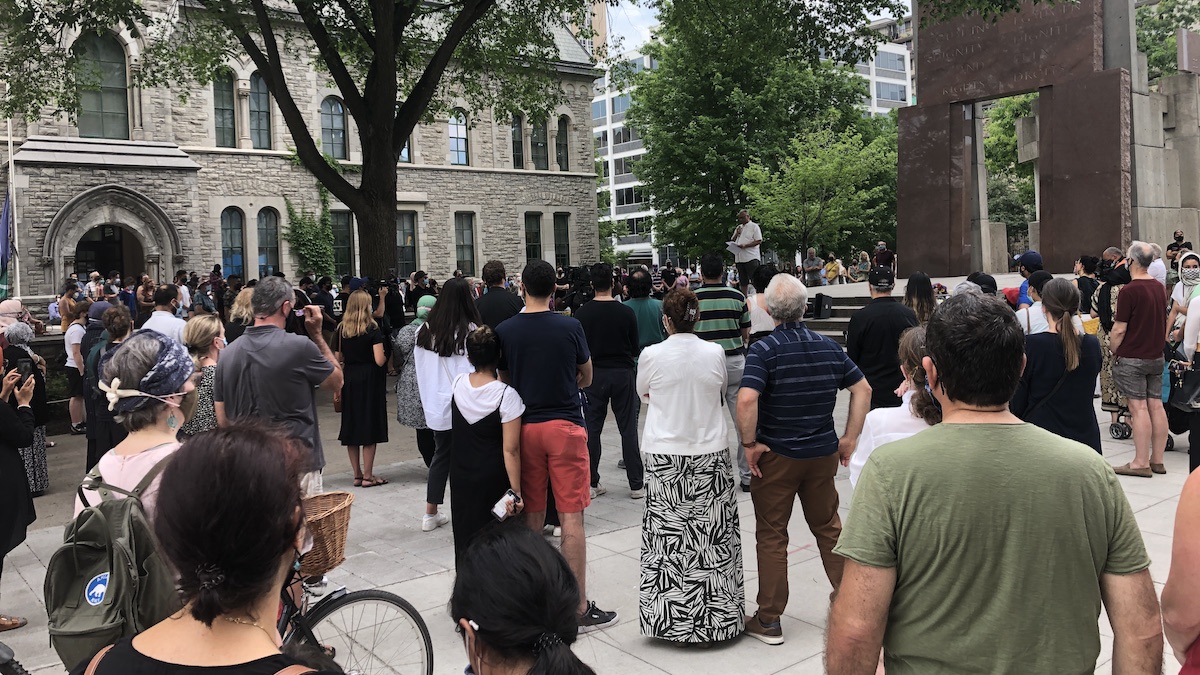 Aggour said he was especially upset over the lack of government action to combat the rising tide of Islamophobia that has been increasing in the number and intensity of incidents in recent months. This has included the murder of a Muslim man whose throat was cut outside a mosque in Toronto and assaults on hijab wearing women in Edmonton, not to mention the 2017 mosque shooting that left six dead in Quebec City.

"It's really annoying that there was an anti-Islamophobia (motion) that was supposed to pass a few years ago and it was stopped by the Conservative party," he says. "That shouldn't be the case. We need additional protection."
In fact, the motion proposed by Mississauga-Erin Mills Liberal MP Iqra Khalid on Dec. 5, 2016, actually did pass with the support of NDP and Liberal MPs, but most Tory MPs did vote against M-103, a non-binding motion which condemned Islamophobia and religious discrimination.
The motion urged the Trudeau government to do:
Condemn Islamophobia and all forms of systemic racism and religious discrimination;
Quell the increasing public climate of hate and fear;
Compel the Commons heritage committee to develop a government-wide approach for reducing or eliminating systemic racism and religious discrimination, including Islamophobia.
Aggour said that all of society should be safe, but when there is a specific community of a certain belief or colour, then the government needs to step in and legislate protections.
"We need to see something in the House of Commons … soon," he said.

The sentiment of a safe society for everyone was emphasized by many at the vigil.
"We are here to show our solidarity and to expect the government of Canada to trace, and investigate these terrorist attacks on the Muslim community," said Najia Haneefi, 43.
After a pause she added "and every community."
Bob Proper, 73, felt the same way. He and his wife drove 20 minutes into Ottawa to attend the vigil.

"There's so much that joins us together, no matter where we come from or who we are," he says.
Proper wanted to show his support because his church sponsored a Syrian refugee family and he and his wife have gotten to know them well.
"They're a very loving family. We want them to feel safe here in Canada," he says. "They came from a very serious situation."
Both Haneefi and Aggour say the same thing. They left their birth countries in the hopes of securing safer lives for themselves and their children.
"Most of us have escaped war, and the atrocities of war, in the hopes to get into a safe place," said Haneefi, who is originally from Afghanistan. "And it's shocking to see members of our community terrorized and killed in such a horrifying way."
Aggour, who is originally from Egypt, is particularly frustrated by the reception of Muslim immigrants in Canada.
"We have to choose our country, and we choose it because we love it. We want to be safe here, we want our kids to be safe here," he says. "We want to contribute to this country, and we do contribute to this country. We deserve some more protection and attention from the government."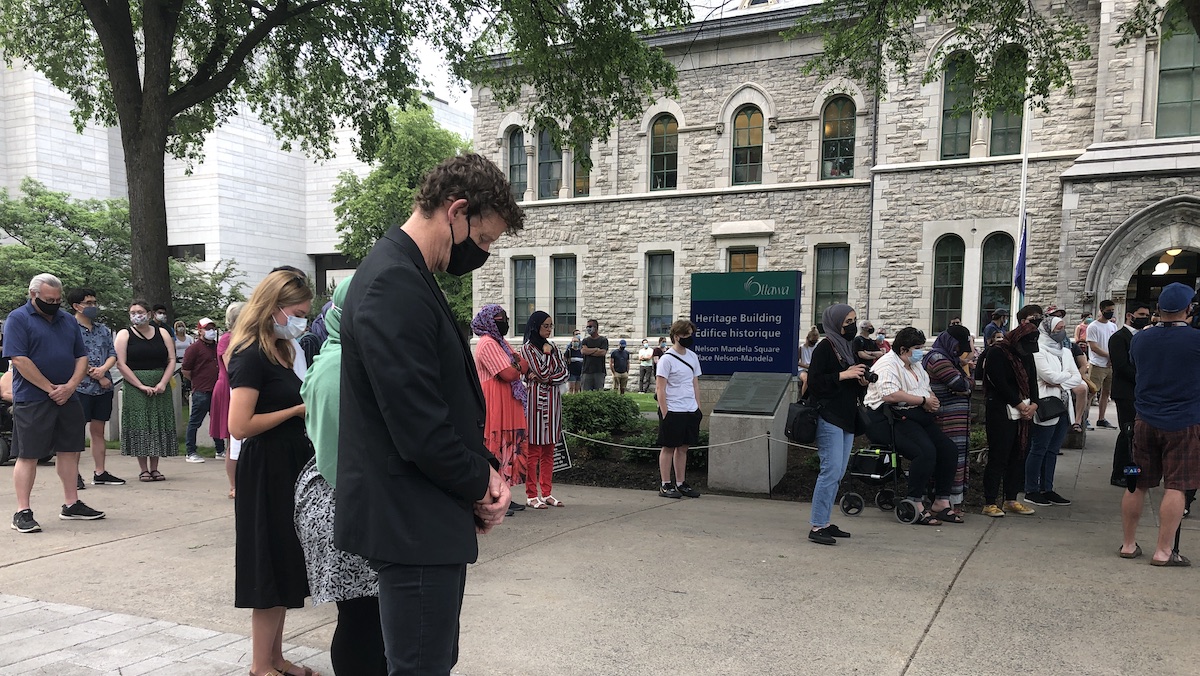 Ottawa-Centre NDP MPP Joel Harden was at the vigil and emphasized an individual's responsibility to confront hate.
"I sadly think a lot of young men, in particular, are finding themselves drawn into hateful ideologies and hateful rhetoric as an outlet for whatever trauma they live with," he says. "And all of us who know those people, whatever their gender, whatever their circumstance may be, we should try to find a way to help them out, otherwise we'll be going to more of these."
Ottawa Centre Liberal MP and Infrastructure Minister Catherine McKenna also spoke to the crowd, but the reception was not altogether warm.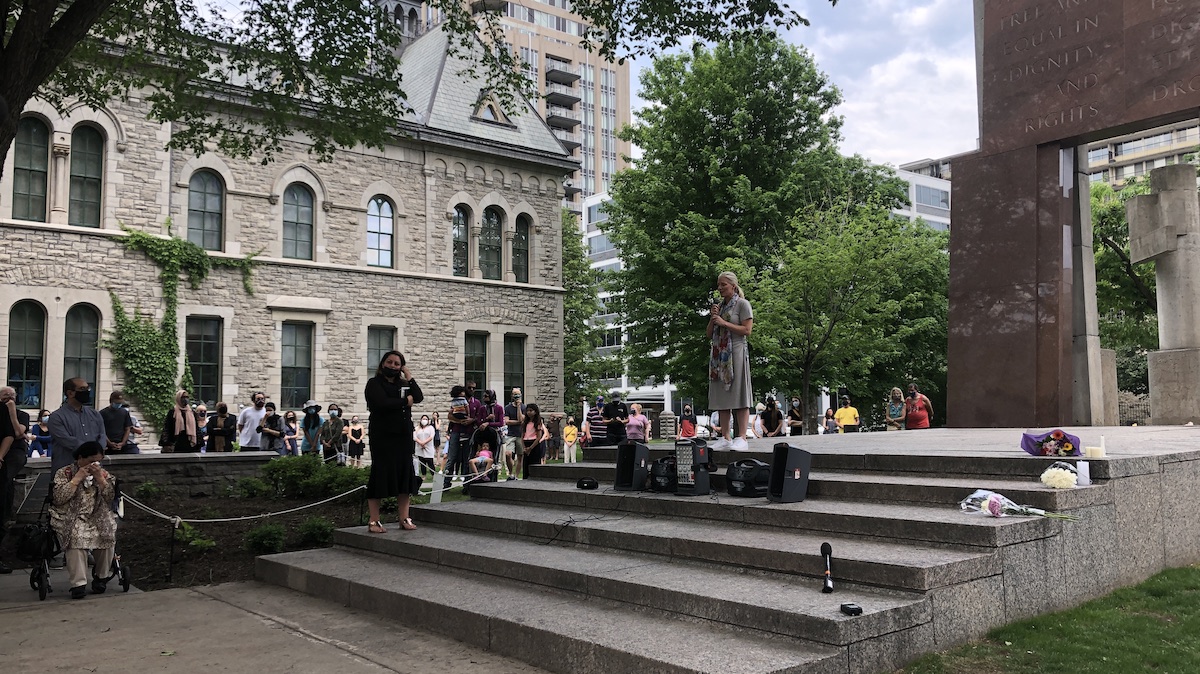 "Look around, people love you," she said. "They stand with you. But we need to be louder, we need to call out hate."
Fareed Khan, founder of Canadians United Against Hate, followed her speech and took the time to list the islamophobic attacks that have occured in Canada in the last few years. He read a list of the victim's names, while the crowd looked on.
"With due respect, Catherine. The politicians have failed us," he said.
---
More Stories