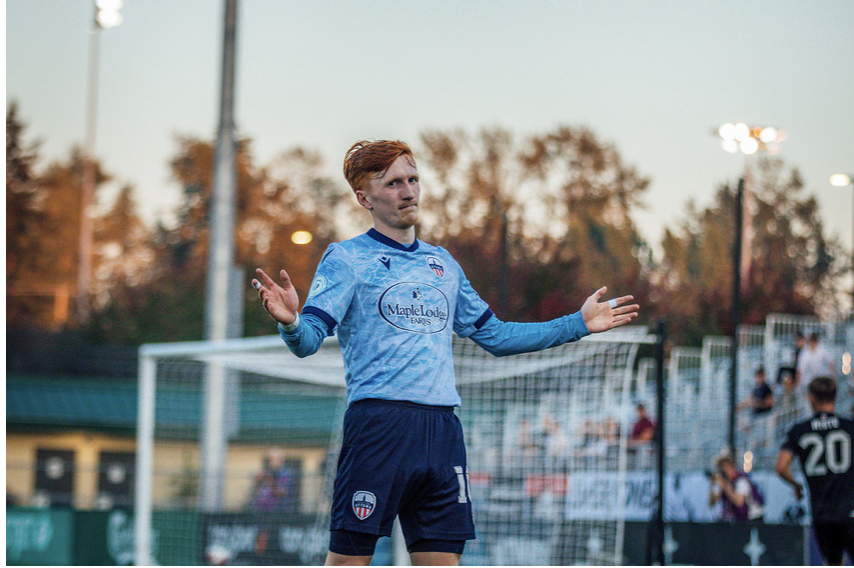 A late turnover caused by an errant pass led to Vancouver FC midfielder James Cameron scoring the game winning goal in stoppage time Sunday to secure three crucial points and keep their playoff hopes alive.
Atlético Ottawa has now lost two consecutive games in which they've conceded the winning goal in stoppage time. As a result they have lost a chance at six important points in a tight Canadian Premier League playoff race. The first and fifth place teams are separated by eight points with five games remaining. 
Atlético Ottawa now are in fifth with a record of 9-5-9 (32 points), ahead of sixth place York United (9-5-10, 32 points) on goal differential. 
Meanwhile, Vancouver FC avoided the season sweep by Atlético – who had won all three previous matches by an aggregate score of 9-1 – and picked up three critical points to keep their slim playoff hopes alive. They are in eighth, only three points behind seventh place Valour FC and 12 points behind Ottawa with the final postseason berth.
Vancouver FC Head Coach Afshin Ghotbi was thrilled by his team's performance.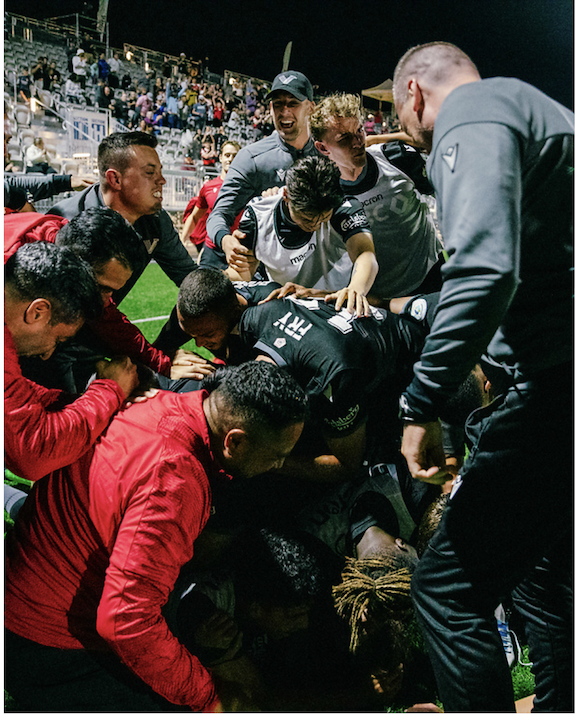 "It's very special because it's not only just three points, but the fact that we did it against a quality team in Ottawa, so I think is a great result for the whole football club, and it will give us an enormous amount of confidence and energy going forward."
In the game, Vancouver was calm, confident and resilient against a team they hadn't beaten this season. Everything Ottawa threw at them, they handled well.
Vancouver even responded well to Atlético's tying goal. Instead of hanging their heads, they controlled possession and went right back on the attack.
To start the match, Vancouver looked a team competing for first place in the league. They played on the front foot, controlled possession and attacked every chance they got.
The home side was rewarded, as Vancouver forward Mikaël Cantave carefully slotted it into the bottom right corner of the net on a breakaway. Former Carleton Raven Gabriel Bitar delivered a crisp, accurate pass to Cantave who sped past a few defenders before beating Ingham on the near post.
After the match, Cantave said the win will give his team a ton of confidence and momentum. 
"It proves to us that what we're doing is working and that we're moving in the right direction. I know losing against Forge wasn't the result that we'd hoped for, we'd put in a good shift and our stats were good that day, so we looked to build off of that."
Despite their best efforts to hold onto the early 1-0 lead, it didn't last very long.
Nearly a dozen minutes later, Vancouver goalkeeper Callum Irving failed to control a pass from a defender. Atlético's superstar midfielder Ollie Bassett took full advantage, jumping on the loose ball and tying the game. The goal propelled Bassett into sole possession of first place in the CPL Golden Boot Race with his 11th of the campaign.
The rest of the game was fairly even. Ottawa outshot their opponents 16-7 and had five shots on target to Vancouver's four. However, Ottawa's inability to finish and the lack of a clinical presence in the final third kept the game deadlocked. Overall, Vancouver won the possession battle.
In stoppage time, just when it appeared the teams would share a point, an errant pass by forward Gianni Dos Santos would end up eventually in Ottawa's net, giving Vancouver the win.
Bassett was disappointed with the final result, saying he felt his team could have at least earned a point.
"It's frustrating," Bassett noted. "I don't think we were good enough from the first whistle. I think we were second-best a little bit in the first half, and were maybe a bit fortunate to get the equalizer, but then we pushed and pushed, yet at the end, we made a bad giveaway and got punished for it.
"But, full credit to Vancouver, they worked hard to make it difficult for us, and they were full value for their win in the end."
Atlético Ottawa has made a habit of conceding early and late in games, conceding within the first 10 minutes in four games and conceding within the last 10 minutes (including stoppage time) six times. Atlético have lost the match in stoppage time three times.
Heading into the final five matches of the season, where every result is critical, the normally well-disciplined Atlético has to start and finish better. Mistakes are costing them points.
Head coach Carlos Gonzalez said after the match that eliminating costly mistakes is a consistent topic in training sessions.
"We have to control better those sorts of situations," González admitted. "I said that with counter-attacks, first of all, you have to finish your actions (to avoid giving them up), but then if not, you have to stop them. You cannot let them play (as freely on the counter) as we did.
"We have to correct those mistakes, because with these types of mistakes, we are not going to be able to compete (very well) across the rest of the season."
Atlético has shown the ability to overwhelm teams in a handful of matches this season and they have also demonstrated resilience by scoring late in five games this season to force wins or draws.
Despite the loss, Ottawa's defence did hold Vancouver to seven shots and pressured them well with their high press. In particular, Alberto Zapater dominated the midfield and youngster Ilias Illiadis played well in multiple positions — this despite playing without defender Luke Singh and striker Samuel Salter, both suspended on yellow card accumulation, and striker Malcolm Shaw on international duty. 
Next up for Ottawa: a crucial home game against Pacific FC on Wednesday. Ottawa needs a win to remain in contention for the league title. Ottawa has won, drawn and lost to Pacific this year and are 7-0-1 in their last eight home games.
---
More Stories