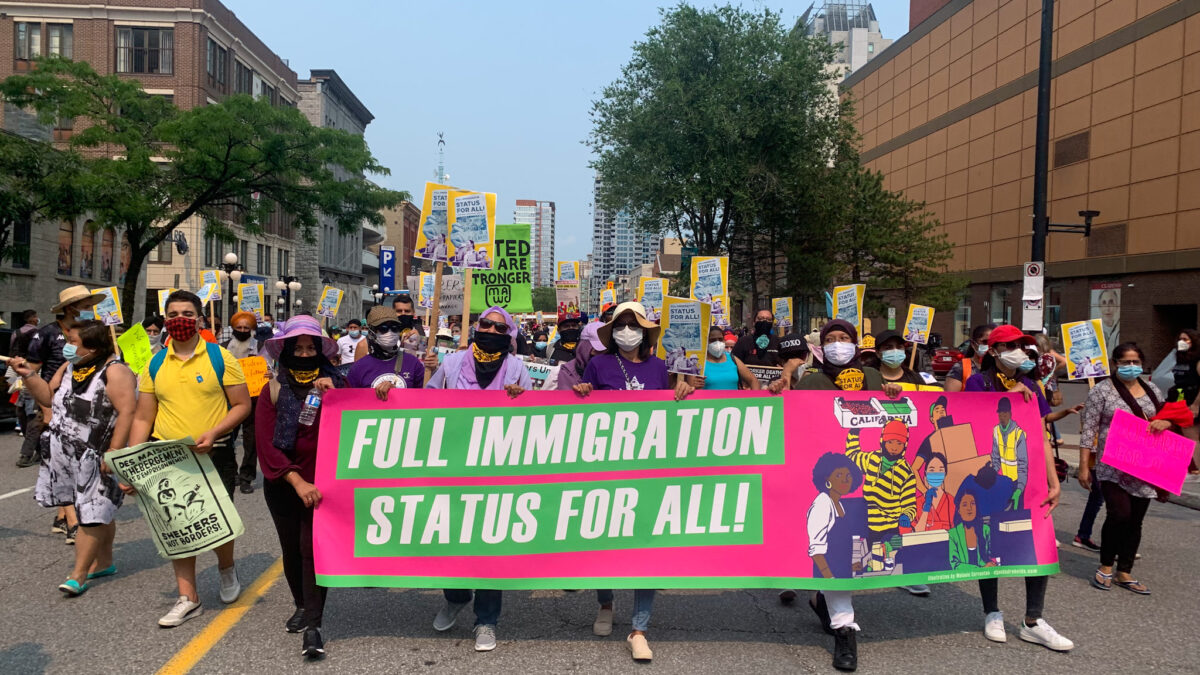 Hundreds of migrants and refugees marched through Downtown Ottawa on the weekend demanding permanent residency status from the federal government.
The march on Sunday started in Major's Hill Park and moved up Wellington Street to the Prime Minister's Office building where the crowd of farmers, international students, refugees and undocumented migrants were chanting for change with a possible federal election on the horizon. Many of the demonstrators traveled from other cities including Montreal and Toronto for the demonstration. 
Organizers said migrants without full status are excluded from social services, healthcare and education.
Migrant Rights Network media spokesperson Syed Hussan told Capital Current that giving full and permanent status for these people, many of whom work in frontline jobs in long term care homes and warehouses, would help provide for a fair recovery from the pandemic for all.
"It's not possible to have a fair recovery without one in every 23 residents in the country having equal rights," Hussan said.
The pandemic has just accentuated the vulnerability of migrant caregivers, grocery clerks, farmers and delivery people who worked long hours in difficult conditions under threat from COVID-19.
"Over the past two years, if you have eaten, a migrant worker has fed you," Hussan said. "If your children, the sick, or the elderly have been cared for, a migrant cared for them."
Migrant Rights Network says many of the workers were being exploited and can't speak up for fear of being deported.
Omar Walcott, a Jamaican migrant farmworker in the Niagara region goes home three months of the year to see his family. The remaining eight months of the year he helps harvest crops and lives in an overcrowded home with seven other migrant workers.
Walcott says he's been mistreated by his employers for a decade but he has been reluctant to speak out for fear of losing his livelihood. Gaining permanent residency and eventually, citizenship would mean more than labour rights. 
Migrants face exploitation, detentions
"My family don't come with me," he said. "That's the biggest problem. That's why we're asking for status. That's the only thing that could clear that — status — so we could be with our family."
With permanent status, Walcott said he could send his two daughters to school, buy a home and remain close to his loved ones.
After missing an appointment with the Immigration Refugee Citizen Canada (IRCC), asylum seeker, Abdoul Kane, found himself in danger of being deported. "I was very desperate, I was very scared — I didn't have a lawyer," he said.
Kane, who is from Senegal, says he is struggling to make ends meet. His landlord called the police after he couldn't pay rent to report him as an undocumented migrant.
Kane was sent to an immigration holding centre in Laval, where he went on a hunger strike to protest the centre's mistreatment of detainees during a COVID-19 outbreak.
The advocacy group, Solidarity Across Borders helped Kane, providing him with proper legal support.
Kane was eventually released from the holding centre and is now a member of Solidarity Across Borders. His case is still under review.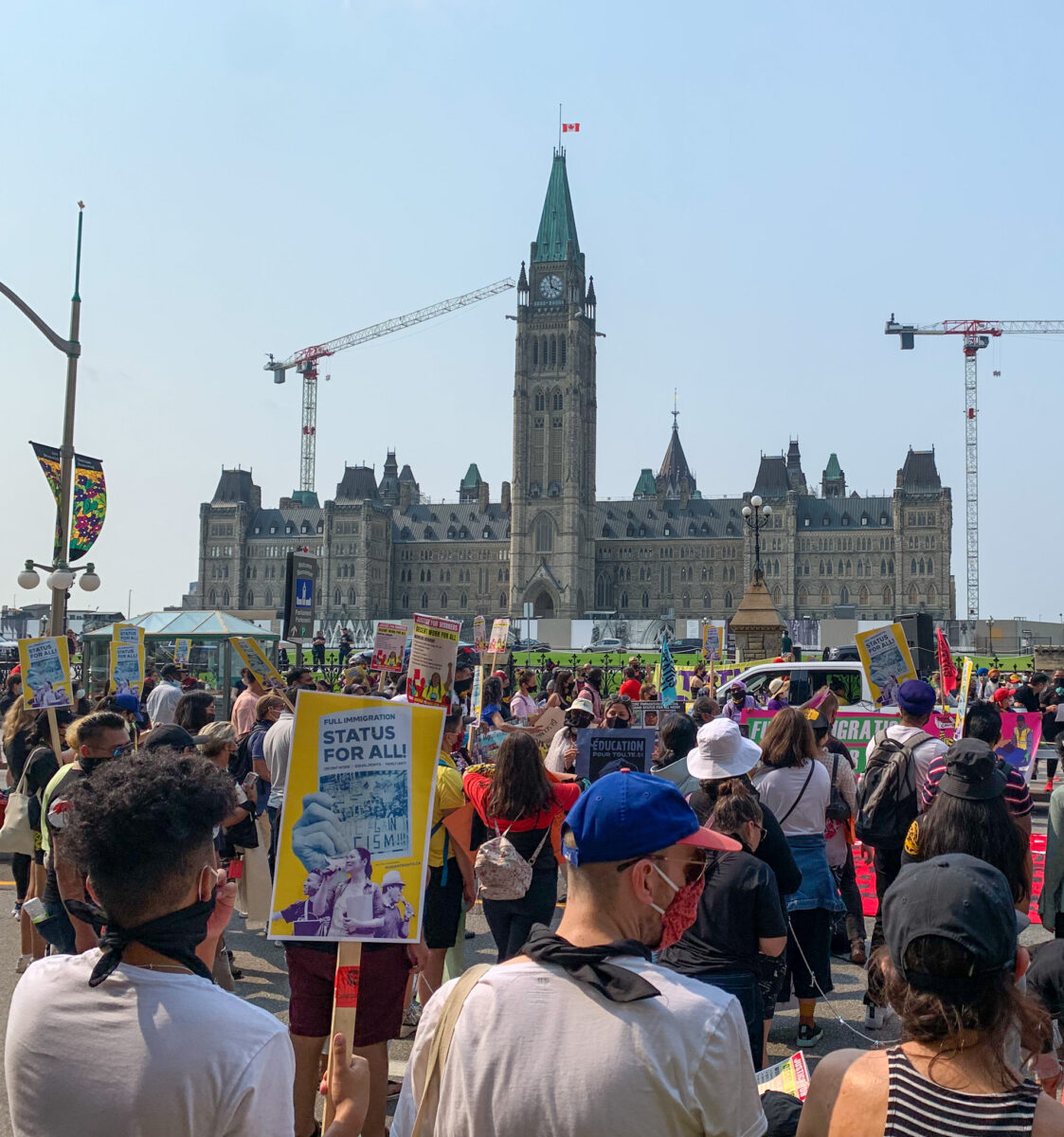 Canada has seen a sharp drop-off in the numbers of immigrants coming to the country during the pandemic. Immigration is at its lowest since 1998. The country welcomed 184,624 immigrants in 2020, far off its pre-pandemic target of 341,000, Statistics Canada says.
In April, the federal immigration minister, Marco Mendicino, announced a new pathway for temporary residents to achieve permanent status, opening a door for up to 90,000 new migrants through three streams including 20,000 spots for healthcare workers, 30,000 for essential workers and 40,000 for international students.
The program was met with criticism from organizers of Sunday's protest. They say it excludes low-income and racialized migrants who often struggle with language barriers, the cost of applying and the lack of access to social services. 
According to the Migrant Rights Network, Canada has deported more people in 2020 than in the previous five years and rejection of humanitarian and compassionate applications have also doubled.
In an email to the CBC, IRCC spokesperson, Alexander Cohen said the department has also introduced a new Guardian Angels program which opens up a pathway to permanent residency for undocumented migrant healthcare workers.
"This groundbreaking program was created specifically to offer a pathway for undocumented asylum seekers who've contributed so much to Canada's fight against COVID-19 in our hospitals and long-term care homes," the statement said. "These bold initiatives represent a paradigm shift in our immigration system — one that is more inclusive than ever before."
---
More Stories