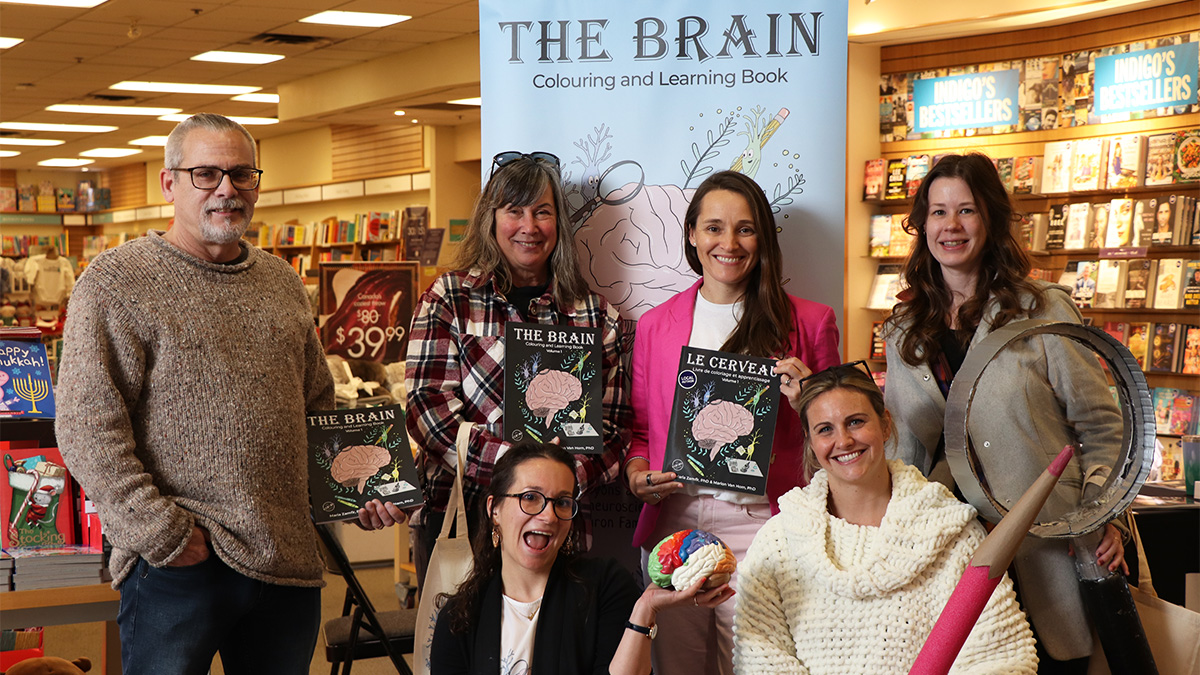 A brain wave swept through the Billings Bridge shopping centre recently, stimulating receptive shoppers along the way.
Interested parties had a chance to buy a signed copy of The Brain Colouring and Learning Book: Vol. 1, an educational resource created by Canadian authors and neuroscientists Dr. Maria Zamfir and Dr. Marion Van Horn.
The book has traditional colouring pages, as well as activities such as word searches, alongside descriptions of brain function and parts.
The authors hope that people who complete the book will have a better understanding of this critical organ.
Zamfir is the artist behind the anthropomorphized neurons and other parts of the brain.
"This is kind of a passion project for us," she said. "It started while I was doing my PhD in neuroscience; I was learning all about the different cells that make up the brain, different types of neurons, and then I started drawing. I created these neuron characters. It started just with individual characters. I'd do, like, a neuron sleeping, or a purkinje cell (a type of cell that's in the cerebellum). And then people said, can you draw a neruon doing this, draw a neuron doing that? So, slowly, the family kind of evolved."
These colourable neurons appear throughout the book, introducing the complex concepts.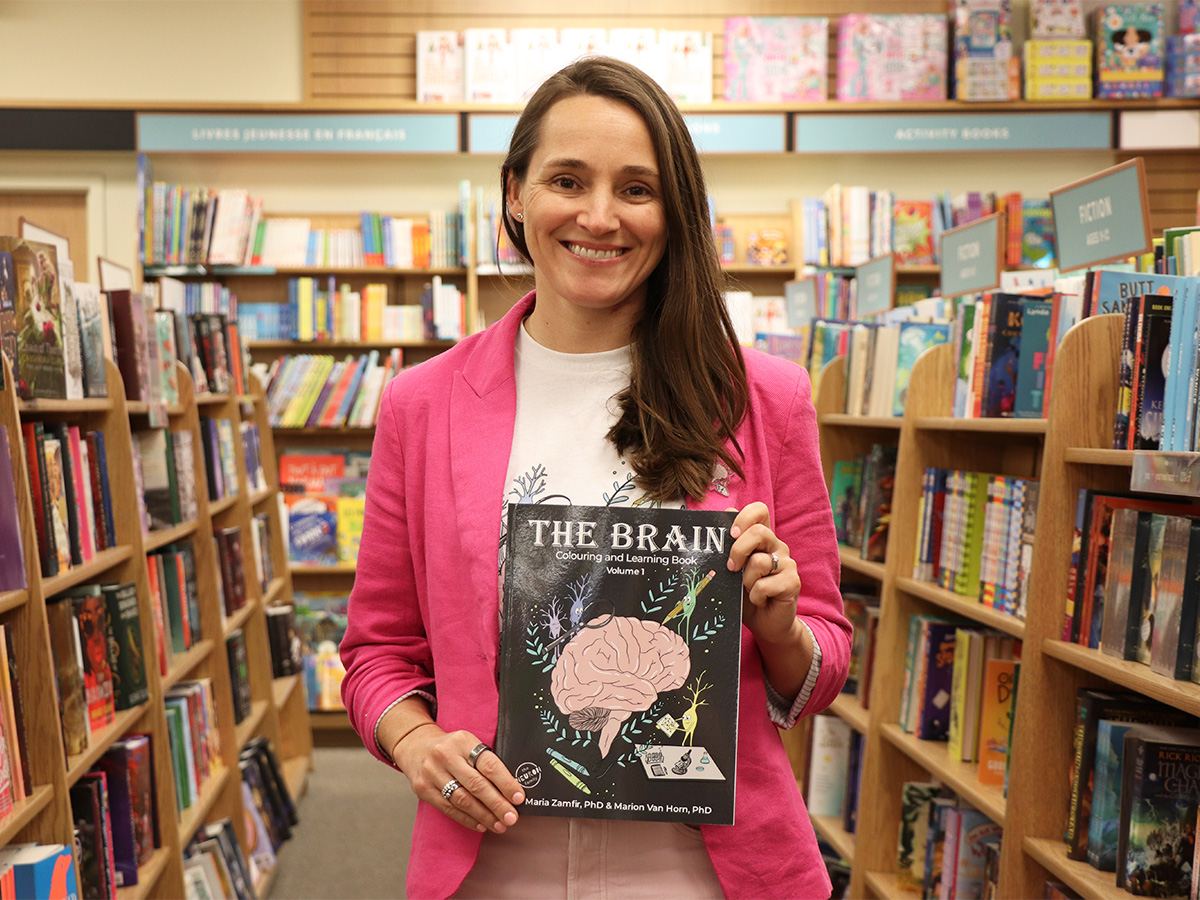 The authors say they believe the book's activities will help the reader take in the unfamiliar information.
"Colouring can put you into a more meditative, relaxed state," explained Van Horn. "When you're in this relaxed state, you have less stress and you're more receptive to learning. It's a two-part thing: you start colouring, you're relaxed and then you can start introducing these concepts."
They were selective about what concepts they chose to include, though. Originally, the book was twice as long as the published version.
"We wanted to add something about how to keep your brain healthy," said Van Horn. "We wanted to have the fundamentals, but also a very practical application. What does this all mean? Why do we need to know about our brain? Well, because we need to keep it functioning, and we want to live longer and healthier."
They said, for example, that, while teaching kids why sleep is important isn't an immediate solution to make them follow their bedtime routine every night, it does help them make connections down the line.
Van Horn recalled an occasion when her daughter was learning a new piano piece. She'd been practicing late at night and Van Horn encouraged her to try again in the morning.
"She sat down and she was like, 'I think it's easier now,'" said Van Horn. "It's been shown that when you start to learn something, then you do want to get some good quality sleep, because that's when you're going to start to reinforce within the brain these neural pathways that you started to create during the day.
"So, she woke up in the morning and it was actually easier than when she had been practicing so many repetitions the evening before. And she's like, 'Mom, I think it's because I went to sleep!' And she knows. So, at that point, it's like, yeah, she is listening."
Neurons in free printable colouring pages
"Neurons that FIRE together WIRE together" graphic: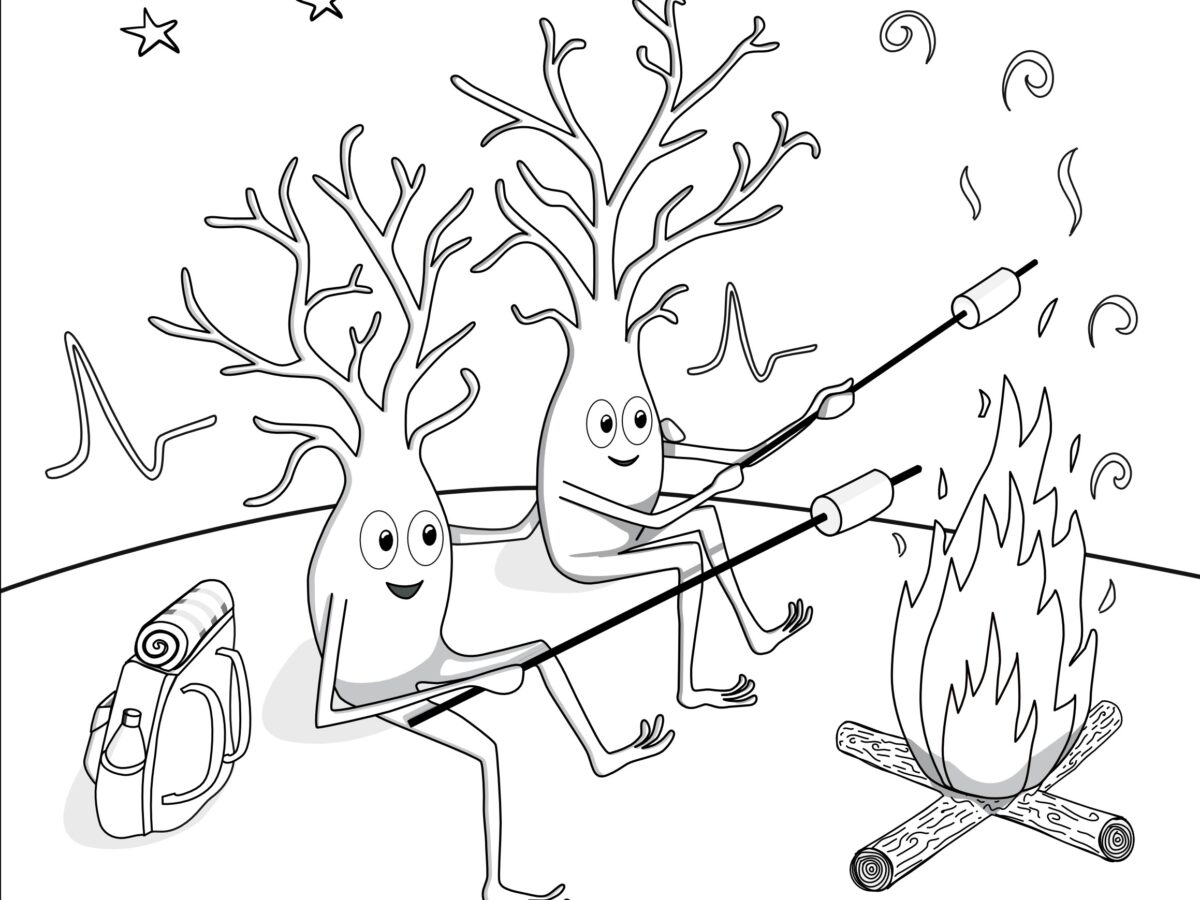 Meditation Neuron graphic: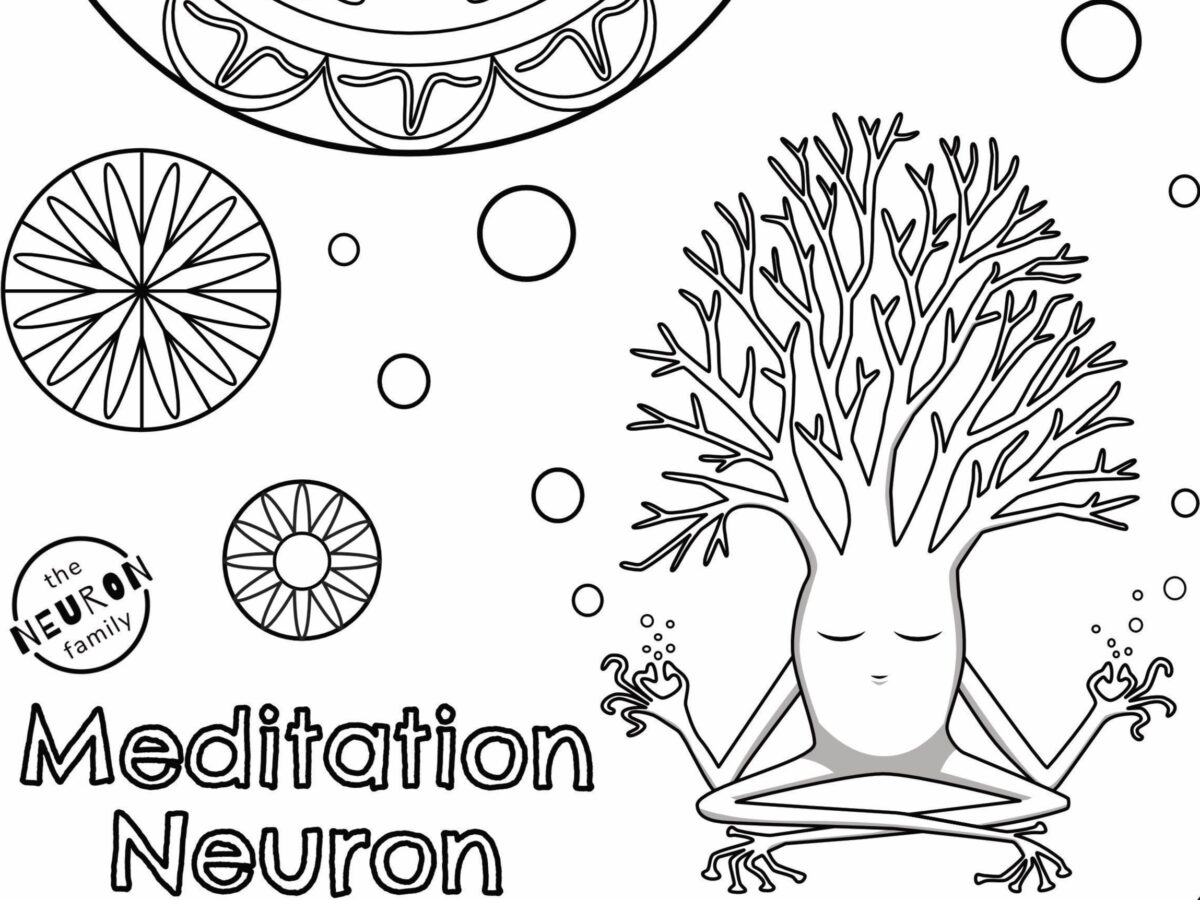 Canadian Association for Neuroscience graphic: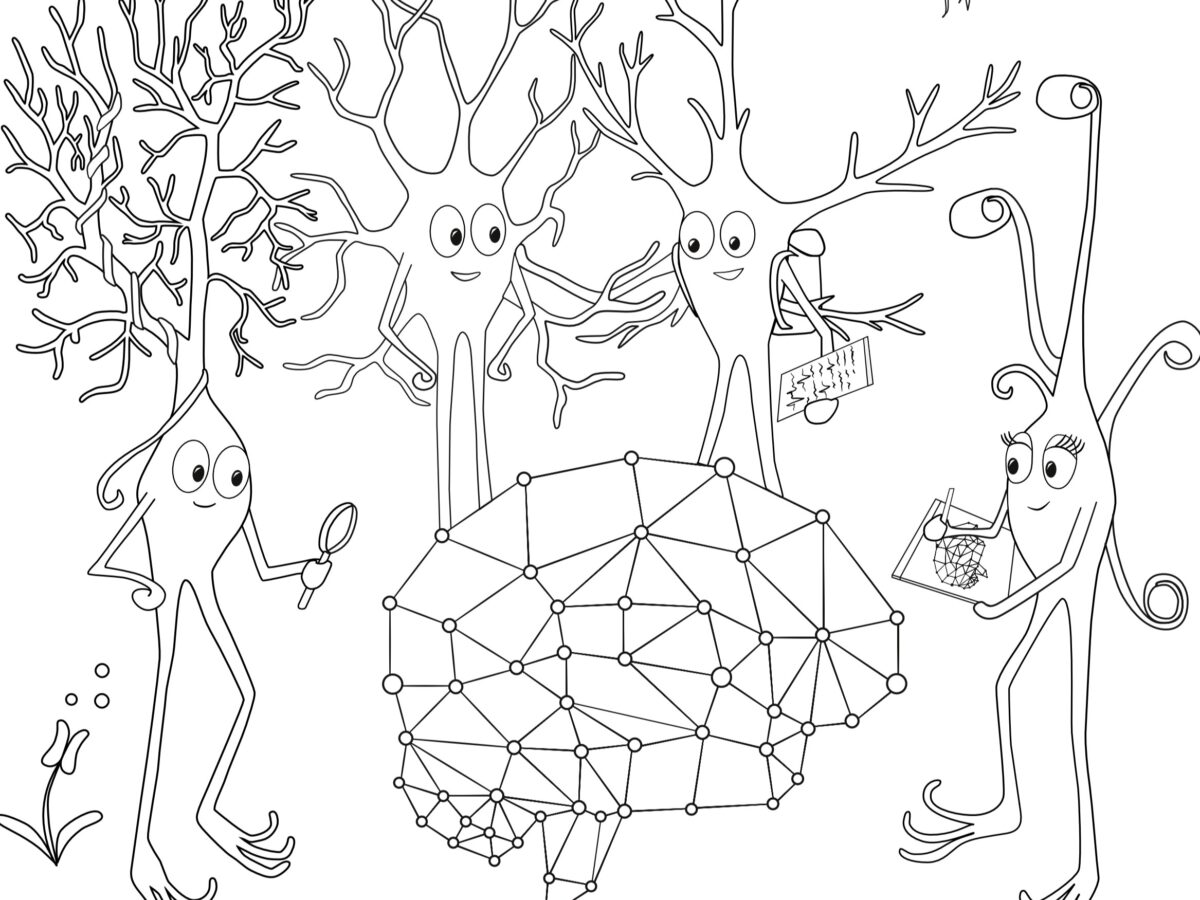 ---
Images courtesy of the Neuron Family. If you would like to download any of the free colouring pages, visit The Brain Colouring and Learning Book website.
However, when communicating all this information, the authors wanted to introduce readers to the basics of the brain without oversimplifying it for them.
"Like, [the word] 'receptor, that's not a word that people hear every day. So how do we explain that? That's not actually something that we're trained in, as scientists," Van Horn said.
"The activities are a great way to relearn the words that were introduced in the chapter," said Zamfir.
"After we've introduced all these words, then they have a word search. Okay, find 'synapse,' find 'receptor.' Then the word becomes less scary. My son is four and he has no problem with words like 'synapse,' 'receptor,' 'neuron,' because he's heard me say them so many times. He's done the word search to help me test the pages. It's just seeing it a few times and learning it."
These memory and learning techniques work for learners of all ages. The authors said they've heard positive feedback from 45-year-olds and five-year-olds alike.
Andrea Mendell, a science teacher at Bialik High School in Côte Saint-Luc, QC, is already using it in her classroom. She heard about it because her cousin, Van Horn, was posting about it online.
Every student in Mendell's Grade 11 biology course has a copy and, in every class, they ask about what chapter they'll be working on.
"I've been teaching high school for 24 years, and it actually is a pretty good tool," said Mendell. "People think that high school kids aren't going to want to do something because it's babyish, but kids actually love doing those types of activities. Kids, when they know that they can colour, they get all excited even if they're 17 years old," she said.
"To be honest, my kids actually liked it more than I thought they would. I thought I was going to sort of just use it like an extra tool. [But] they are so excited by it."
Mendell said that a tool like The Brain Colouring and Learning Book can be applied to lots of classes, from science to health and technology. She also cautioned that incorporating these kinds of tools can be challenging.
"I think that they standardize things too much and [teachers] don't have enough time," said Mendell. "The nature of a classroom is that you have kids from all walks of life and so, sometimes, depending on where you teach — I'm lucky, I teach in a private school — but at some schools they really struggle just to get through the basic curriculum. A lot of teachers kind of get locked on 'I just gotta get what I need to get done' and they don't always have time to explore. These are kind of good for option classes where maybe the kids are in a different mindset and the teacher doesn't feel stressed and has time to explore."
Mendell suggested that, if teachers were given a little guidance, such as a "suggested lesson plan or unit that can go along with certain pages of the book," more teachers would feel comfortable incorporating such a tool.
Zamfir and Van Horn have more projects planned for the future, such as a shorter version of the book for classrooms. The full version will also be available for sale in the Canada Science and Technology Museum's boutique in December.
"I did hint that I would be happy to have an exhibit," said Zamfir, "but they didn't respond to that yet."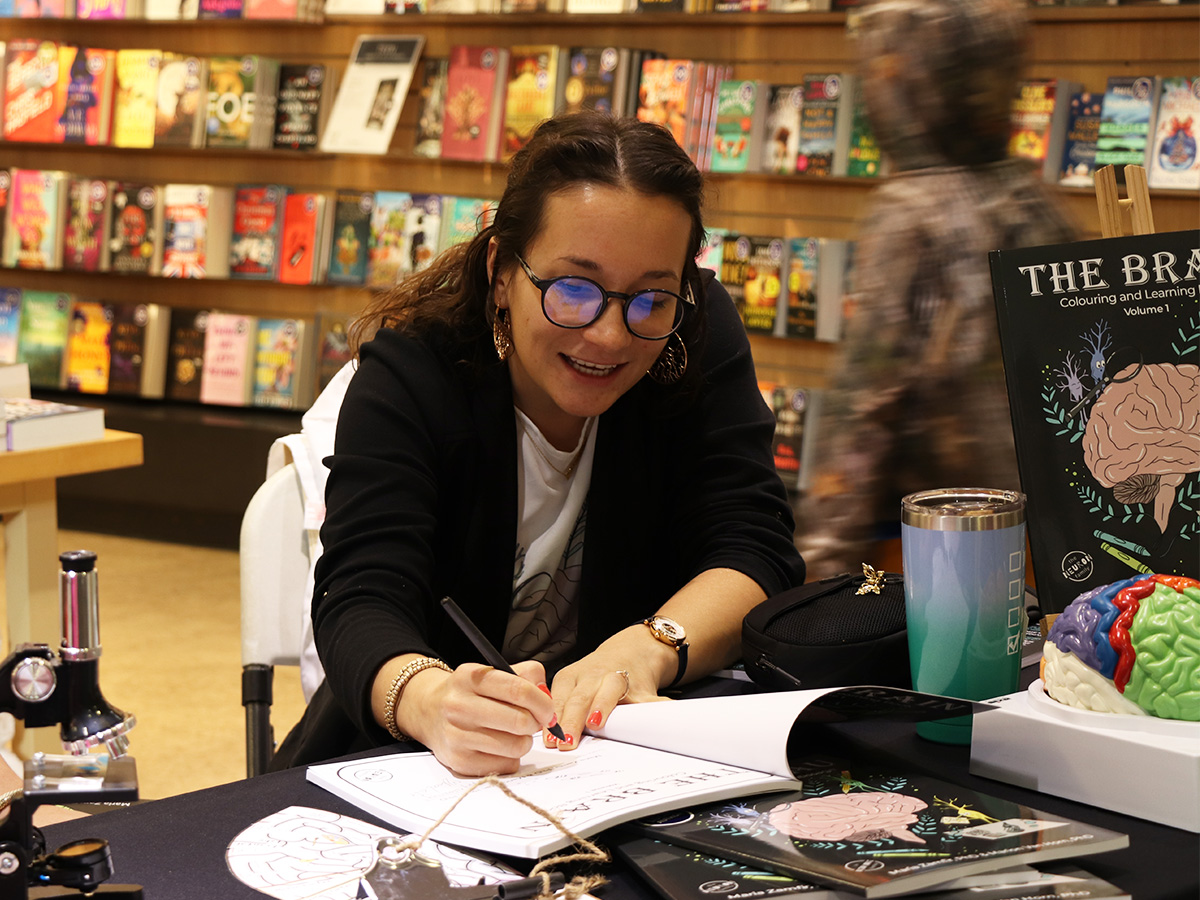 A second book, now in the works, will focus on touch and pain. As part of that project, they plan to connect with kids in children's hospitals in Montreal.
The authors say they have also been working with BrainReach, an outreach program at McGill University that provides neurosceince workshops to elementary and secondary students. Through BrainReach, 160 copies of the book will go to Quebec schools. Co-President Sabine Rannio said that BrainReach is training volunteers and plans to start in schools by and January 2024.
"There's a lot of exciting things coming in the future," said Zamfir.
The Brain Colouring and Learning Book is available for purchase in French and English on its website and on Amazon.
---
More Stories